Sequin tops are perfect for injecting a bit sparkle to your look, be it day or night. Designer Rachel Zoe understood that and presented a really chic collection at the New York Fashion Week Spring 2013 show this year. One particular sequined look of hers caught our eye. She paired a sequin t-shirt with minty green shorts that looked really cool and stylish for any daytime outing. And she topped it off with sunglasses and a big bag.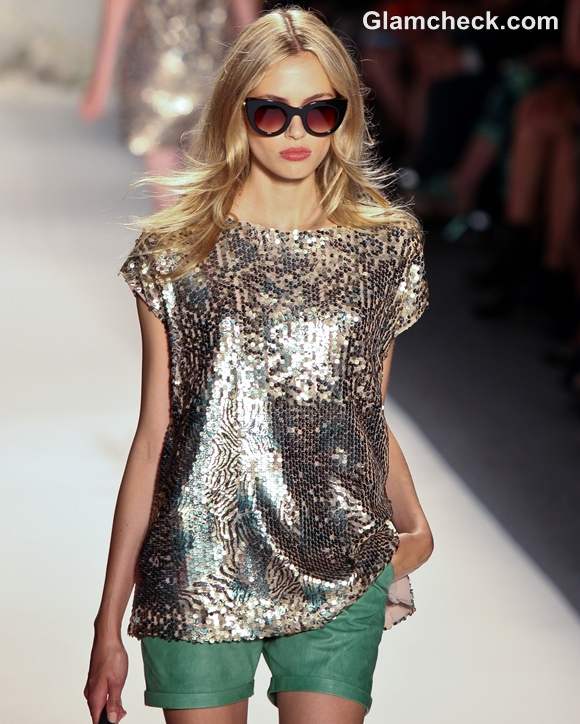 How to Wear Sequin Tops
Sequined tops can sometimes pose a challenge for people. The challenge for some lies in wearing them the right way. And with the range of tops available these days, it's hard not to feel tempted to buy one and then be stumped for ideas on how and what to wear it with. Hopefully after reading this article, you'll have a better idea about getting your look just right.
Basic Pointers for wearing Sequin Tops
While wearing sequins, make sure to keep the focus on a single sequined garment. Don't wear more than one without the risk of looking like a disco ball. So team your top with a plain bottom.
Keep the jewellery to a minimum because your top acts as an accessory all on its own. Instead accessorize with a trendy clutch or a sleek bag and stylish pumps.
Colors are very important this season. So don't forget to add bright colors anywhere in your look.
Look beyond black colored tops. Sequin tops come in some great metallic colors too.
The Casual Look
Sequin tops need not look out of place when worn during the day. Depending on the length of your top, you could opt for a bright coloured pair of denims, trousers, pants, shorts or tights. A short skirt or hot-pants are also another option to consider. You could add a light jacket for effect. Keep your makeup to a minimum but don't forget to add color to your eyes and lips. Tie your hair in a casual ponytail for a laid-back look. Wear sneakers or heels to complete your look.
The Office Look
The best way to wear sequins during the day is to dress it down. You could wear your top with trousers and a blazer. A pair of silk pants and a jacket works just as well too. You could wear a neutral shade of pumps for a sober look or one with colour to make a bolder statement. You could also wear a fun pair of flats instead. Accessorize with a trendy bag and diamond studs to look refined and chic. A chunky gold watch could complete your ensemble.
The Party Look
Sequins are a sure shot party style statement. You could wear your sequin top with a pair of tuxedo pants, accessorize with a black clutch and wear a pair of bold colored pumps or flats with sequined detailing. You could also add a plain black jacket or one with a sequined border. Keep your hair down and get set to party.
More Styling tips: How to wear Sequin Dresses & Tops
So get set to sparkle this season. And remember, while wearing sequins, you don't have to try too hard to shine.
Shutterstock