When the skies are clear blue and the sun is up high, that's the right time to wear "cool" clothes to beat the heat. Common sense dictates that you choose clothes in colors that are summer friendly. But if you want to take your look up a notch, bring your fashion senses to the forefront and get set to look hot instead of feeling it.
So here's a look for you that will hopefully satisfy all your palettes and keep you feeling fresh through the day.
Rock the Fashion
Nothing says 'summery' better that a pair of short pants. To pull off this look, you'll need a pair of trendy beige shorts and a white collared shirt. Instead of synthetic fabrics that are sure to make you sweat, opt for cotton blends since they don't crease as easily as pure cottons and are just as cooling.
Make sure that your shirt has three-quarter sleeves and two front pockets on either side to add to the look. While choosing your shorts, take care as to how long you want them to be. Anything below mid-thigh length should be avoided. A plain beige pair of shorts with front darts is ideal for a more fitted look, emphasizing your natural body curves.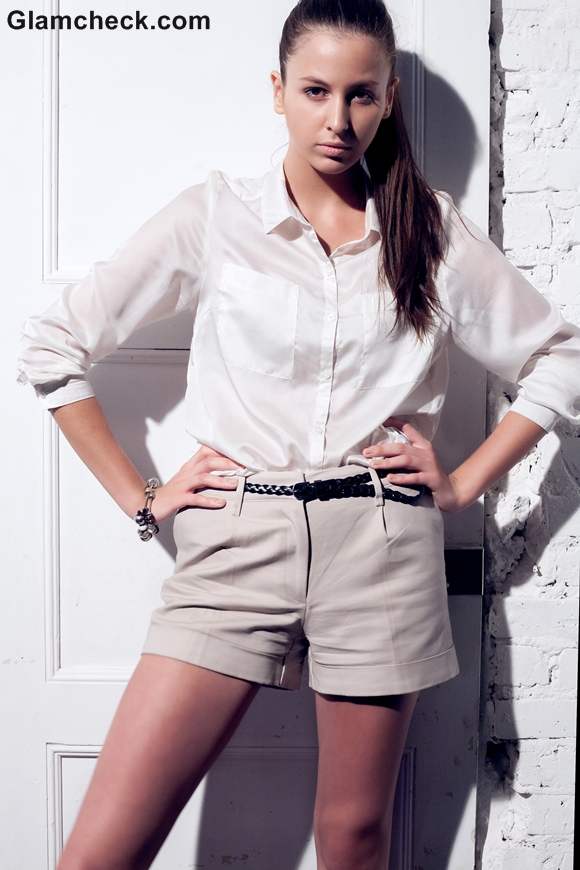 Rock the Look Urban Chic in Tailored Beige Shorts and White Collared Shirt
The basic rule for choosing what colors to wear in summer is simple. You should opt for light colored clothing because dark colors absorb a lot more heat, which in turn make you feel hotter. Interestingly, the color forecast for Spring 2013 features shades of white, neutrals and pastels.
For those of you, who love black, do not despair. The color in itself is timeless and can be incorporated into your outfit in more ways than just pieces of clothing. For this look, add a thin trendy black belt. Top-off your look with a pair of brown shoes.
Rock the Beauty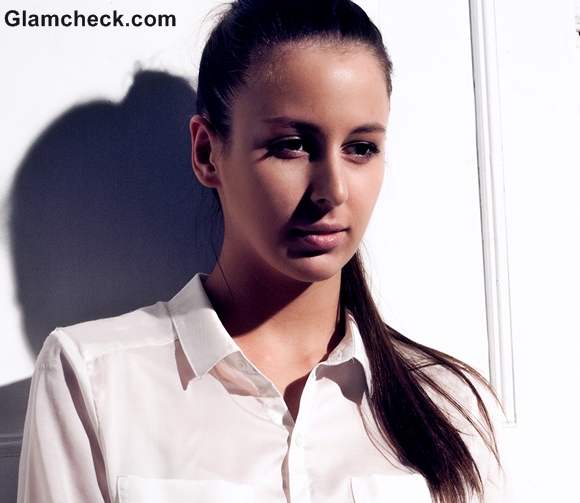 Urban Chic Look
While aiming for a chic look that exudes a certain amount of versatility, you need to make sure that your makeup is in keeping with the image you want to portray. Keep your makeup as natural looking as possible. You could use a bit of foundation or concealer with a pink blush and lip gloss.
You could also experiment with different hairstyles. A ponytail is the simplest way to go. You can also put your hair to one side, braid it or tie it up in a top-knot.
Rock the Style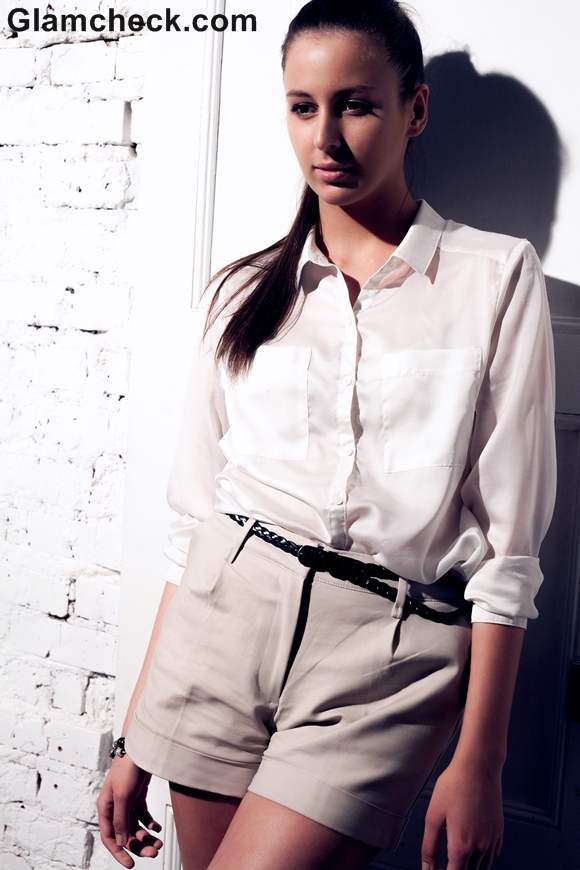 Look Urban Chic in Tailored Beige Shorts White Collared Shirt
How you school your look is what will transform a simple shirt and shorts combination into something more chic. Accessories play a very important role in helping you do just that. You could add a few bracelets, a belt or a chunky watch. Remember that because your look is comprised of solid, light colours, you can add a bit of colour through your accessories.
As far as shoes go; wedges or heels, it's all up to you. If the weather is not too hot, you could wear a pair of boots too.
Glamcheck's Rocking Tips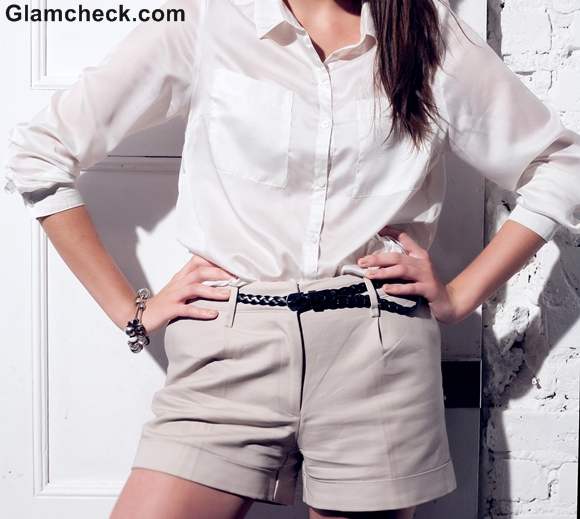 Shorts worn with White Collared Shirt
If you own a long sleeve shirt, you could roll up your sleeves and try it with this look.
You could wear a white vest inside and keep a few buttons of the shirt undone.
Add a trendy jacket and a big handbag to your ensemble to make you look more stylish.
Over-sized sunglasses are an upcoming trend next season.
Personally, this look is easy to put together which makes it a perfect summer outfit for me. I can only hope it works for you too.
Shutterstock