With new talent in fashion sprouting around the globe, the fashion capitals are not the only destination where trends are made. We witnessed the Mercedes Benz Fashion week Spring Summer 2013 in Berlin, Germany and were pleased by the contemporary take of the brands and designers.
In particular we loved the Holy Ghost show, which is a burgeoning yet promising brand from Munich, the brainchild of three decade old friends – Sedina Halilovic, Ivana Bogicevic and Jelena Radovanovic. The show essentially was filled up with gorgeous earthy tones and drapey silhouettes. The collection felt complete as there were ensembles that would be apt for resort, some for power dressing at work, an evening soiree and even a casual relaxed day out.
Our Pick: Monica Ivancan's look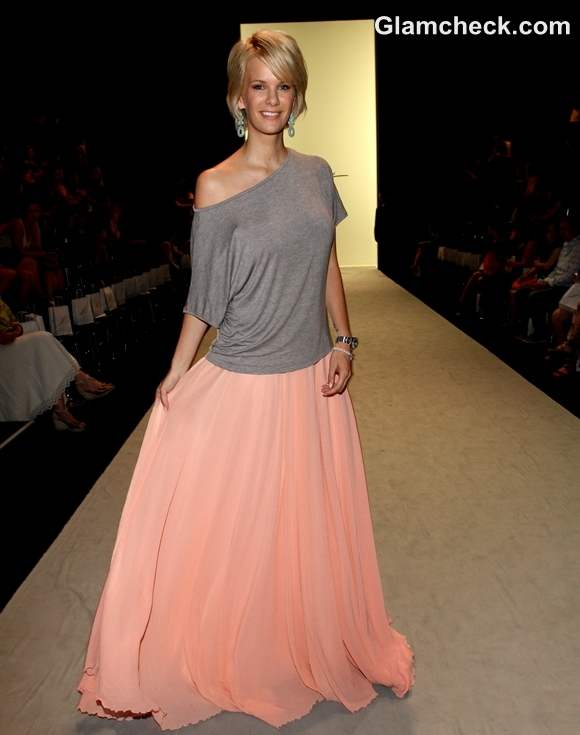 Style Check – Inspiration Feminine meets casual  Fluid skirt with off shoulder top
What inspired and caught our fancy during the show was the look as worn by model and small screen star Monica Ivancan. The combination of a fluid feminine full length skirt in the delicate peach blush hue with an urban off shoulder grey jersey top seems au courant.
The shiny and fun hair against the statement earrings and a watch worn with a pearl bracelet only make the look even more covetable.
Why it works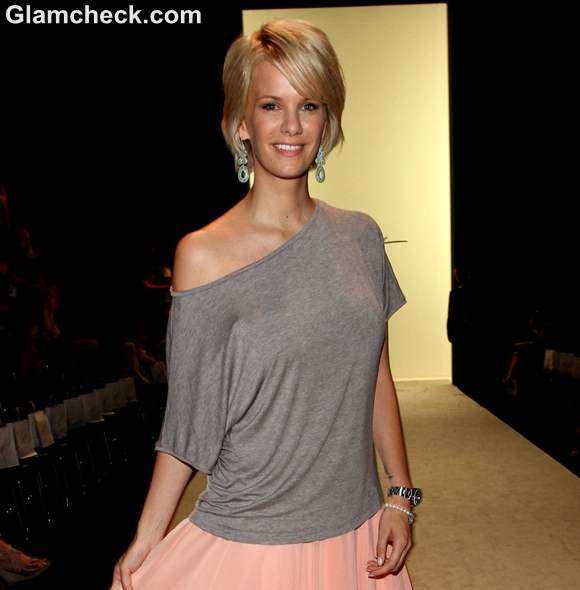 How to wear Fluid skirt with off shoulder top casual look
In today's cross cultural global fashion sensibilities, contrasts work well – A tailored blazer with pyjama pants, a denim jacket over a floral dress, punk spiked neckpieces over elegant blouses, so you get the picture.
That is why the look works, for it takes a feminine and fluid skirt in an equally feminine color and pairs it up with a regular jersey top which you would rather pair with denims usually. That's where the look breaks the mould and wins.
Get the look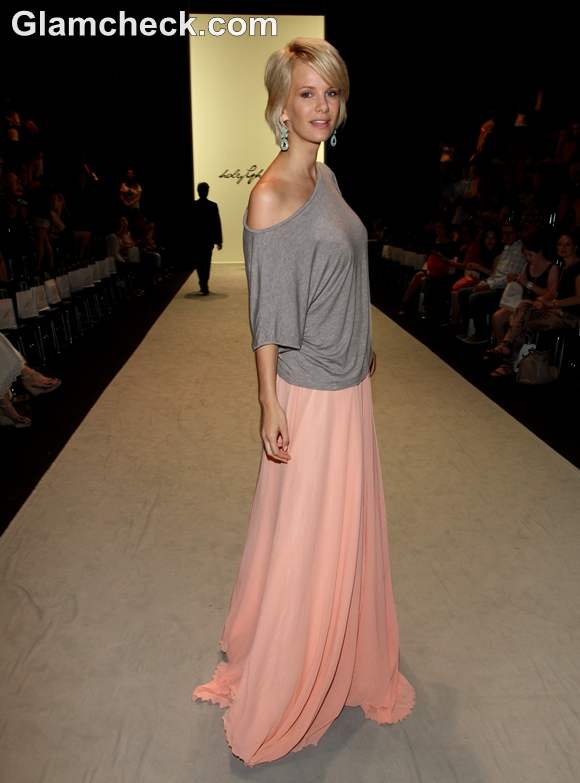 Fashion Inspiration wearing Fluid skirt with off shoulder top casual look
If you know the rules this should be an easy runway to realway look.
Choose a feminine fluid full length skirt. Alternatively if full length is not your thing and too overpowering you can work a plisse skirt too, with a mid-calf hem.
Your basic tee is a strict no-no for this look. The only way to rock this one is to choose a drapey version of the tee – preferably off shoulder. In case you don't have one in your closet wear a scoop neck fitted tee instead, tucked in and with a thin belt.
For this look, show off the neck. If your hair isn't short enough – tie up a messy bun or a side fishtail braid.
Wear drop style statement earrings or oversized studs preferably not matched with your ensemble colors and only belonging to a similar family. Wear a watch to add elegance.
Block heel mary-janes or your faithful ballerinas go very well with this look.
Complete with a sling bag or oversized clutch.
You can always add to this look, elements that are closest to your own style, as that is what makes a look personal – just remember that combining two moods is the key here. So let the feminine meet the casual.
Shutterstock