If you've ever bothered looking at the ingredient list on some soaps, moisturizers and lotions, you may have noticed that they contain glycerine. Some hair products too may list glycerine as one of their ingredients. So what's so special about glycerine?
Glycerine is a thick, odorless and colorless gooey substance that is obtained through oils and fats. It is used to give food a certain texture plus to add a sweetish taste. But it is also used a lot in several cosmetic products because of the therapeutic properties that it imparts. In the early days of cosmetics development, glycerine was a natural part of the soap-making process and you'd find it in every single bar of soap.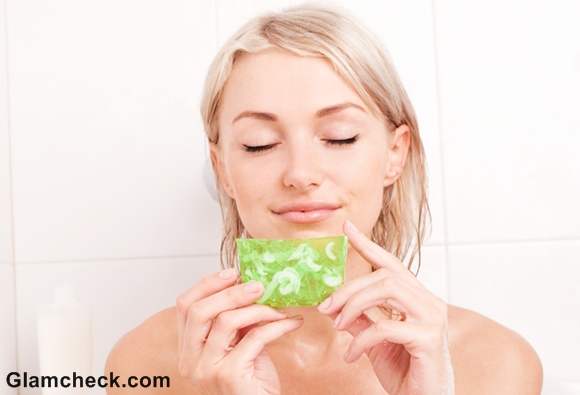 Glycerine for Skin and Hair
However, when the benefits of glycerine for skin and hair were discovered and made widely known, business-savvy soap-makers started to extract the glycerine during the soap-making process and include it in their fancier products which were priced higher. Let's see why consumers paid up without objection and how you can gain the benefits without shelling out big bucks.
Benefits of Glycerine for Skin
Glycerine suits all skin types and is especially helpful to those with sensitive skin. So whether you have dry, normal, combination or oily skin with no or high amounts of sensitivity, you can use glycerine to combat your particular problems without side effects. Here are some of the advantages of incorporating glycerine into your skin care routine.
Moisturizes Skin
All skin types need moisture. Indeed, it is lack of moisture that is one of the main causes of early aging of skin. Glycerine has long been touted as an incredible moisturizer. It should be noted though that different people experience different results. Some find that glycerine does indeed make a world of difference when it comes to being an effective moisturizer while others find that it does no more than any other natural moisturizer and is not special in any way. However, most people agree that it does provide moisture to some extent and is better than nothing.
Provides Protection
If you apply glycerine or a glycerine-based product to your skin, it creates a barrier over your skin that will keep dust, dirt and pollution from getting in while at the same time keeping the moisture in your skin cells from getting out. This protection contributes to the overall health of your skin.
Soothes Skin
If you have wounds or your skin is recovering from acne, glycerine can help to soothe the skin and aid in faster healing.
Improves Skin Texture
Over time, glycerine has been shown to significantly improve skin texture. Because of its moisturizing, healing and protective properties, it slows down degradation of skin which eventually leads to softer, younger-looking skin.
How to Use Glycerine for Skin
You can purchase glycerine at any chemist shop. It is cheap and available in different quantities so you can buy only as much as you need or in bulk to lower costs even more. You really shouldn't apply the pure glycerine directly on your skin as it may (depending from person to person) block your pores or cause blisters. This will vary depending on individual skin tolerance so until you have gauged your own it is best to err on the side of caution and use glycerine in a diluted form.
Glycerine is normally mixed with water to be used as a moisturizer or body lotion. This is the most basic recipe. How much water you need to add will depend on the consistency you want as well as how tolerant your skin is to the glycerine.
There are other ingredients you can add to get even more skin benefits from glycerine. Here are a few ways in which you can create glycerine recipes for better skin and the ways in which you can use them.
Moisturize very dry skin with a mixture of olive oil, glycerine and honey in equal proportions. Wash off after about 20 minutes. This is great to alleviate that winter flakiness and itchy tightness.
Chapped lips got you down? Dab on some diluted glycerine at night and you'll notice a considerable difference in the morning.
Don't ignore glycerine just because you have oily skin. Mix a spoon of it in your regular, oil-reduction face mask and you'll notice that it helps to reduce shininess by regulating glandular oil production. It will also help to reduce blackheads.
Mix milk and glycerine in a 3:1 ratio. Apply this on your hands or face overnight. It's an excellent moisturizer and deep cleanser.
Here's another moisturizing glycerine recipe for all skin types. Mix glycerine, Vaseline and vitamin E oil in equal proportions. Apply on whichever part of the body that needs deep moisturizing whether it's your face, elbows, knees or even your whole body. Wash off with warm water after about 30 minutes.
For extremely dry skin, simply mix Vaseline and glycerine and leave on overnight. Those with oily skin should avoid this one though.
Glycerine can also be used as a toner. Just mix a little with rose water and you're good to go. It can be stored and used later too. Just remember to shake the bottle before every use as glycerine tends to settle to the bottom of a container over time.
For an exfoliating mask, mix honey, glycerine and egg whites. Apply and peel off after it dries.
If you don't have the time or the inclination to make your own glycerine-based skin-care products at home, you can buy products with glycerine already in them. Glycerine can be obtained from plants and petroleum, and cosmetic companies do not always specify the source. So if you are particular about a plant-based glycerine remedy, then you'd be better off making your own at home.
Benefits of Glycerine for Hair
Glycerine promotes hair growth to some extent. The same properties that make it great for skin are also beneficial for hair.
Strengthens and Softens Hair
Using glycerine regularly to wash your hair will make your tresses soft and appear shiny and glossy. This visual improvement occurs because glycerine actually makes your hair stronger. Some people also claim that glycerine can make your hair grow faster, but experts suggest that all glycerine really does is make hair healthy which in turn results in hair growing as it's supposed to as opposed to the slow hair growth that most of us experience thanks to our unhealthy lifestyles and habits.
Reduces Frizz
Those with curly hair who use glycerine in some form swear by its ability to reduce frizz – one of the biggest problems that curly-haired guys and gals have to contend with. It is especially suited for those with African-American curly hair.
Moisturizes Scalp
If you have a particularly dry scalp which gets flaky often, you'll find relief by using glycerine to wash your hair. The less dry and flaky your scalp, the less damage there will be to your follicles which again will help to make your hair stronger.
How to Use Glycerine for Hair
Like the glycerine recipes for skin, the ones for hair too can be as simple or as complicated as you like. You can just mix it with water and spritz or wash hair with it, or you can add other beneficial ingredients depending on your hair type and needs. Since glycerine has a goopy consistency, you need to mix it with more water to make for easier application on hair.
The best glycerine/water ratio for shampoo is 5:1 but you can add less water if you prefer too. To this basic mixture, you can add a few drops of essential oils of your choice to create an aromatic shampoo. Or you can put this concoction in a spray bottle and just spritz it on your hair when you want to make it more manageable. Remember to shake the bottle before every use.
Other glycerine shampoos are just variations of the one listed above. Some of the other ingredients you can add to the basic glycerine hair wash are aloe vera juice, honey and a variety of essential oils.
To get the benefits of glycerine for hair, first wash your hair and condition it as you normally would. Then massage your choice of the glycerine solution into your scalp and on your tresses. Let it be for about ten minutes then wash off.
Counter-indications of Glycerine
While glycerine is indeed a wonderful ingredient for any beauty's skin and hair care regime, some people can develop blisters or have allergic reactions to it (even though it is often, mistakenly, classified as hypoallergenic). Too much glycerine use can also clog pores, especially if this is a condition you are already prone to. Experts thus suggest not relying on glycerine completely and diluting it as much as possible with other ingredients to nullify the possible side-effects. Also limit your use of glycerine whether for skin or hair. It should ideally not be used more than thrice a week.
If you're worried about an allergic reaction to glycerine, do a patch test first. Apply on the inside of your elbow for five minutes and wash it off. If there is no reaction inside of 48 hours, you can safely use glycerine.
Make sure that you buy quality glycerine from a brand you trust. Also ensure that the glycerine is sourced from vegetables and not petroleum.
Shutterstock