As life gets more fast-paced and days get longer, a common problem most fashionistas face is getting their makeup to look good all day. Sure, you can invest in plenty of makeup items with 'all-day' properties, but many professional makeup artists agree that it will harm your skin if used on a daily basis. Instead, they suggest sticking to regular makeup but using little tricks here and there to make makeup last longer.
But first, you have to buy makeup that's right for your skin type. Nothing can be more important than this tip. If your skin is oily, use water-based foundation, primer and blush. Very dry skin can withstand oil-based cosmetics and normal skin can take either, varying from person to person.
Also, makeup is not something you should be cheap about. Quality may cost more but it will give you better results and boost your efforts to make your makeup last longer. Buy fewer cosmetics, but buy the nicer ones.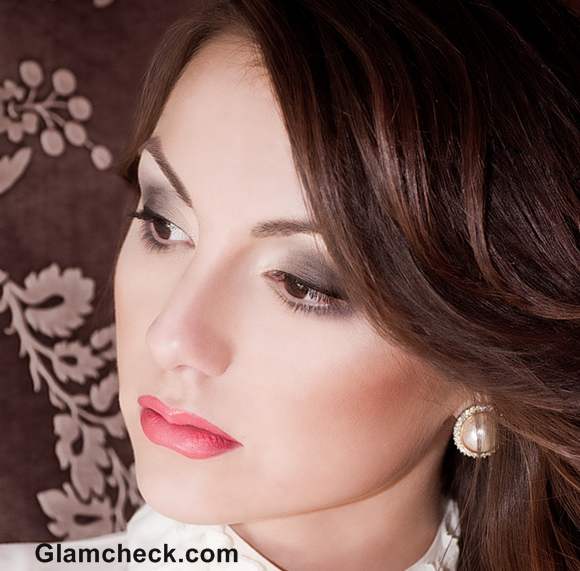 How to Make Makeup Last Longer
OK, now that you've set yourself up with quality makeup, you have a better chance of making your makeup last more than four hours. We'll go over what you need to do before, during and post makeup application for longer-lasting results.
Prep your Skin
Cleanse your skin properly before applying anything on it.
If you apply makeup on dry skin which has not been exfoliated for days, you will probably notice right off that your makeup flakes. Your skin will also look patchy, which will make you apply more foundation to even it out. Over-application of foundation can lead to caking and an unnatural look. Simply by regularly exfoliating your skin, you can avoid it all. You'll be creating a smooth, even palette for your makeup.
Once cleansed/exfoliated, apply a moisturizer that suits your skin type. Even oily skin requires moisturizer; just make sure you choose a water-based, non-comedogenic one to prevent breakouts. There are plenty of really good moisturizer which minimize oil production and also mattify skin.
Wait for about five minutes after applying your moisturizer to put on your makeup. This will give the moisturizer time to work its magic and hydrate your skin.
Next – and this is important for long-lasting makeup – apply primer that suits your skin type. Primer preps your skin for makeup, giving your foundation the ideal, smooth palette to glide on smoothly and stay true for hours together. Primer also has the additional advantage of making your makeup colors look more vibrant. You'll find several tinted primers which, apart from doing their basic job, also address problems like discoloration and dullness. If you have good skin, you may discover that you can get away with just applying moisturizer and primer on most days. You'll look natural and fresh as a daisy! Read more about primers and primer application here.
Post primer, wait again for two to three minutes before applying your foundation.
As you can see, prepping your skin for makeup is in itself quite a big thing. Get it right though, and more than half your work is done. Let's move on to other tips to make makeup last longer.
Foundation
Those who have incredible skin generally have fewer problems making their foundation last all day because their skin's inherent health and goodness just shines through. Plus, they need very little foundation to begin with so there's less chance of flakiness and a cake-y look. But for those who need much more coverage, which is most of us, heavy foundation use usually means an oily look within a couple of hours with the cakiness becoming obvious soon after. The secret here is to apply your foundation in layers instead of applying it all on at one time.
If you have a problem area, apply one thin layer of foundation and let it dry for two to three minutes. Then apply another layer. Wait for it to dry, and so on.
This layering technique will allow you to use only as much foundation as you need, is easier on your skin and will cancel out the signs of wear and tear that come into play with other techniques of application.
Bronzer/Blush
Instead of using cream-based blushes and bronzers – which are more prone to degradation as the day wears on – use powder-based ones. These are lighter and give a healthier glow to the skin. Powder-based mattifying ones are generally better for hot and humid climates.
Lipstick
The same rules that apply for your skin apply for your lips. They should be clean, exfoliated and moisturised. Learn how to exfoliate lips without spending a bomb. Once your pout is exfoliated, you'll notice that it is softer, pinker and makes your lipstick glide on much more smoothly.
When you are applying foundation on your face, go ahead and apply it on your lips as well. This is a time-tested method to get lipstick to last longer. Read more about foundation for lippies here.
Eye Makeup
Eye shadow and liner can get in the creases of the eye and look icky mere minutes after application. To avoid this, apply eye primer which will allow your eye shadow to glide on smoothly. Like with your face primer, wait for a few minutes after application before moving ahead with your eye makeup. Don't have eye primer? No problem. Use concealer instead.
Mascara should be volumizing and water-proof. But don't over-apply. Two to three strokes of good quality mascara with these properties are more than enough to give your lashes a sharp, defined look without the risk of bleeding.
Is your problem more with fading eye liner than bleeding mascara? You're not alone. Several women have the same complaint about that very same thing and will pop into the bathroom every couple of hours to touch up on their eyeliner. An economic and effective tip is to switch to gel eyeliner. It not only stays on far longer without the need for touch-ups, it also looks sharper.
Makeup artists suggest applying a bit of eye shadow over your liner for an even longer lasting look.
Keep that Blotting Paper & Powder Handy
Skin will get oily and shiny after a few hours, no matter how totally awesome or expensive your makeup is. If you have normal or dry skin, you can simply dab on powder on the shiny spots to absorb the oil. Those who have combination or oily skin will have to resort to blotting tissue first to absorb the excess oil and then finish off with powder.
Your makeup will definitely last all day with these tips. You first priority though should be the health of your skin so ensure that you remove your makeup before going to bed if you hope to continue using these long-lasting makeup tips on unblemished skin.
Shutterstock