Who hasn't looked at an edgy and rebellious looking girl and not secretly wished to be like that even if it were just for a day? The aura and mystery surrounding them is uber cool and many will exchange their everyday dressing aesthetics happily, to fit in the former's shoes just for once.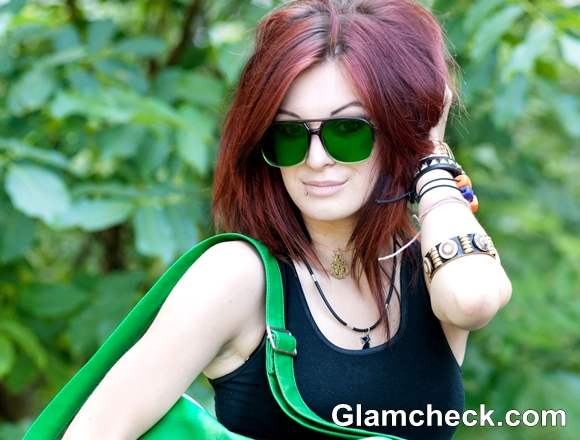 Rock The Look – Sexy Rebel in Emerald Green
But it doesn't have to be that difficult. Yes there is a formula behind dressing edgy. It's simple and you can definitely rock the look too with a few pointers.  What's more, we tell you how to achieve this while being on trend with emerald green. So are you ready to be the good girl gone bad? Let's roll!
Rock the Fashion
In terms of clothing, the requirements here are very basic. Have a well-fitting black tank or racer back with you? It's perfect for this look. An all black look is befitting to achieve the outcast streak. So pair with either a black jeans or black leather jeggings would make you shine even better. This is the apt look to show off the ripped and distressed jeans you own. Alternately pair with beige shorts or pants.
Rock the Beauty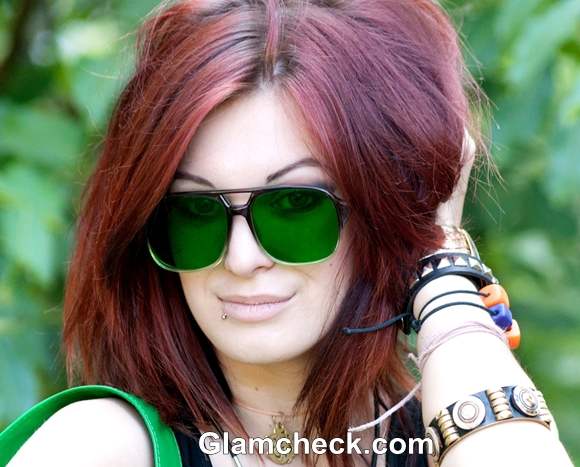 Rock The Look Emerald Green aviators
Use black kohl or eye liner on your lower lash line. Repeat with a thin stroke on the upper lash line too. Smudge some kohl or black eye shadow towards the outer corner of the eye. Keep it subtle though as this is a day look.
Keep the lips natural but moisturized with an SPF lip balm. Paint your nails black, an eerie green or have skull nail art on them for a complete look.
Leave hair open and hand comb them. If you have highlights or have colored your hair to a burgundy or red, the look will come across even more convincing. If you have to tie the hair, a messy bun is your best choice.
Rock the Style
Accessories would make or break this look. Though they play an important role in any attire, but for a rebellious look they become indispensible to get right. Thrifted looking neck pieces of different origins work great. Wear not one but two of different lengths, covering the neck. If bold enough then you can also sport along antique looking chain along with the two neck pieces. Look for studs, spikes, leather and chunky beads in your accessories.
The wrists are to be decked up too with multiple bracelets and leather cuffs. Mix different styles together n your wrist. Wear a ring or two in the other hand, and we recommend bold and chunky metal rings. Carry a huge tote or sling bag in an unpredictable color. We love emerald green here, since it is the hue to have for 2013! Also match your sunglasses to your bag. Tinted shades in a face flattering shape are a must-have accessory. Notice how the emerald green shades really add an edgy character to the look. Need we say more on the chicness of this color right now?
If you have any visible tattoos or piercings then this can not get better! Canvas sneakers, smoking slippers or spiky boots and ballerinas will all greatly enhance this ensemble. Remember to ditch anything feminine for the feet too.
Glamcheck's rocking tip
Replace the plain tank with your favorite rock band tee, tucked in loosely and with sleeves rolled up and you are even ready to go to a live music gig in the evening while completely looking the part.
Shutterstock