All of us love to buy makeup; especially products that can be used throughout the year that don't depend on the fashion seasons. While you may have to trade your nail polishes, lipsticks or facial cosmetics for newer, better or trendier ones every season, something like mascara on the other hand needs to be changed only when it becomes unusable.
Mascaras are great if you want to make your eyes stand out. With it, your lashes appear thick, long and defined. And with the variety of colors available, this product is a must have for any makeup bag.
When you buy new mascara, you either tend to use it very often or save it for special occasions. If it's the former, then you finish your product very fast and buy a new one. And if it's the latter, there will come a time when your mascara dries or clumps up, forcing you to buy a new one. Just a few simple tips can help keep your lashes looking long and gorgeous and make your mascara last longer both in the bottle and on your lashes.
Tips While Buying Mascara
Though good mascaras can be expensive, they are definitely worth investing in. I'm not saying that you must ignore a good deal when it comes along; all I would like to say is you should make an informed choice about what you are buying and how it may affect you. So here are a few tips for you to keep in mind while making your choice.
Always look at the manufacturing date. Avoid buying products that have an expiry date close to the present date no matter how appealing the price may be.
Look at the mascara brush before buying. Brushes with very dense bristles should be avoided as the mascara collects at the top of the brush and leads to clumping.
Choose a mascara bottle that has a smaller bottle opening to reduce the amount of air that gets in. This prevents the mascara from drying up quickly.
Mascara with a thin brush not only comes in a small bottle, but is easy to use right till the corners of your lashes.
Though waterproof mascaras are great to use, they can be slightly difficult to remove from your lashes. Usually makeup remover creams can help with that, but since these creams are very oily, avoid using them often around your eyes to avoid that burning sensation that comes with frequent use of such removers.
Also water-soluble mascaras last longer than waterproof mascaras. Water-soluble mascaras are a great alternate for daily use.

Mascara has a shelf life of three to six months from the date a new tube/bottle has been opened. So make sure to note the date when you open your mascara and discard it accordingly.
Tips to Make Mascara Last longer in the Tube/ Bottle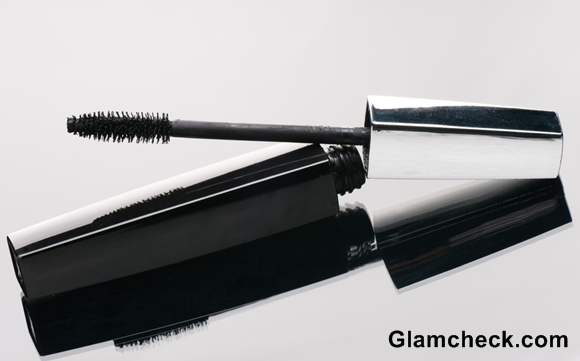 How to Make Mascara Last Longer
To avoid your mascara drying, never leave your mascara tube/bottle open. Switch off the fan in the room while applying your mascara and close the lid of the bottle tightly after use.
 Tilt your mascara brush to remove mascara from the sides of the bottle. Do not force the brush deep inside the bottle. This could push a lot of air into the bottle and make it dry quickly.
 Also, mascaras are prone to bacterial growth if left open. So keep the lid tightly shut when not required.
 Store your mascara in a cool dark place, away from sunlight to avoid it drying.
 One of the most common tricks for giving a new lease of life to mascara that has started drying is to add a few drops of water and shake the tube well. While this usually works, there is always a chance of bacterial growth and infection. Instead, you could add just a few drops of saline solution or eye drops to the bottle and give it a few pumps. Whatever you choose do, just make sure to use a sterile solution.
 Remove any excess mascara on the brush or wand before and after every application to avoid clumping. You could do this with the help of some tissue paper or cotton pads soaked in some makeup remover.
Tips to Make Mascara Last longer on Your Lashes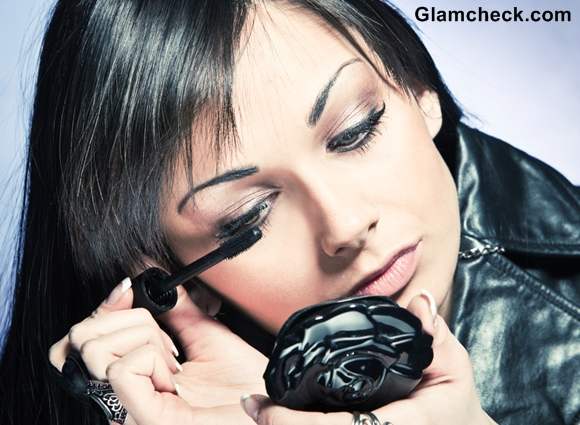 Tips – How to Make Mascara Last Longer
While applying mascara from a tube or bottle, let the mascara dry a bit on the brush before you apply it to your lashes. This helps with smoother application and makes it last longer.
 If you notice a bit of clumping on your eyelashes after application of mascara, use an eyebrow or eyelash comb that has a bit of makeup remover and comb your eyelashes until they begin to separate.
 Apply multiple mascara coats only after the previous coat has dried. This will prevent your mascara from clumping. Remember to have not more than three swipes over each eyelash – one focusing on the inside, one on the middle and one on the outside. Apply mascara to each set of lashes alternately.
 Before applying your mascara, apply some almond, olive or coconut oil onto your lashes with a finger. Remove the excess oil with the help of some tissue paper. Now use your mascara as usual, from the roots to the tips of your lashes using an upward stroke.
 Disposable brushes/wands are a great way to prevent any bacteria from getting into your mascara tube/bottle and reducing its life span.
Place a tissue beneath your lower lashes and use a thinner brush while applying mascara, for best results.
Always apply mascara after you have finished applying your eye makeup. And don't forget to remove it before going to bed. Prolonged application of mascara is believed to reduce the length of your lashes over a period of time.
Tips to Avoid Clumping
When mascara begins to clump, instead of throwing it away, here are a few tricks to help you make it last longer.
Make sure to keep the top of your tube/bottle free of any residue. This prevents dried up mascara from mixing with fresh mascara, creating clumps.

Microwave or heat some water till it boils and then allow it to cool for a few minutes. Now place your mascara tube into the water and see how the clumps dissolve after a few pumps. If required, repeat the process until your mascara is back to its normal consistency.
Another trick is to use petroleum jelly. Just add a bit of jelly in an almost empty tube and pump the brush in and out a few times to mix the remaining mascara and jelly well. Your mascara is now ready to be reused.
Signs of Expired Mascara
Making your mascara last until the very end is one thing, but you should also be aware of the ill effects of using an expired product and recognizing when it's time to get a new one.
You know your mascara has expired when it's dry, smells funny/ rancid, looks old or cakes up. Also, if it's over six months old since you opened it, you should probably just throw it away.

Expired mascara can cause eye irritation, redness, puffiness, itching, excessive eye watering or even give you an eye infection or a sty.
Well, we guess that's almost everything you need to know to make your mascara last longer. Your eyes say more than you can know, so take really good care of them and keep them looking gorgeous the 'mascara way'.
Shutterstock