With summer fast approaching, the first thing on your shopping lists should be to pick up some great swimwear and get ready to head straight for the sands. And what better place to choose from, than the world's largest swim industry event in the sizzling city of Miami. Not only does it happen to be the designer capital for swimwear, it's also a place where you can flaunt everything you've got!
Amongst the many designers who showcased their collections in July at the Mercedes-Benz Swim Fashion Week in Miami, we spotted Anna Kosturova's Spring/Summer 2013 Swimwear Collection which was all about flirty lace and fun colors.
The Collection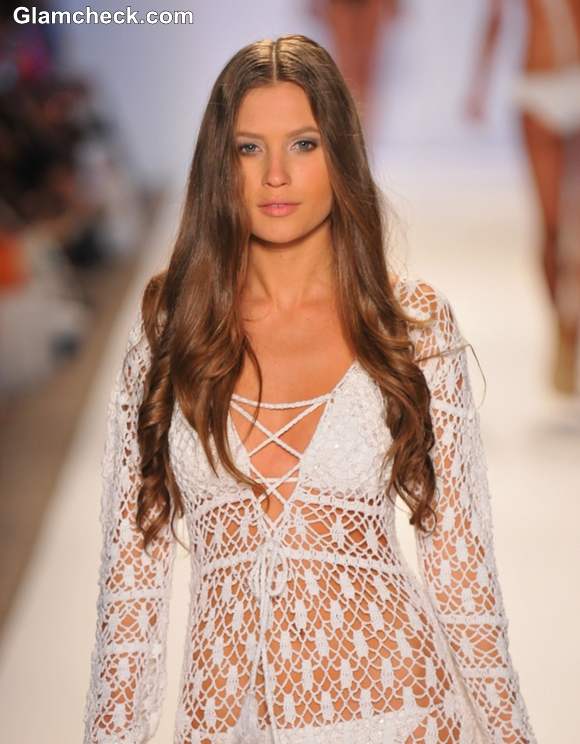 Anna Kosturova S-S 2013 Crochet Swimwear Collection
The crochet collection took an average of two years to create, right from the designing to the final production. Kosturova believes that garments with a good fit not only enhance your appearance, but also boost your confidence. Looking at this collection, I must say that I have to agree. The garments on display emphasized the models figures perfectly as they walked the ramp in style. While there were revealing swimwear pieces for a more daring audience, there were also beautiful cover-ups for the rest.
The twin inspirations for the collection revolved around a crocheted Bohemian look and something more sophisticated. Not only were the crochet garments exquisitely hand crafted, they revealed just enough to excite one's imagination.
The Colors
For the most part, the color palette for the crochet garments had a lot of neutral shades and rich creams in it. While the color of the crochet pieces remained mostly neutral throughout the collection, the bright colors peeking from beneath were what caught our eye. Whites, creams, greys and blacks were infused with vibrant, exotic colors that would remind you of the tropics. Kosturova used the hottest colors of the season, showcasing two-piece bikinis in shades of orange, lime green and aqua blue.
The Looks
Being a swimwear collection, it has everything you'd need for a perfect day on the beach. This collection has something for everyone, especially since there are several looks on offer- from glamorous resort wear to boho pieces. The collection includes bikinis, one-piece suits, matching tops and shorts, pants, wraps, and long tunics.
Tops and Bikinis
The collection featured unique styles and colors with embroidered bathing suits, vibrant colored bikinis and swimwear covered with tassels, lace and sequins. The garments were a perfect mixture of lace, geometry and style. The surface and textural effects of the crochet pieces were definitely something to look out for.
The string bikinis looked gorgeous on the models when worn with or without the crochet cover-ups. What added interest to the bikinis besides their bright colors were that they were accented with thread and had side tie-ups. We even saw a few striped bikini styles. The bright color palette complemented the frilly, fringed, embellished pieces perfectly.
Amongst the more daring swimsuits were the string bikinis that had the tops and bottoms connected together by an intricate crochet mesh. While some had tassels on the bikini tops, others had crochet frills on them. There were also two-piece sequined bikinis worn inside some cover-ups, in white and gold.
One of my favorites was a crochet top worn over an orange bikini that had a fringe at the edge with a beautiful open-lace structure. Added to that was a pair of gladiator sandals in a shade of stone grey.
Cover-ups
As for the cover-ups, some of those gorgeous see-through pants and dresses were teamed up with similar hued bikinis.  These garments were seen in varying degrees of sexiness- depending on how much they revealed.
The "Summer Tassel" fringed pants were worn with a studded halter bikini. Added to this ensemble was a pair of trendy beach footwear and a tasseled sling bag. The tassels sure were mesmerizing while they moved!
By way of accessories, some models wore a large bangle or bracelet to add a bit of colour while others wore long, colourful beaded chains. Since Kosturova loves the seas, some chains even sported anchors as pendants. Earrings are also a nice way to add a bit of colour to your look as we saw them worn with some of the crochet dresses.
The makeup was kept as natural as possible, with a hint of color around the eyes and lips. A light blush was also visible on the models cheeks. They also had their hair kept open which added to their "summer look".
The dresses were works of art in themselves. Each dress had a matching bikini beneath in the same color. From the many crochet dresses on display, there was one floor length white dress that had long puff end sleeves and tie-ups in the front. This dress was worn with a pair of chic open sandals, perfect for a stroll on the beach.
Another version of the "Summer Tassel" was also seen on a crochet dress. This long fringed dress in cream was worn with a pair of high heeled ankle strap shoes to match in cream and brown. A bracelet was the only accessory required to complete this glamorous swim cover-up.
Crochet Throws
For those of you who love to wear throws, Kosturova had some beautiful open-stitch crochet ones with tasseled edges. These throws are great for tying around the waist or wearing as wraps, depending on what you're wearing beneath and where you plan on going.
Overall, the collection was sexy, stylish and in a class of its own. Crochet swimwear is surely the way to go this summer!
Shutterstock