There's always excitement in the air when we talk about Fashion weeks. Not only can't we wait to see what's in store for us next season, but we also love to catch a glimpse of those in attendance at these shows. Amongst the many celebrities that arrived for the London Fashion Week Spring/Summer 2013, Jodie Kidd was spotted arriving at Somerset House for the Bora Aksu show.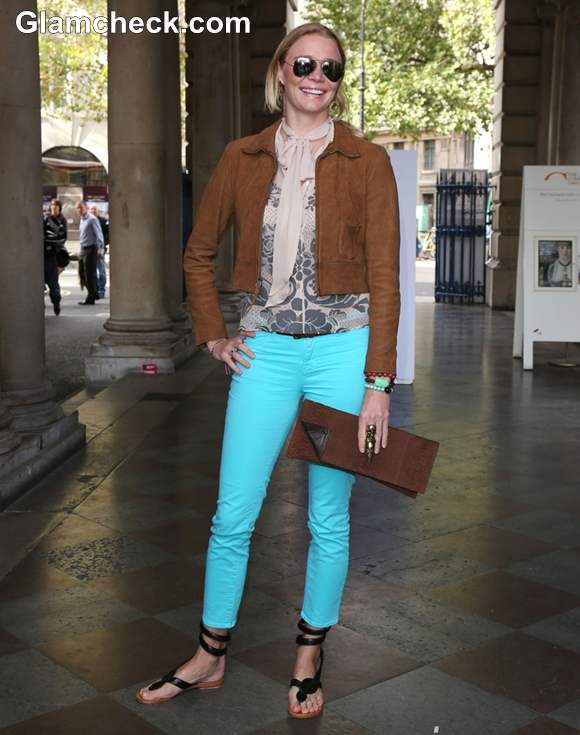 Fashion Inspiration – Jodie Kidd Casual Chic in Neon Blue Jeans at LFW S-S 2013
While you may have noticed her absence on the runways in the last few years, Jodie Kidd once again did not disappoint her audiences as she graced the occasion looking elegant and stylishly fashionable, sporting the colors of next season.
The Look
Jodie Kidd hasn't lost her touch when it comes to looking the part of a model.  What caught our eye was the bright neon blue cropped skinny jeans that she had teamed-up with a cream colored blouse.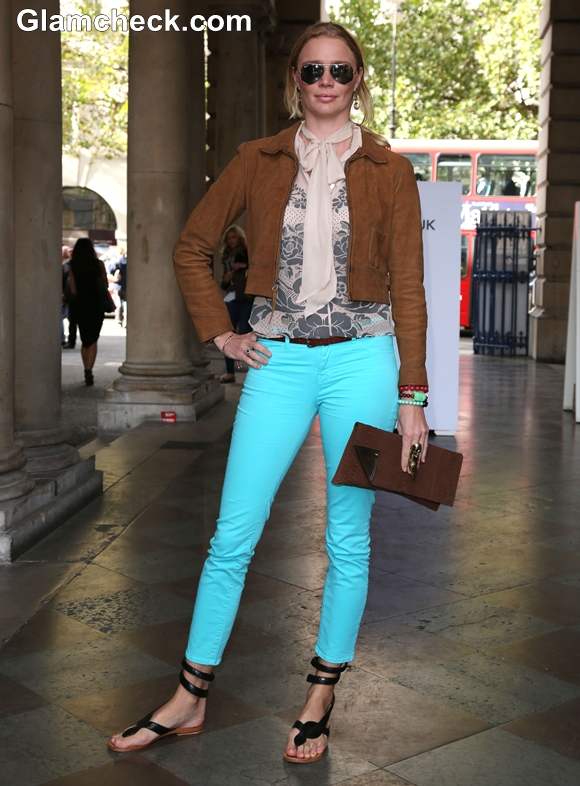 Fashion Inspiration – wearing Neon Blue Jeans
The colors she wore were a mix of shades of brown, black, cream and neon. And for those of you who would love to pull-off the neon jeans look, here's how Jodie Kidd did it…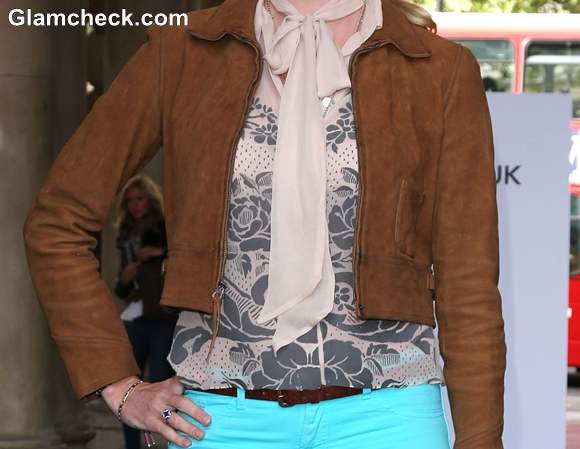 Fashion Inspiration – wearing Neon Blue Jeans with brown jacket
For starters, she wore a cropped brown jacket with a cream colored see-through blouse inside. The blouse itself had a charcoal grey floral print on it with an open bow collar that definitely added a feminine touch. The neon blue jeans brought the entire ensemble together in terms of color and looked really fabulous.
Her makeup was kept simple with her hair tied back and only a hint of pink lip color visible on her pout. Her look was the perfect blend of casual chic and she let her clothes do all the talking as she posed for the cameras!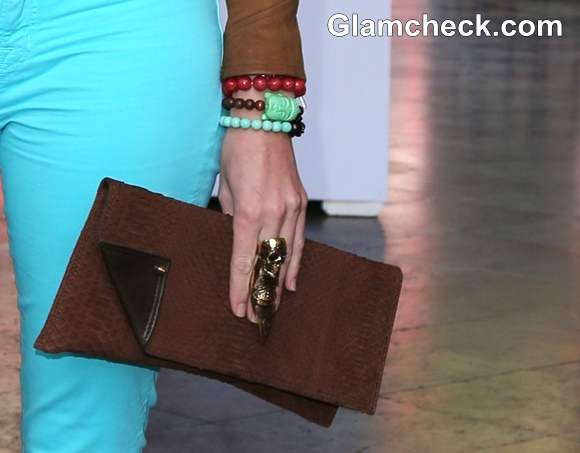 Brown and neon blue combination
By way of accessories, she wore a long finger ring, beaded bracelets to match her attire and a trendy pair of earrings. To complete her look, she added a brown snake scale clutch and a pair of Ray Ban Aviator sunglasses. Don't miss the matching brown belt and clutch combination!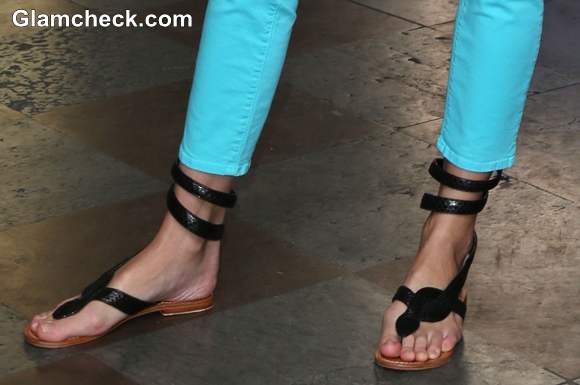 She also wore a pair of flat open toe sandals that had a really gorgeous ankle catch to it. I found her shoes really interesting, because they reminded me of a coiled up snake. If that was actually the case, I think her accessories were really well coordinated… don't you?
Why it Works
In today's world of Global Fashion, contrasts are sure to make a statement. Blending of colors, mixing and matching plain fabrics with prints and textures, using a wide range of looks and accessories, they all go hand-in-hand to help make a fashion statement.
This look does exactly that with the perfect contrast being provided by the neon jeans, the printed blouse and brown jacket. Jodie Kidd successfully combined print, color and texture, to give use a look that was sure to make heads turn.
Get the Look
This look is all about combinations. Here are a few pointers to keep in mind while trying out the perfect combination that works for you.
Make sure that you don't make the mistake of wearing a printed top with a printed bottom. Keep the focus on a single piece of clothing as far as possible.
While choosing the right jean color, make sure that your choice doesn't clash with the top, blouse, jacket or blazer that you plan to wear with it.
Most neon's work well with neutral shades of black, white, beige or khaki. For example, you could wear a neon color blouse with a black pair of jeans.
Ideally, while choosing what color to wear, try wearing something that emphasizes your best features. Like Jodie Kidd emphasized a great figure in those neon blue skinny jeans.
Color blocking your clothes, shoes, handbags or accessories is another way for a fun, trendy look.
Just remember, the look that you choose should be something that works to your advantage with the right combination of both color and confidence.
Shutterstock