If winter is for layering, summer is to let loose. You can think of taking out all your shorts, cotton shirts, tanks and dresses tucked away in your wardrobe and come up with some amazing looks for the season. Summers offer you a chance to be trendy with class, at the same time flaunt your limbs with style. You needn't always be dressed down to be comfortable; here is a great look that will make you wear your classic shorts with a pure summer chic flavour, ideal for a summer outing or holiday.
Essentials for the look: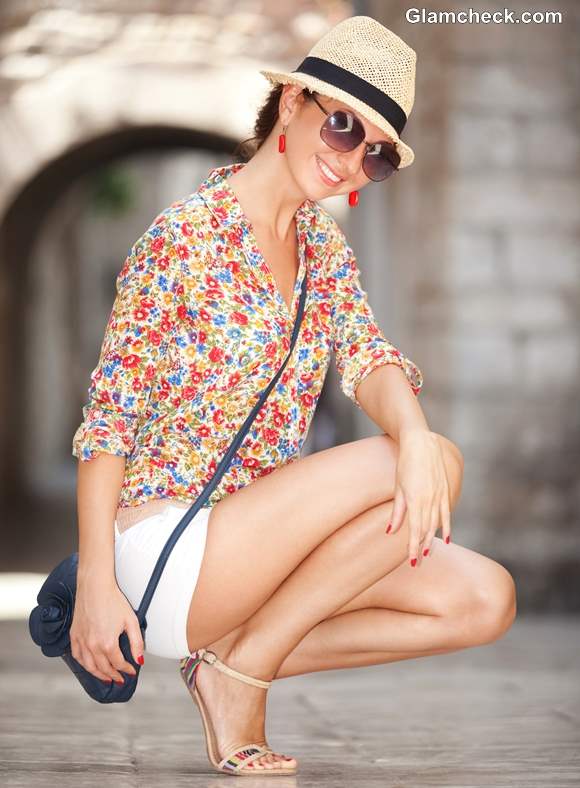 Chic Summer Look : Wearing Floral Shirt with Crisp White Shorts
To put together this look, you would need the following pieces from your wardrobe:
Crisp white shorts
A good pair of shorts is what this look begins with. It is this that gives the look a slightly semi- formal touch. If you replaced them with denim shorts, you would completely transform the look and make it more casual. While selecting your shorts, we'd recommend you go for a neat pair with little or no embellishment. You can also choose to go for some more summary shades like light yellow or peach. For this look, however, avoid bright colored shorts.
Floral printed shirt
A lot of people find it difficult to be able to carry off white shorts or don't know what to pair it with. You are going to be on the safer side with this combination. A cute floral printed top or shirt works really well with solid basic shorts. The busy print of the top will get subdued by the light tone of the bottom.
Straw hat
When going out in the sun, never forget sunblock and a cute straw hat. No amount of sunblock will be as good as a hat in protecting you from the harsh rays of the sun. 
This look is more about how well you accessorise the simple shorts and shirt combo so a straw fedora is always welcome.
Accessories.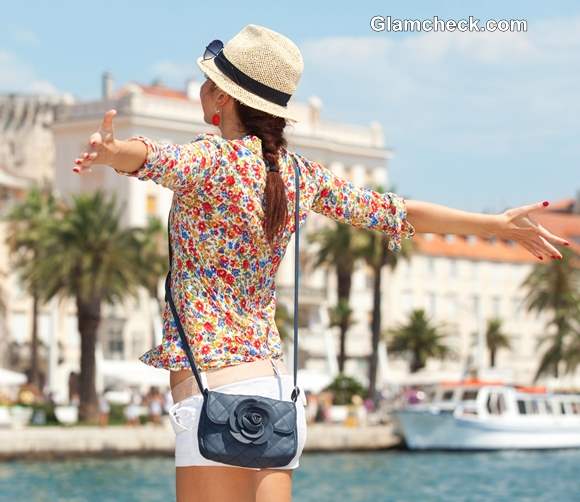 Wearing Floral Shirt with Crisp White Shorts
Just clothes alone will not work the magic. You need to accessorize this summary look a little more by adding some interesting elements. A pop of color can be added by some jewellery, especially earrings. Since your hair is going to be tucked in or braided, the earrings will attract a lot of attention. A colourful bracelet or locket on a simple chain can also be used. Your shorts need a nice belt to make it look complete. Go for a slightly studded one to add a hint of metal to the look. Color of the belt should be muted, most preferably camel or light brown.
The right kind of footwear. 
As you are most probably going to be strolling around the streets of some beautiful suburb in this look, always go for leather sandals.  A T strap sandal is going to look just as fine as a strappy one. You can also go for one with some hint of color or pattern but don't make it a stand out piece of your ensemble. Keep the footwear simple and comfortable.
Hair and Makeup: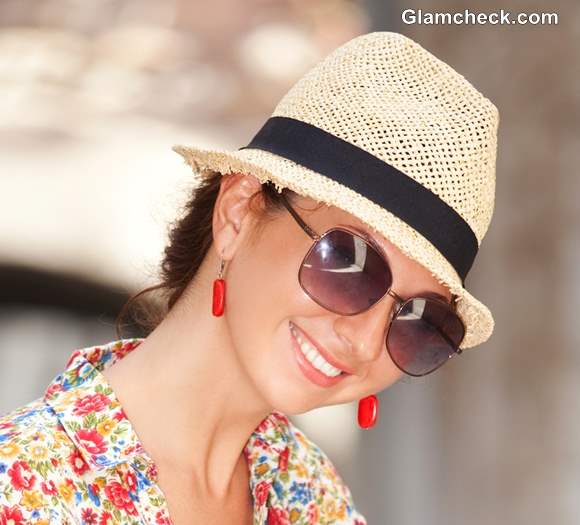 Chic Summer Look
With a look like this, you ought to look fresh and natural. Keep the make up to a minimal and hair neat. The weather demands your hair to be tied up for ease so you can try a bun, pony or braided hair that is pulled up in a bun. Put on a natural or light shade of lip gloss to give that slight shimmer. Make sure to use make up that does not block your pores.
Going out in the look :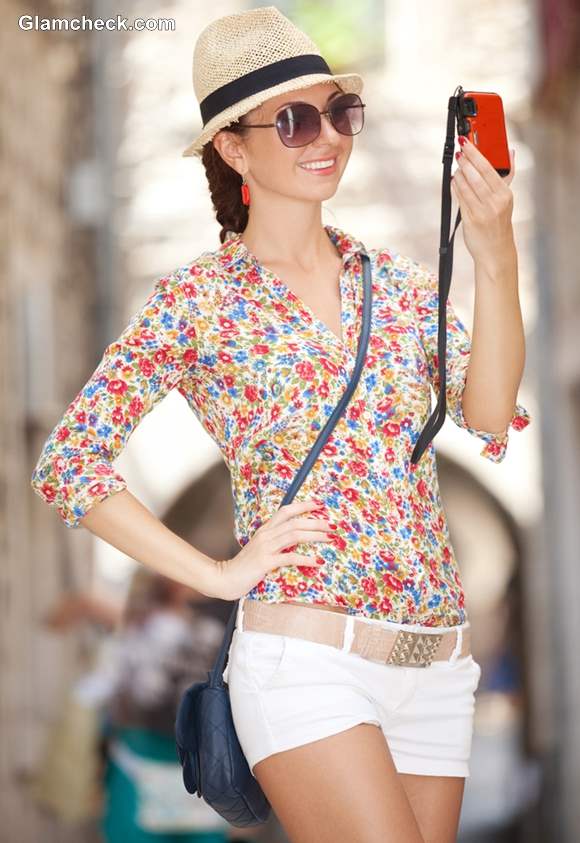 Wearing Floral Shirt with Crisp White Shorts – Summer Styling
Once you are done with selecting all the clothes and accessories for the look and are ready to step out, don't forget to carry some more essential pieces, not just to complete the look but also because it is going to be very useful, such as a trendy sling bag to keep your hands free and carry small items like a pocket camera, phone or moisturizer and your favorite pair of shades.
The chic summer look will work in any corner of the world and will definitely make you both comfortable and classy as you step out for a great time in the summer.
Shutterstock