Every year, there are so many winter styles to choose from, that it sometimes becomes difficult to choose which style route to take. You could go the formal wear route, or opt for trendier clothing that is sure to get you noticed. And since this upcoming season is all about making a colorful style statement, adding a splash of neon is surely the way to go.
So slip into your high heels and get set to add a quick fix to your winter wardrobe. To make this look work for you, all you have to do is BE BOLD!
The Look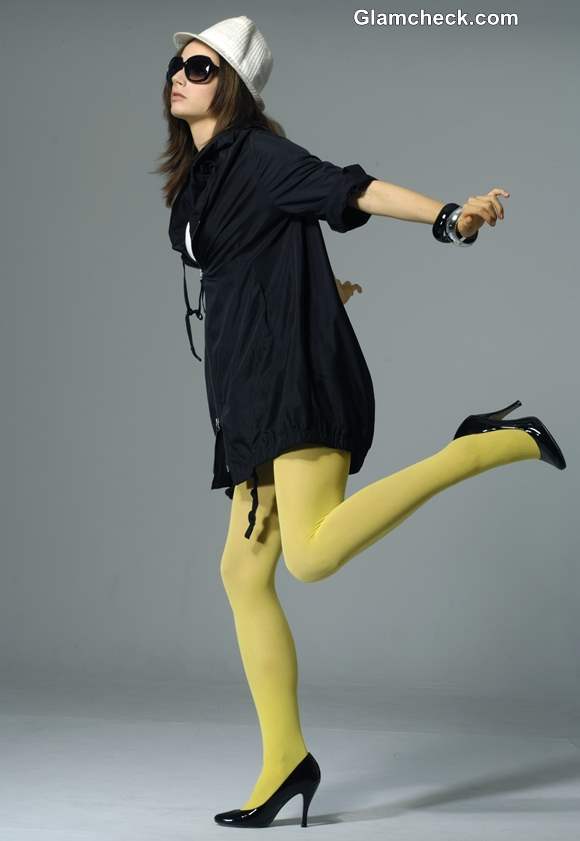 Winter Dressing Tips : How to Wear Neon Tights with an Oversized Jacket
The look combines a simple classic black and white theme with neon yellow. There are three key pieces of clothing that have been combined with a variety of accessories to give you the perfect winter chic look that you can put together at a moment's notice. To rock this look, you'll need a pair of neon tights, a black oversized jacket and a white tank top that can peek from beneath it.
Oversized jackets should be on your trend watch for next season. These jackets are in essence used like dresses. Ideally, you should choose oversized styles and lengths that end just above your knees or around your calves. For this particular look, the jacket zips up in the front, has rolled-up sleeves, pockets and an adjustable hem-line
Do keep in mind that even though this jacket has a loose fit, because it's black, it'll make you appear slimmer. So for those of you who want to emphasize your great legs and take the attention away from your torso, this ensemble is a great option.
Also, neon tights are great for dressing up an otherwise plain outfit, be it for a themed party, a day excursion or a night out. Not only are they easier on the pockets than a pair of trousers, they are great to spice up your look without adding another major garment to your wardrobe.
Accessories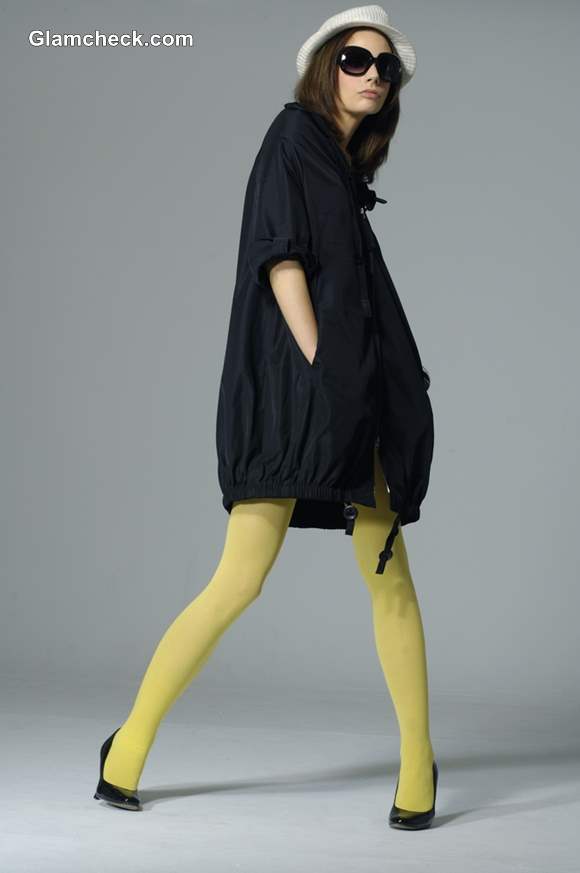 Winter Dressing Tips wearing Neon Tights with an Oversized Jacket
Once the clothes have been taken care of, the next item on your list should be your shoes. Shoes are extremely important to take any outfit to the next level. Wearing a pair of heels not only makes you appear taller, it will make you appear slimmer too.
For this look select a pair of black pumps that is sure to complement any piece of clothing in your closet. By way of accessories, you'll also need a white hat, a pair of black sunglasses and some big black and silver bangles.
Makeup & Hair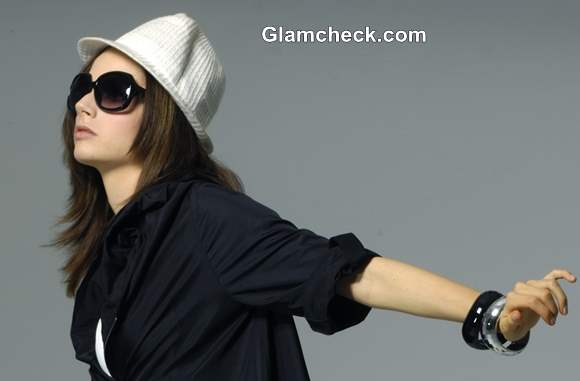 Winter Dressing Tips Neon Tights with Oversized Jacket
Keep the focus on the clothes by keeping your makeup as simple as possible. The 'nude look' is the current fashion trend that's being sported by one and all. You could use a light blush and a bit of lip color to get the look you desire.
As for the hair, keep it straight and simple. While wearing a hat, keep your hair open. Otherwise a high ponytail and a pair of sunglasses would look great too.
Tips
Don't discard old coats and jackets. You could convert them into smart dresses instead.
If your clothing is too plain, you could opt for some neon accessories for a more dramatic look.
There are a range of heels for you to choose from; you could choose a pair of platforms, pumps, clogs, stacked heels or even wedges. Boots are another great option if you feel that your feet are going to go numb after a while.
If solid or dark colors are not your style, you could try adding a fun element in the form a patterned tank top or scarf that won't add any unwanted visual width while still making you appear slimmer around the top.
Opt for flowing fabrics that help conceal your flaws. Also, stay away from heavy cottons or clingy knits that will highlight your trouble areas (if any).
Don't forget, contrasts help make an outfit interesting. While most of us would add a jacket to a dress to do just that, this coming winter, it's all about using a jacket as a dress. Not only is this look perfect for a winter outing, it's also great to wear during the holiday season after a bit of Christmas indulgence.
Shutterstock