The double bun hairstyle is a very classy look for kids but also one that exudes lots of fun and mischief. Sleek top knots immediately bring to mind stately, disciplined ballerinas.
DIY little girls hairstyles – Double Top Knots
Mess up a top knot and the effect is titillating. Now you'd think that by making a hairstyle with not just one but two buns sitting atop the crown, the result would be way too sexy. But all it does is make for a very adorable, super-super-cute look.
DIY Kids Hairdo : Double Top Knots
Here's how to go about emulating the look for your little princess.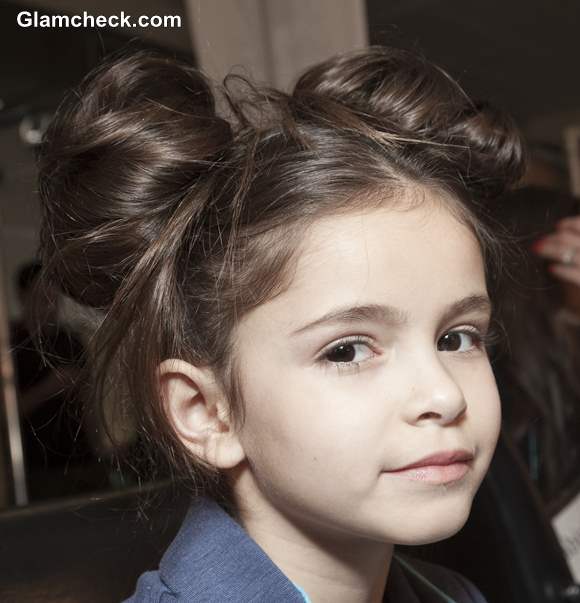 DIY Kids Hairdos – Double Top Knots
Part hair down the middle into two equal sections. Use a styling clip to hold one section aside so you can work on the other.
Brush the portion you're working on so that there are no knots. The secret to a good messy bun is, believe it or not, untangled hair to begin with.
Twist hair like a long noodle, round and round, and use the entwined result to create a bun. Do it in such a way that the ends stick out once the bun is pinned in. Pin a few of the ends into the bun so that the look is messy without being shabby.
Use a fine-tooth comb to pull out strands of hair from the bun and place them so that they look 'accidental'.
Repeat the above with the second portion of hair.
This do works great without any hair accessories. But if your little girl is expressive and in the mood, try little clips or beads across the bun. Or a piece of ribbon wrapped around the base of the bun.
Shutterstock