Little girls these days are nothing short of little fashionistas. As a mother, you of course know how your little girl insists on choosing her outfit and insists on looking good. Unlike us in our childhood, they have opinions quite early on in life. So the little girls will already have a favorite color and also despise certain prints if you ask them. And the aware and picky little girls take their fashion choices everywhere. Yes they are very particular about the clothes, shoes, accessories and even their swim wear, which is exactly what we talk about today.
5 Tips to choose swimwear for little girls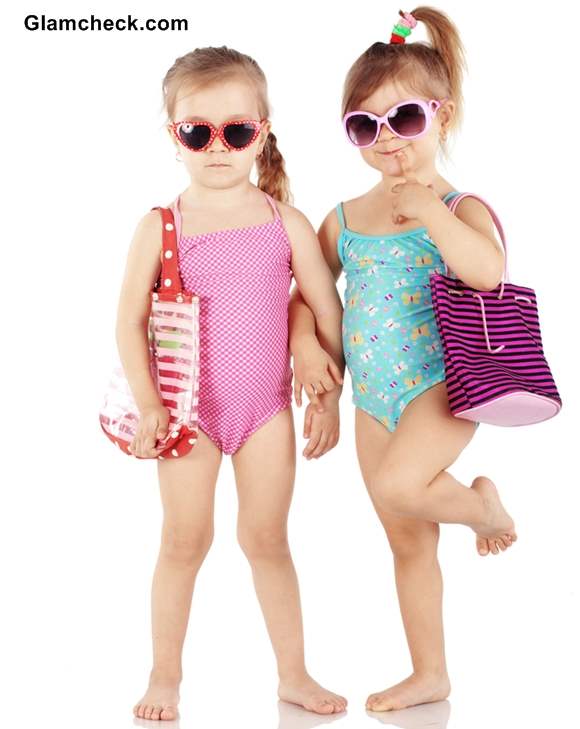 How to choose swimwear for little girls
Choosing their swimsuits for their swimming lessons or that holiday to the beach can seem daunting. But with a few tips from Glamcheck, and a slight understanding can make this task simple.
# 1 Take them along
One of the best tips that we can give you mothers out there, is to take your girl along for swimwear shopping if you can. This way it will save you the trouble of them not liking the swimsuit later and refusing to wear. Though, this will also require some serious skills on your part, in handling the child when she makes far-fetched demands at the store. In that case, shopping for them online from the comfort of your home could work too.
# 2 Choose peppy colors and prints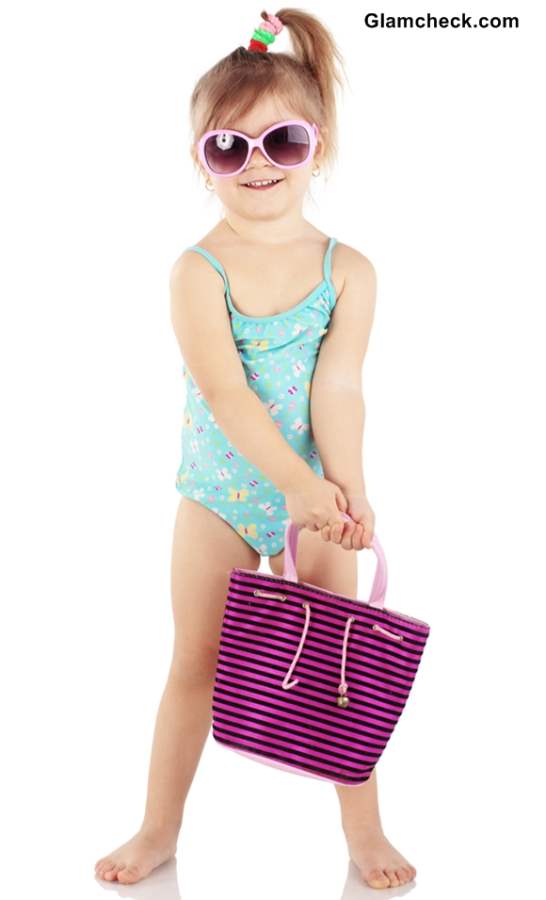 Tips to choose swimwear for little girls
It is needless to say that little girls love to have some fun with everything they wear. Bright peppy colors like bubblegum pink, tangerine, cobalt blue and even neons, as they are trending right now, look very cute on them. Think happy and chirpy when picking a color. Take a similar approach for prints. Ditsy florals, geometric prints, stripes, gingham checks, polka dots all work great for them. Also take care if your little one has an affinity to a particular print. Let them have one swimsuit in that and urge them to try another print for the second swimsuit.
# 3 The less complicated the better
Yes, none of us can escape from feeling attracted towards a design with all those cute little buttons and bows. But if you think about it, kids use all their clothes roughly. They are too little to take care of all those embellishments. Hence when they tuck at each other or play, the embellishments come off leaving the swimsuit useless at times. Hence it is advisable to buy simpler versions.
Also note that the swimsuit should be easy enough to slip on, even if your kid had to wear it on their own sometime, when you are not around. Cross-back styles hence fall in the cumbersome category, while simple noodle straps work best. Also take care that the straps fit well, as they often have a tendency to keep falling from the shoulder and creating trouble for the kid.
# 4 Choose the right fabric
The fabric also holds a lot of importance when buying swimwear for kids. Cotton blends are always more comfortable on their soft skins but it wears off faster than its nylon and spandex counterparts. If you would like to switch to polyester blend due to longevity, you are advised to get one on a discount, during sale and let the kid try it. If she is comfortable with the fabric, you can easily make the switch.
Discount shopping for little girl's swimwear is great. You can stock up a few, but not too many as kids grow faster and hence the size that fits today is small is  few months later.
# 5 Consider buying separates
It is a great way to have more for less. Mixing and matching separates for little girls can be fun. You can choose bikini and bikini bottoms separately and then mix and match amongst each other too. This way if one thing gets worn off, there is always something else to match with. You can mix prints with solid colors, or color-block with two bright solid colors too. Prints on prints, if done right, is also a very fashionable combination. Buying separates also minimizes the cost for you.
Swimwear care
Chlorine shortens the life of your swimwear. Encourage the child to take a bath with the swimwear on, with fresh water after staying the pool. As soon as they are back home, wash the swimwear and hang to dry on its own in the shade. If it's left rolled up for long time, bacteria can grow. Beyond these general ones, do read the washing instructions that comes with each piece as each fabric is different and requires different care.
So with all those tips in mind, we hope that shopping for swimwear for the little ladies becomes a wee-bit easier for you loving moms.
Shutterstock