Summers have always held a special place in my heart especially since I love looking out for new summer styles each season. And since everyone interprets fashion in their own unique way, there is always something more too watch out for. This summer is all about bold prints and bright colors and everyone who's anyone is flaunting it!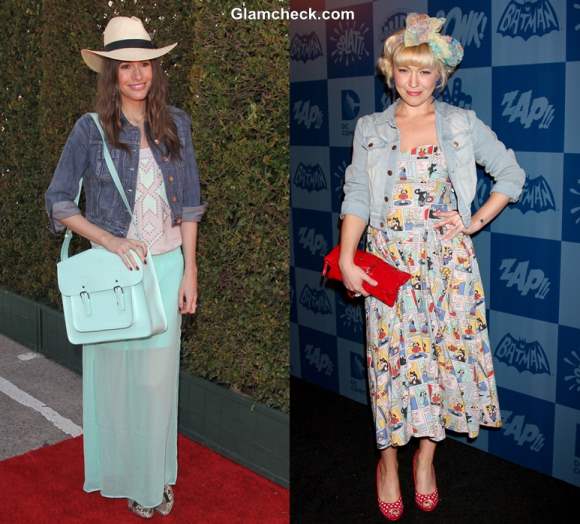 Style Inspiration – Statement Denim Jacket Summer Looks
Amongst the many celebrities we're watching out for this season, Louise Roe and Jessica Kiper are definitely worthy of note since they wore two very individualistic outfits that were suggestive of what more to expect this summer. Besides funky accessories and bold clothing, wearing a cropped denim jacket is one of the new fads we've spotted this season.
Hats Off to Louise Roe
Television personality Louise Roe was seen at the John Varvatos 10th Annual Stuart House Benefit at the John Varvatos Boutique in Los Angeles on March 10, 2013.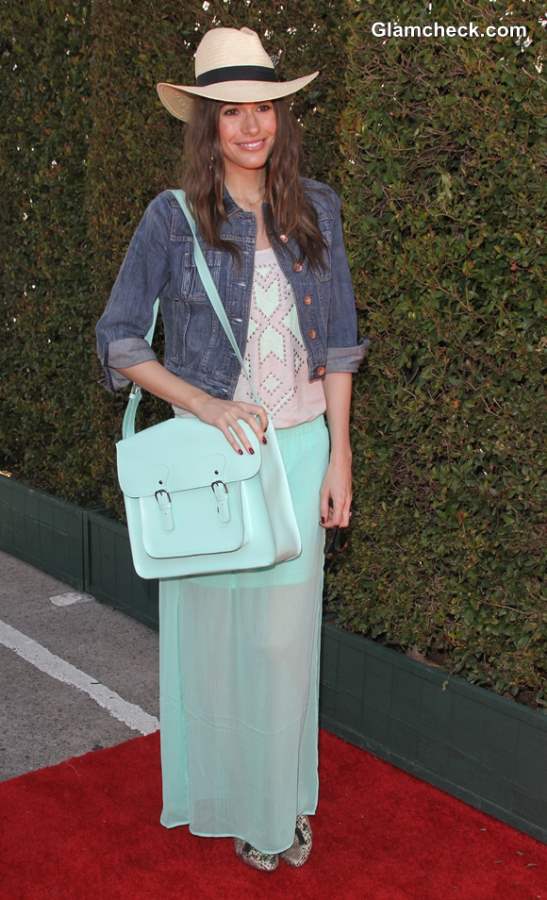 Statement Denim Jacket Summer Style Inspiration
Nothing says cool better than the colour blue, and in keeping with the season's latest trends, Louise arrived at the venue wearing a long powder blue double layered skirt and geometric patterned blouse teamed with a dark blue cropped denim jacket. The jacket had three-quarter sleeves that were folded up to the elbows and was a perfect contrast to the light coloured skirt and blouse without being too overwhelming. A denim jacket is great to add a dressed down sense to any look…don't you agree?
To get just the right look, she accessorised it with a patterned pair of grey shoes, a satchel to match her clothing and a cream coloured fedora with a wide brim. This contrasting combination of a menswear hat with feminine clothing sure did create a signature look that may soon become a fashion trend!
Tips:
Try wearing a denim jacket with a neon skirt or pant coupled with a bight coloured top. A pop of colour peeking from beneath a denim jacket adds interest to any look.
You could also try wearing slim-fit jeans with a darker coloured jacket.
Large shoulder bags are in fashion. You could use a sling bag instead of a satchel.
Wear a jacket that's styled like a blazer for a more semi-formal look.
Picking up a jacket with any kind of liner is also an option. A jacket without a liner is more comfortable to wear under another layer of clothing like an over coat.
While choosing a jacket, also keep in mind the kind of cut you want depending on your style preferences.
The 'Minnie' Hair Bow Look
We witnessed Jessica Kiper's love of hair accessories as she created her own signature look at the Batman Product Line Launch at the Meltdown Comics on March 21, 2013 in Los Angeles.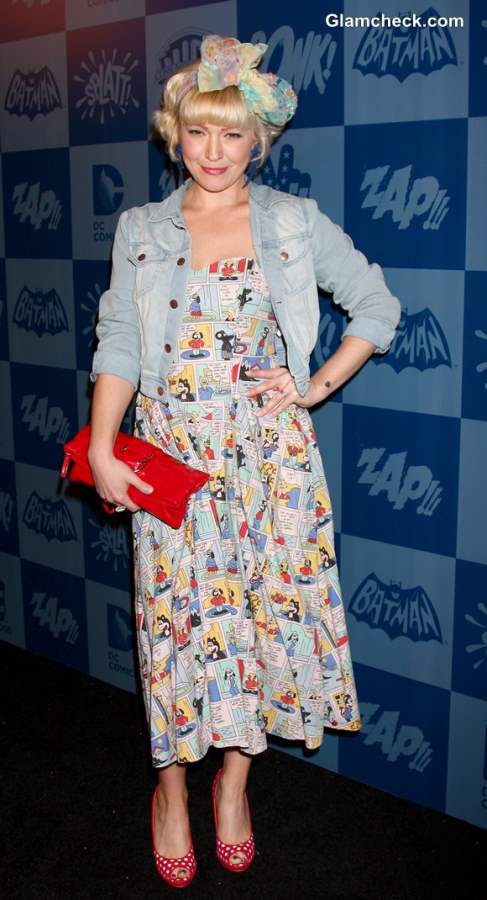 Summer Style Inspiration Denim jackets
She arrived at the event in a long, funky dress that had a comic strip print all over it, combined with a light blue cropped denim jacket. This look is great for those you who would love to wear a denim jacket with a dress.
By way of accessories, she wore a big hair bow that was made from a colourful strip of textured fabric that she had tied around her hair. She tied it in such a way that the strip formed a bow at the front, with a knot at the centre. She also carried a bright red clutch and wore a pair of red polka dot shoes that completed her 'Minnie' look.
Tips
Remember not to 'double up' on your denims. Wear only a denim jacket, shirt or trouser without wearing any other denim clothing with it. If you really want to mix-it-up, try combinations of washed denim clothing in lighter and darker shades together.
If your clothing has a lot of colours on it, choose denim in a lighter shade so that it doesn't hog all the attention.
If your dress or blouse has a low neckline, don't accessorise it with jewellery. Instead opt for bold hair accessories or bight coloured clutches.
Choose clothing with funky prints. If printed dresses and tops aren't your thing, you could wear just a printed scarf to complete your look.
And don't forget, these looks are all about making a statement. So whatever look you choose to flaunt, just be bold, have fun and make sure that it says something about YOU!
Shutterstock