Kids today love dressing up just like adults do. They are fascinated with our lipsticks, our fancy updos, the feminine dresses and the stilettos too. I am sure any mother would quickly validate the above. But where does it take us, as parents, when the little girl needs to be dressed up for an occasion? We take inspiration from child celebrities what else!
The child wonder, Quvenzhané Wallis aged 9 and having the youngest academy award nomination ever is already making waves for her style. She carries a puppy or kitty purse to the red carpet; but at the MTV Movie Awards 2013 we were especially fascinated with her bun. It was clean yet intricate and also had a flower matching her outfit. Perfect for your little girl too, if she happens to have long hair. Or else you could use a scrunch bun too. So here is a quick DIY.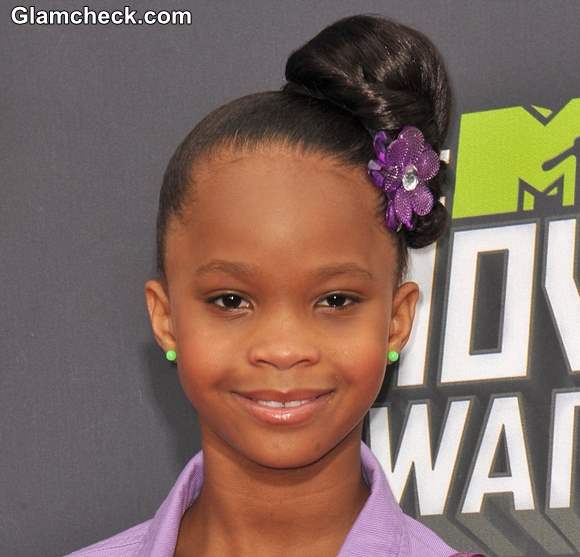 DIY Flower Bun Hairstyle for Little Girls
You will need
A fine tooth and a wide tooth comb
Frizz and Flyaway Control Spray
Rubber band
Hair pins and bobby pins
Artificial flower
Scrunch bun (optional for shorter hair)
Steps
Comb the hair with a wide tooth comb so as to de-tangle first.
Using a fine tooth comb, tightly comb all the hair into a pony tail on the side and tie with a rubber band.
Make sure the ponytail is tight and neat. Apply the frizz and flyaway spray to the scalp and smoothen.
Slightly tease the insides of the ponytail for volume and wrap it around the base leaving only a couple of inches of the hair un-wrapped.
With the help of a hair pin, secure this arrangement.
Now divide the remaining tail of hair in three parts.
Twist the separated parts on the left and right. Start to braid.
Braid twice, fold and roll the remaining hair inwards and pin to secure.
If necessary, spray again to smooth out the hairdo.
Get the artificial flower or even a real one and pin it on the bun, as shown in picture.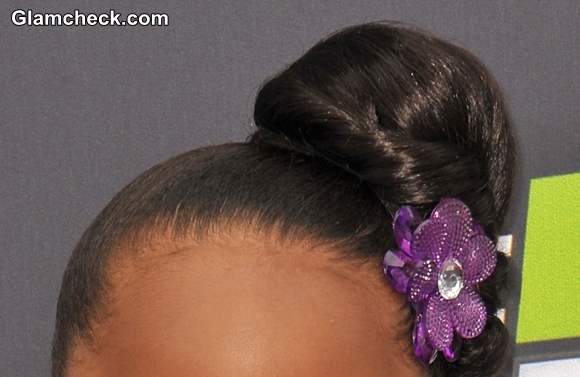 Flower Bun Hairstyle for Little Girls DIY
Tip: You could stick the artificial flower on a tic-tac pin using a suitable adhesive. This will make the flower fixing very simple, and it can be used for many different hairstyles in future.
Wear With
Quvenzhané sported this bun with a dress and a jacket to the red carpet. Since the bun is on the dressy side, reserve it for formal occasions. The bun will look great at traditional weddings or even at school plays, if the character demands it. And if it's your little girl's birthday and she is wearing a angel-like tulle white (or pink) dress, then the hairstyle doesn't get any better.
So give the bun a shot and we are sure your little princess will look just that. 
Shutterstock