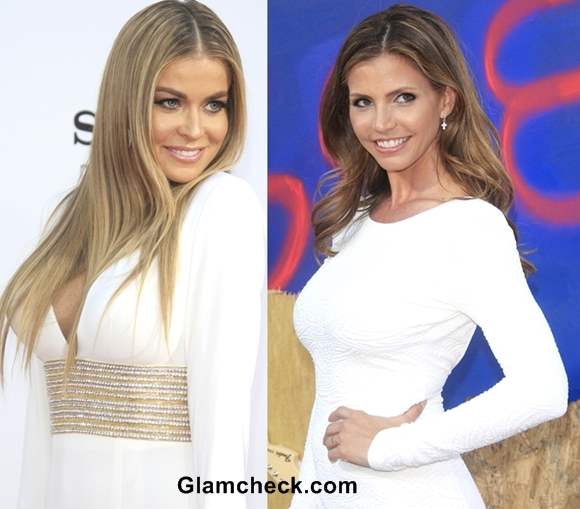 Two actresses inadvertently vied for the role of "Beautiful in White" at the recently held premiere of Columbia pictures movie This Is the End in Los Angeles. Beauties Carmen Electra and Charisma Carpenter were dressed in white for the red carpet, and both took our breath away with the vision they created in their blanc colored outfits.
Carmen Electra in a White Gown
Carmen Electra white gown 2013
Actress Carmen Electra looked ethereal and luminescent in the white gown that she wore. The full sleeved, floor skimming gown looked even more beautiful with the golden and silver detailing on the waist. The gown also featured a plunging neckline both at the front and the back. For all those who think a gown in stark white cannot look dazzling, glamorous, pure, classic, sexy, and brilliant at the same time – well, all they have to do is look at this one!
The hair and makeup that Electra put together only added more points to her look. Her hair was kept middle parted and straight. The makeup consisted of smokey eyes and pink lips. Silver white manicure and an interesting bling ring added more pizzazz to the beauty.
This is a look which we won't be forgetting in a long time to come. It is timeless. She literally looks like an elf queen from the Lord of the Rings, and we mean that as a compliment!
Charisma Carpenter in a Short White Dress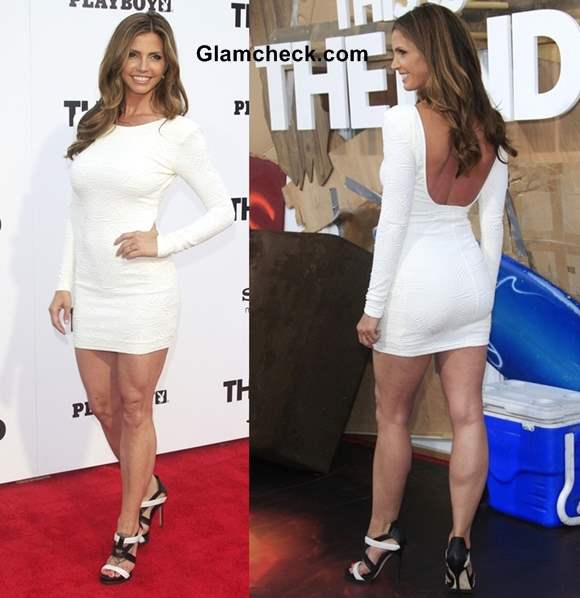 Charisma Carpenter white dress 2013
Charisma Carpenter showed how one can look pristine in a short body hugging dress. The self embossed thigh high white dress featured full sleeves and a deep neckline at the back. The actress added a bit of drama to the look with her black and white strappy stilettos. We also like how she has paired the dress with dainty cross earrings.
The slightly wavy hairstyle was just right for the look. Her makeup consisted of kohled eyes and nude lipper.
Carpenter shows us that thigh high and pure can go together if one picks up the right outfit.
We can't pick up a favourite here because both the head turners made us go "wow"! Can you?
Shutterstock