Yumi Katsura showed a varied collection of designs during the bridal week in New York City.
Ruffles, layers and tiers defined the wide collection of bridal gowns on display. Her fabric folding techniques and gown construction are an art in themselves. The designer shows her own interpretation of origami skills on fabrics. The most interesting proportions are created with the play of texture and volume. The finest of fabrics like silk give more weight to the collection. Each gown is further embellished with elaborate detailing with the use of stone, crystal and bead work on the bust line and bodice.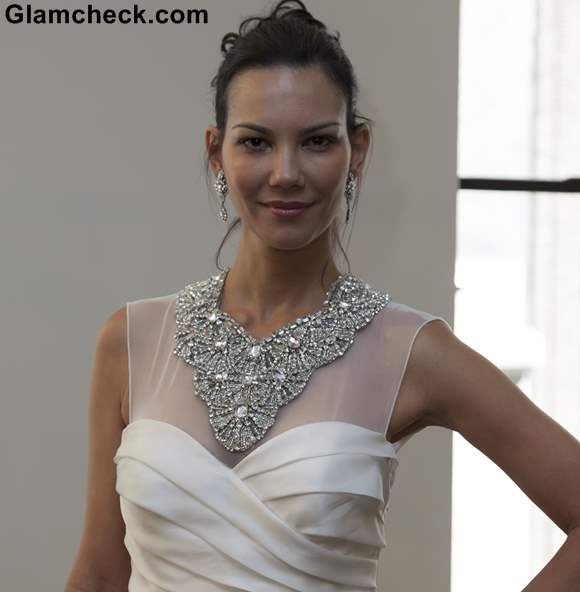 Fall Winter 2013 Bridal Gowns
There was a play of sheer necklines with pleated bust lines, with vintage inspired heavy crystal and beaded embellishments around the neck.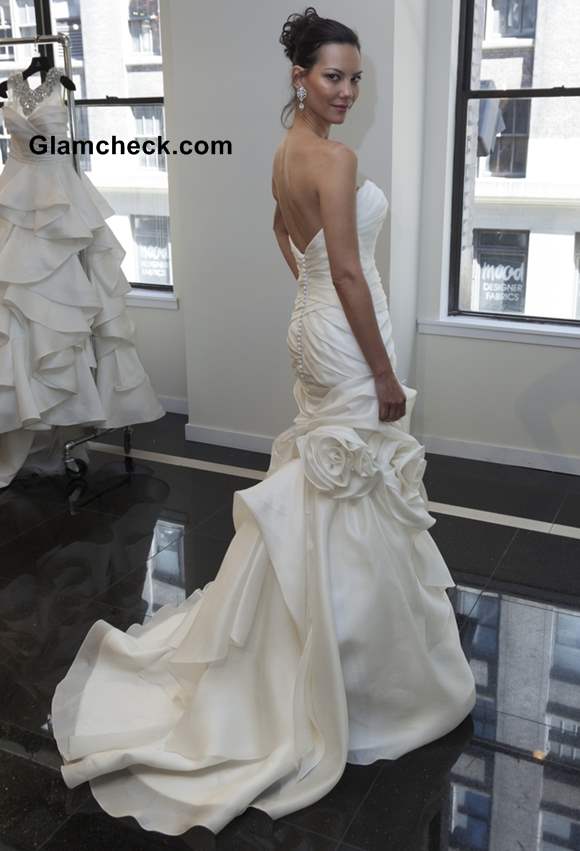 Yumi Katsura Collection NYC Bridal Week Fall Winter 2013
On display was this strapless concoction. With its, pleated bodice, ruffled tiers and structured flowers – it was quite the dreamy affair.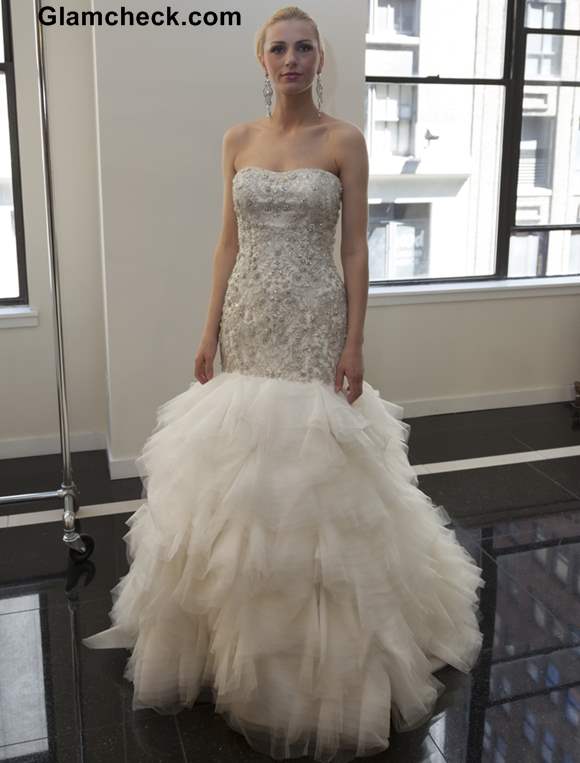 Fall Winter 2013 Bridal Trends Yumi Katsura Collection
Beaded and stone encrusted body that merges into feathery multi tier ruffles are a speciality of the designer.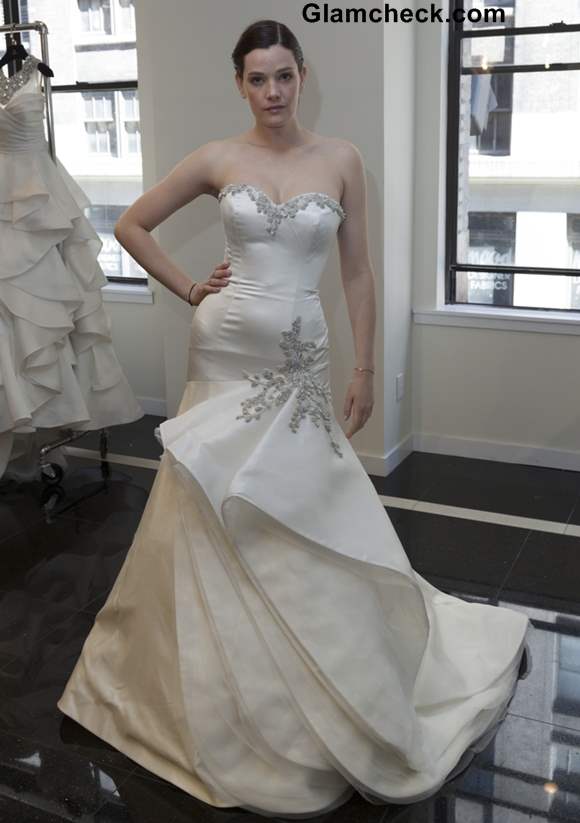 Yumi Katsura Bridal Gowns 2013 Fall Winter
The draping skills are shown off to perfection in this beautiful gown. It has a hand fan like effect which gives way to structured drapes around the skirt area. Heavy embroidery around the bust line and on the skirt line – to hold the pleats together, shows Katsura's exquisite craft.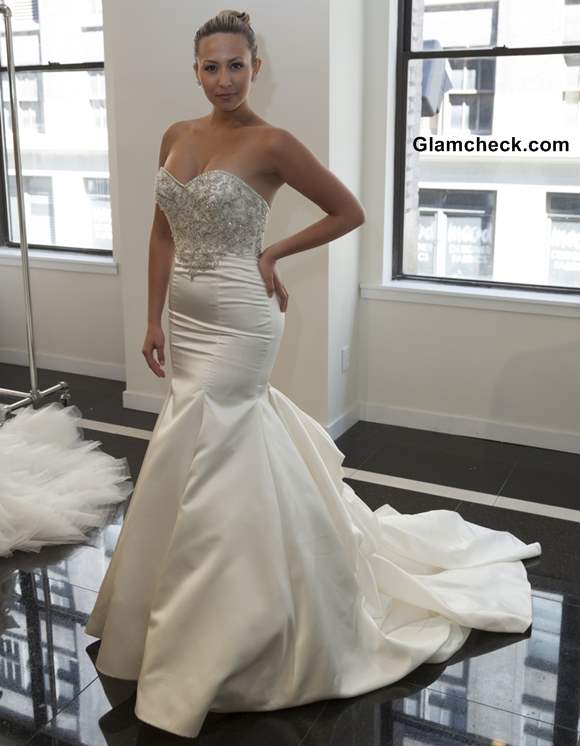 Yumi Katsura Bridal Collection at the NYC Bridal Week Fall Winter 2013
A layered trail of voluminous folds and a fully encrusted bodice ensures that no "extra" embellishments are required to make the gown look grander.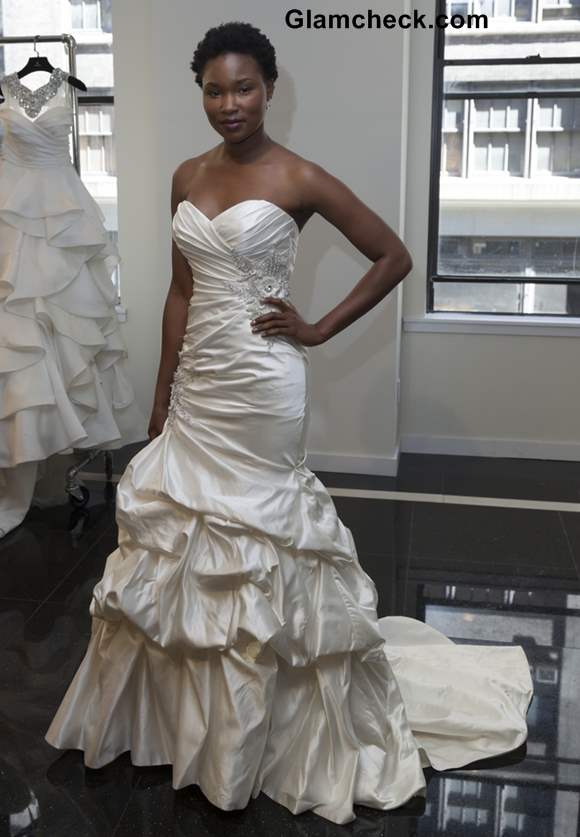 Yumi Katsura Collection at the NYC Bridal Week Fall Winter 2013
Tier draping does reach its pinnacle, with elaborate flounces and pleating, in this collection.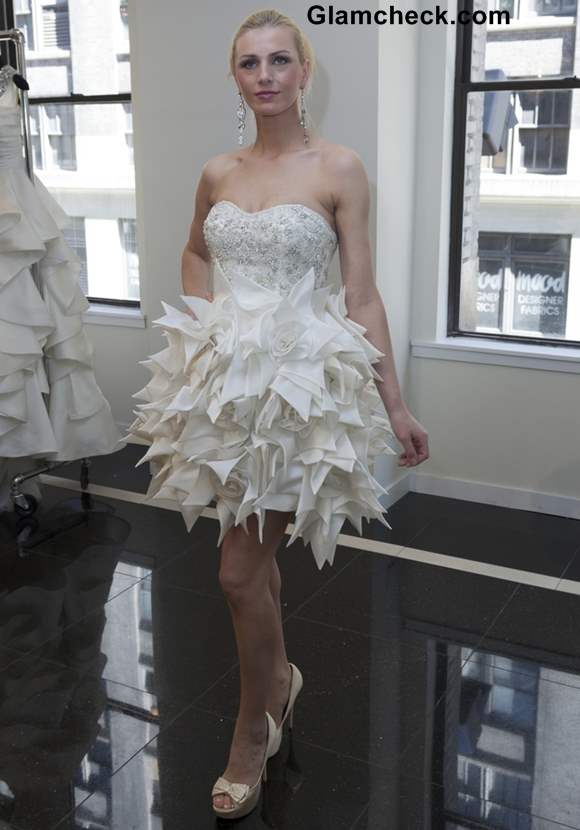 Yumi Katsura Bridal Collection 2013 Fall Winter
This very tutu like bridal dress has a very interesting and elaborate play of origami design with its multitude of floral ruffles.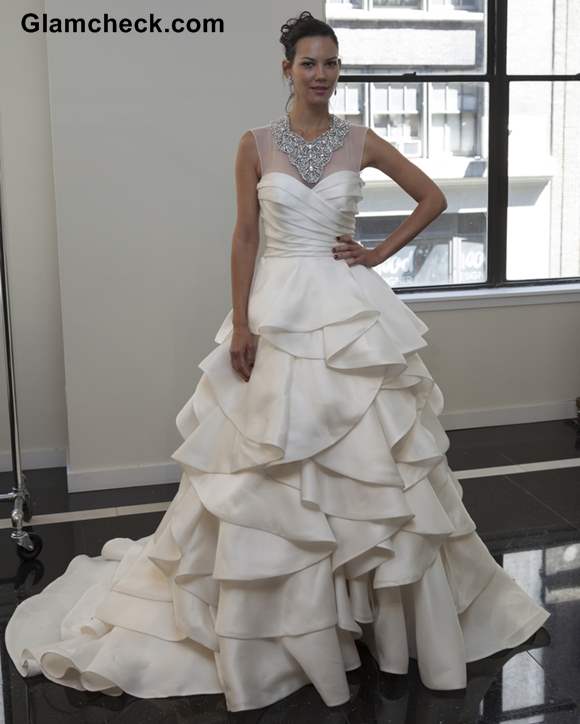 Yumi Katsura Bridal Gowns Fall Winter 2013
Drapes that are layered like a cascading waterfall affirm the fact that the designer has more than beautifully mastered the art of structure construction. 
Truly a priceless collection!
Shutterstock