If you are reading this, either you are a teen yourself or you have one. If the former is true you might already be watching Disney's Shake it up, or be one of Bella Throne's 3.5 million twitter followers and read her official blog too. Yes, Bella Thorne is a teen phenomenon, hugely talented and fashionable. Be it the red carpet, on screen or on a casual spotting Bella never ceases to inspire with her choice of looks.
One thing that she continuously excels at is a good hairstyle. Right from when she was a bit younger, to her more mature self today, her casual and formal hair styles have been a great inspiration for many. So if you love her, we have put together a great set of Bella Thorne looks for young teens to replicate.
Bella Thorne Casual hairstyles
So here are some ideas for your tresses on a casual day or event.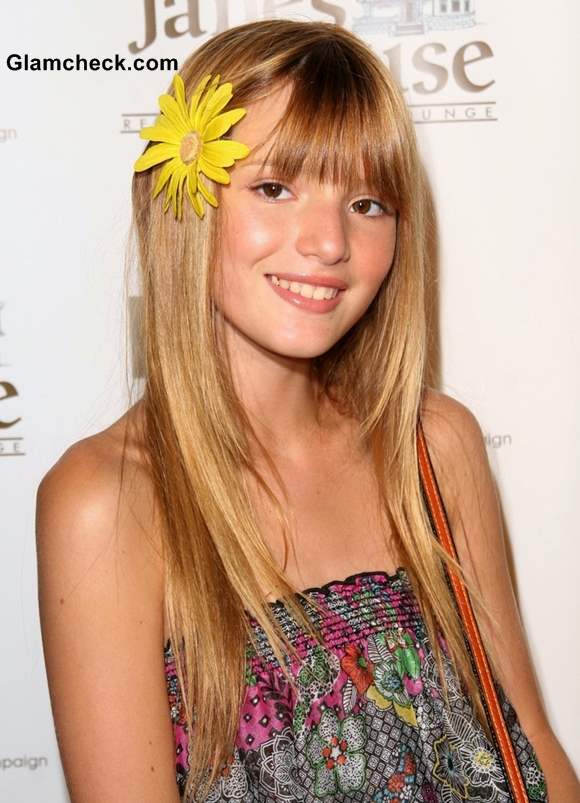 Bella Thorne Inspired Fun Hairstyles for little Teenage Girls
Use a straightening iron on your mane to achieve a neat and smooth look. Add a bright flower to one side, near your ear to get the bohemian vibe of your hairstyle. This can transform your maxi, jumpsuit or a dress.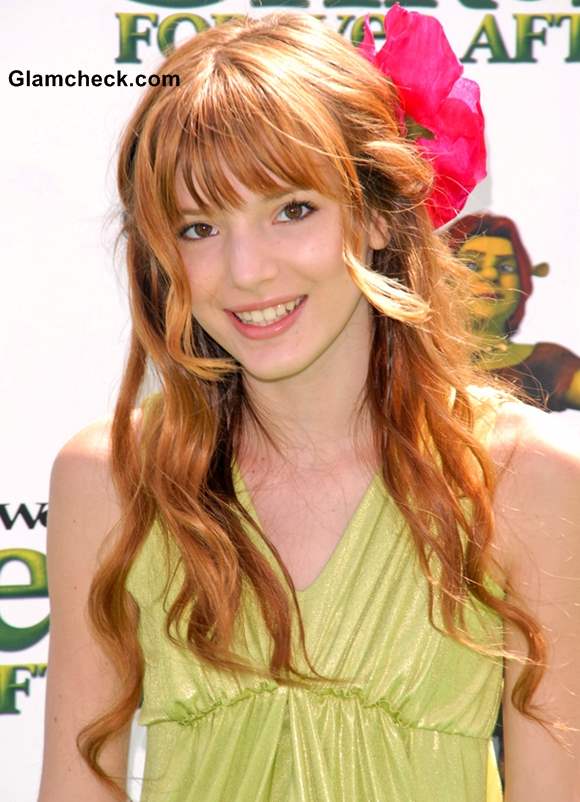 Bella Thorne Curly Hairstyles for little Teenage Girls
Using a curling iron and taking wide sections of your hair, give them soft waves. Remember To start the waves below the ear and leaving the upper head as is. This one will turn out to be a very natural and soft feminine look.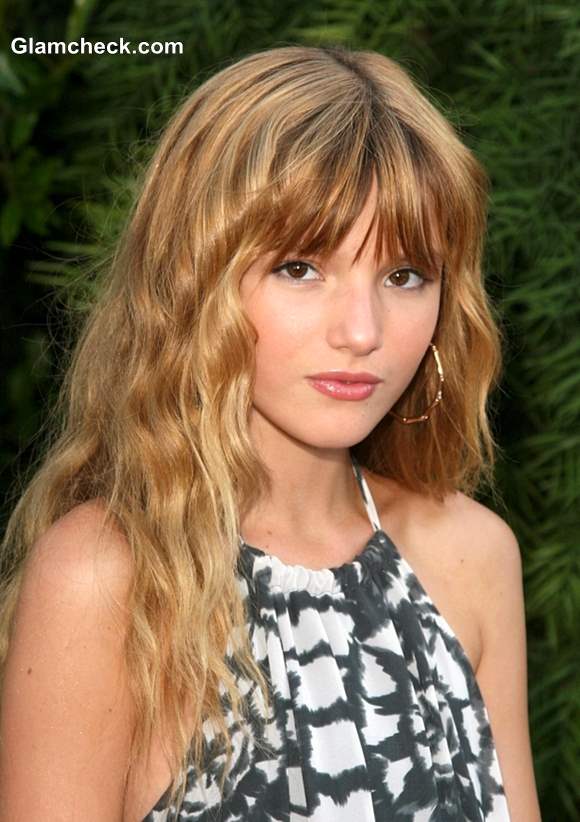 Bella Thorne inspired Curly Hairstyle for little Teenage Girls
When you start curling from above the ear and take less wide sections than the last one. After completing the whole head, run fingers through your hair to separate the section. Your waves will be more defined than the last one and slightly dressier too.
Bella Thorne Going-out Hairstyles
By tweaking ideas a bit and adding some accessories, the casual hairstyles can be transformed into going-out hairstyles.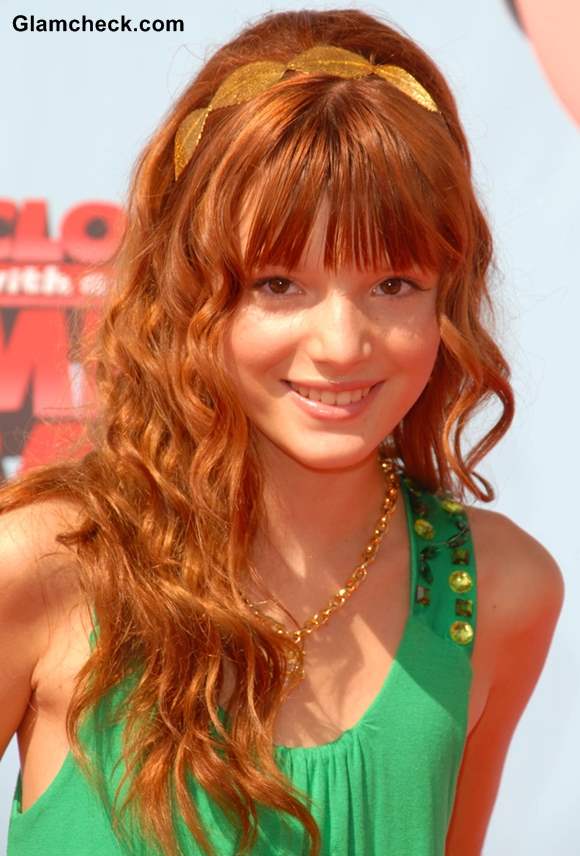 Bella Thorne Hairstyle for little Teenage Girls
While curling, if you use the same narrow section formula, starting above the ear and now while wrapping on the iron, wrap the hair section closer and tighter. This will give you gorgeous curls instead of waves. Add a statement gold head band to this hairstyle to make it rock for you.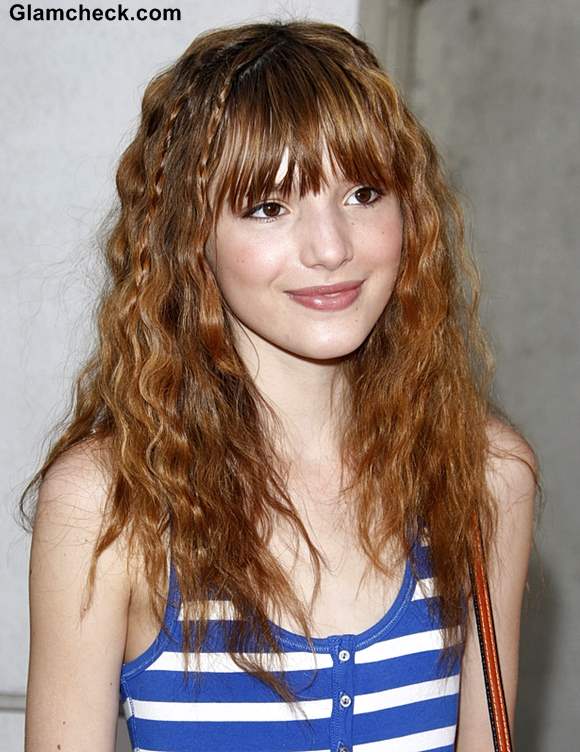 Bella Thorne inspired Hairstyle for little Girls
Another variation in the same technique is narrowing the hair section even further. It would lead to defined and denser curls. After curling, take a small section on one side and make a three-strand braid from it. Repeat it on the same side once and make a symmetry on the other side of the head as well.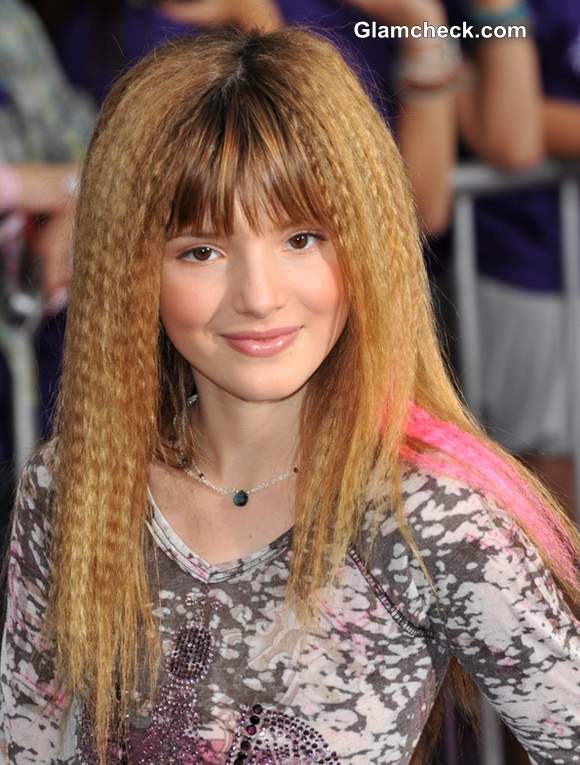 Bella Thorne inspired Hairstyles for little Girls
Crimping their hair looks rather cute on teen girls. Leaving the front bangs aside, you can crimp the rest of the hair. To add an interesting element, fix some colored extensions near the nape of the neck. Make sure they are heat friendly. While crimping the hair, crimp these extensions too, in order to have the same feel and texture. You can experiment with a lot of bright colors here like neon pink, blue or purple. Make a contrasting choice or match with your outfit.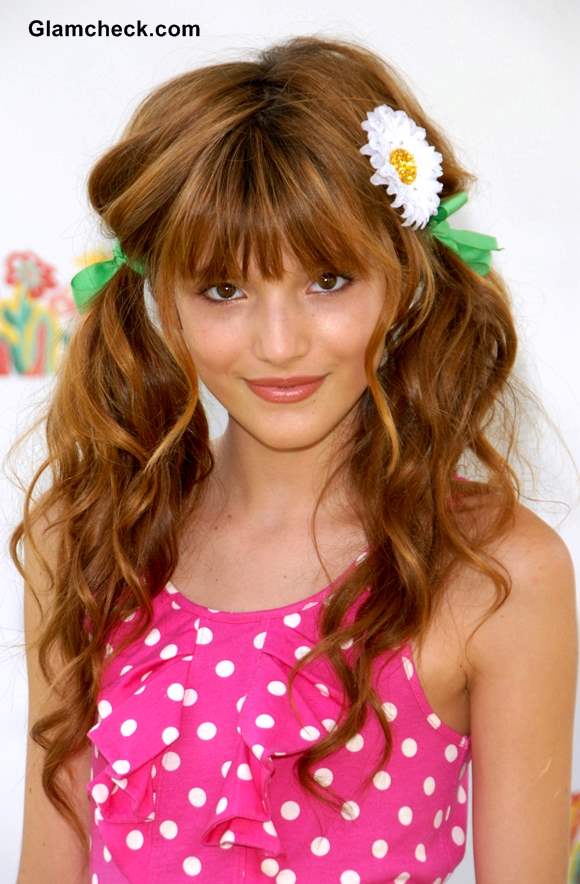 Cute Hairstyles for Little Girls – Bella Thorne inspired
What is a cute hairstyle that looks good even right to a two year old to a twenty year old and everything in between? Pigtails! The only difference being the way of execution. Bella here exhibits a great teen-pigtails options. After giving your hair soft waves like the first method discussed here, divide the hair in two equal half sections. Tie each one in a pigtail with a rubber band pushing the hair upwards while tying. Knot a ribbon over each pigtail afterwards. Finish off with a nice little on one side.
Bella Throne Evening or Junior Prom hairstyles
If it an evening event or wedding or your junior prom, that you are headed to, pick one of these styles.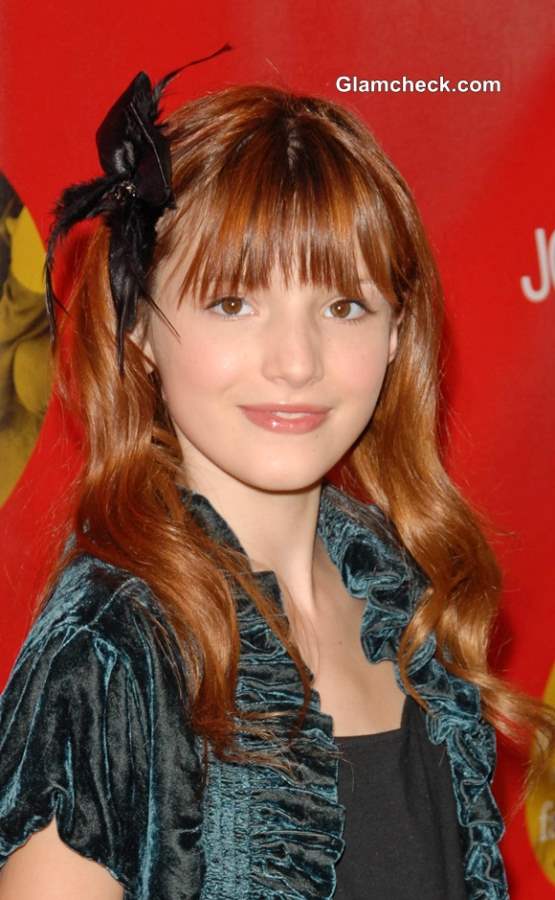 Prom Hairstyle for little teenage girls – Bella Thorne inspired
Using a curling iron and taking extra wide sections of your hair, create soft waves below the ear. Add a feather and bow hair accessory, perfect for the evening on one side. You can an extra-shine and smooth product or spray for giving the finishing touches.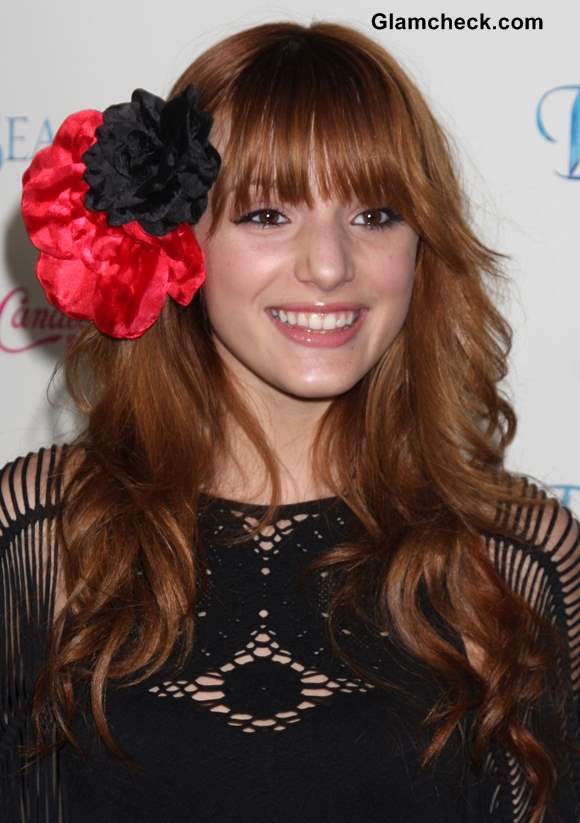 Prom Hairstyles for Teenage Girls – Bella Thorne inspired
If you simply blow dry your hair into waves and turn them, it creates a chic hairstyle. Of course a hair curling iron can be used too. Add a big artificial flower accessory in deep tones for the evening. Satin and tulle flowers work best.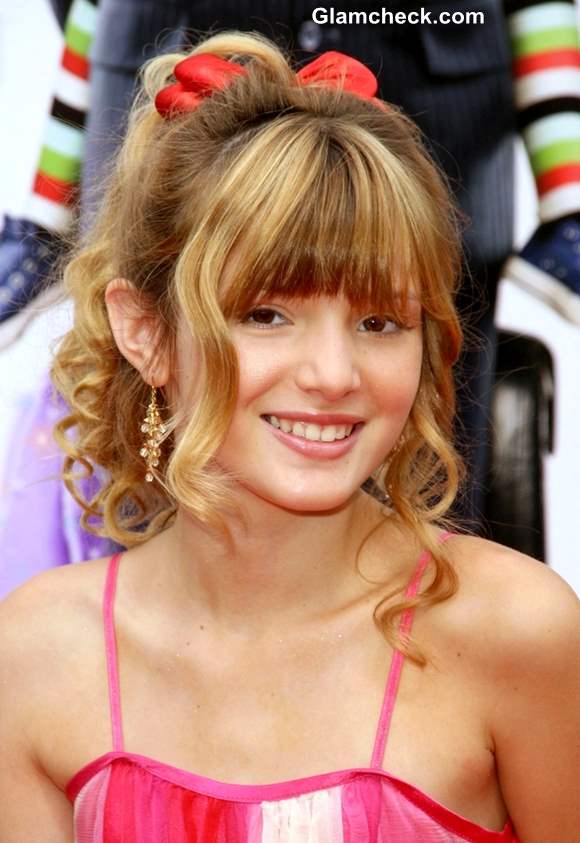 Prom Hairstyles for Teenage Girls
If you like an even fancier updo, curl your hair and tie them in a pony tail. The bangs remain straight but a few strands are not tied in the ponytail, so that they could frame the face. Curl these strands particularly well. Tie a beautiful bow or use a bow-clip on the pony.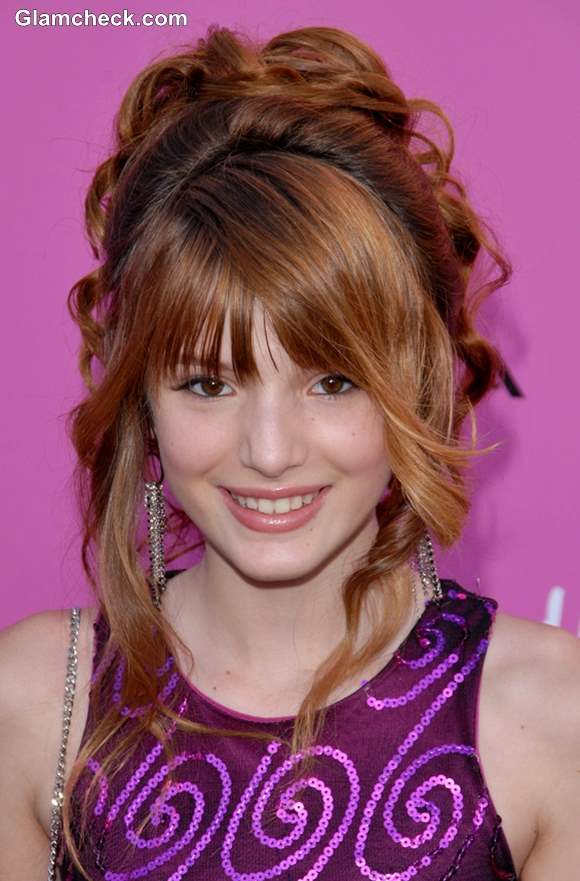 Prom Updo Hairstyles for teenage girls
Make tight and neat curls from your hair, below the ear while leaving a few sections of hair straight, which will frame the face. Wrap the curled hair in a bun. Comb the straight sections of hair neatly towards the front, in a flattering way. Slightly wave them using the curling iron. Don't be afraid of the loose sections coming over your shoulders.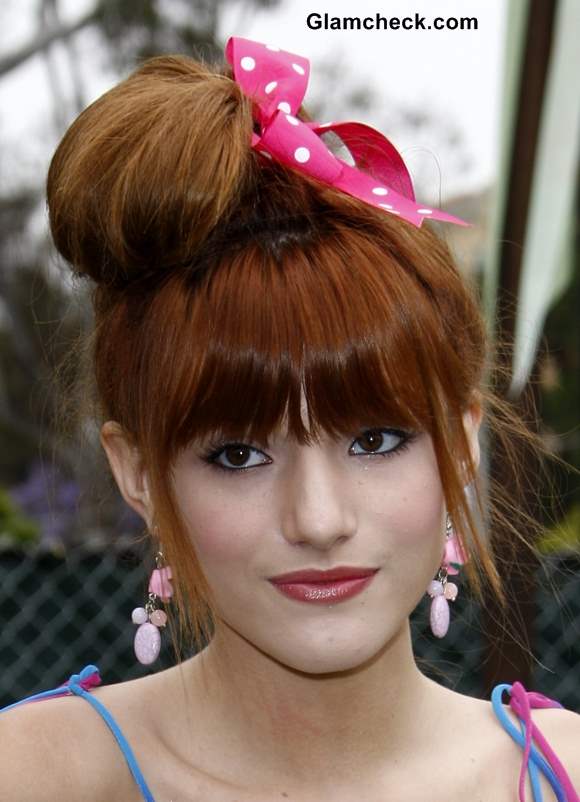 Prom Updo Hairstyles for Teenage Girls – Bella Thorne inspired 
Straighten all your hair. Tie up a big bun with them, leaving only small and narrow sections of hair on each side of the face for framing. Decorate the voluminous bun with a cute printed bow on the side.
With this exhaustive list for every occasion discussed above, looking and replicating one of Bella Thorne hairstyles is extremely easy. So go on.. give it a chance!
Shutterstock