If you are here reading this, you are definitely interested in nail art. Particularly flower painted nails. Now these look difficult to do, and you may think you will have to spend a lot of cash at a nail studio to achieve the look in many inspirations. But here is a DIY that is so simple to do that you would surely be inspired and confident to do it right away.
Yes, a good looking flower painted nail art can be created at home, and just about anyone with no craft skills can achieve the same results. Sure got you excited there. Let's get down to it.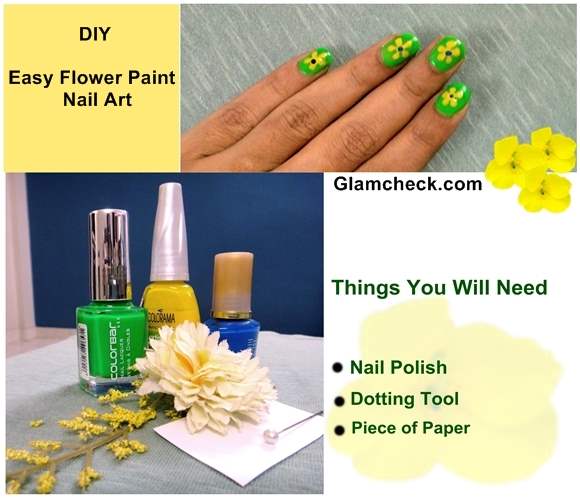 Nail Art DIY – Easy Flower Paint Nail Art
Things you will need
Nail paints in three colors. Remember to check them for consistency.
Dotting tool. If you do not own a professional kit use a pin with a pearl back, which is easily available.
A small piece of paper. It should not be very thin, that the nail paint you put on permeates through, later on.
Nail paint remover and cotton swabs or earbuds , just in case.
Steps : DIY Easy Flower Paint Nail Art
The secret to any good nail art is first preparing your nail bed with care.
File all your nails in perfect shape, round or square your choice.
Buff them well too, in order to smooth out any imperfections.
Now apply a base coat of the color you want your nails to be. We chose green, as it is the color of the year.
After the first coat, let the nails dry and then top it with a second smooth coat.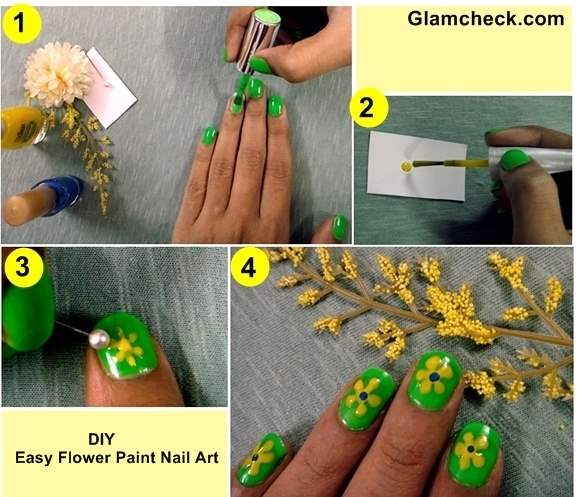 Nail Art DIY Easy Flower Paint Nail Art Manicure
Put a small dot of nail paint, in the color you want for the flower, on the piece of paper.
Dip the dotting tool in the nail color and start dotting in order to make a five petal flower.
Repeat the process for all other nails. Little variations in shape and size are understandable. Don't fret over it a lot.
Let the flowers' paint also get dried.
Clean the dotting tool with the cotton swab and place a dot of the next color onto the paper.
This dot will be placed in the centre of the flower.
Using the same technique paint small dots to define centre.
Finish with a clear top coat if required, once the center dots have dried as well.
Possible Color Combinations
Here we have used Green base, yellow flower and blue dot but you can also follow the below.
White base, fuchsia flower and purple center.
Black base, yellow flower, black center.
Beige base, orange flower, yellow center.
Mauve base, white flower, pink center.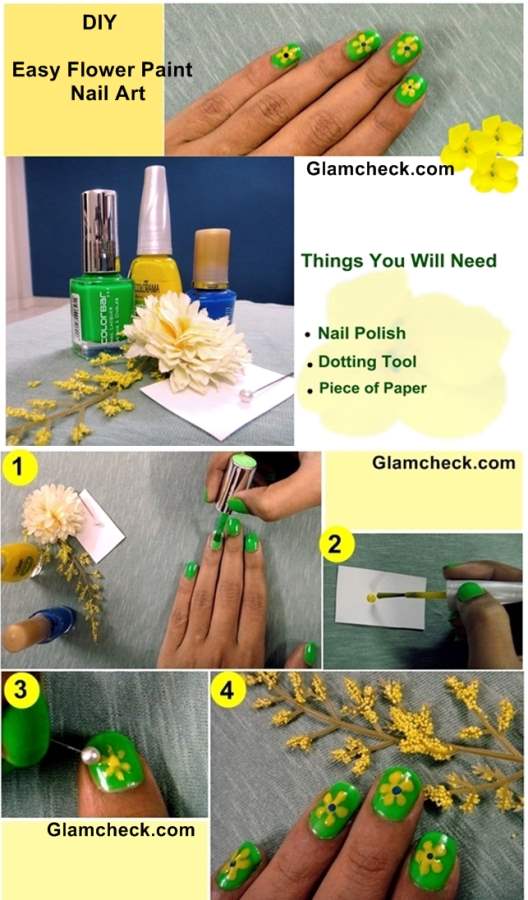 DIY Easy Flower Paint Nail Art
So there you have yourself a quick and simple DIY for the craft and fashion hungry you. The best part is the result will never give away the secret that this one is simple to do. So get crafty, let flowers be on your nails.
Glamcheck.com