TV and radio personality Jameela Jamil was spotted at two different events in two all black looks with almost identical styling. However, what set them apart from each other was her use of a jacket to accessorise the ensembles. She wore a different type and color with each look, which is what made them distinctive.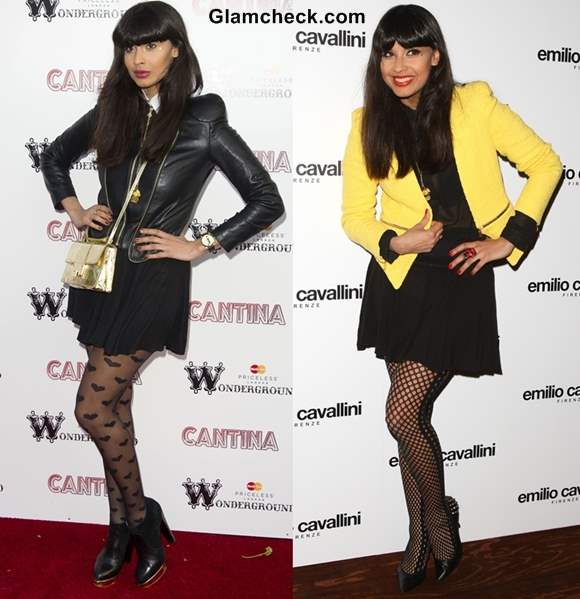 Style Poll – Jameela Jamil's Jacket Obsession
At the Risque Business launch party of Emilio Cavallini at Sketch in London, England, she kept things simple in a short pleated black skirt, a full-sleeve black shirt sheer on the midriff, fishnet stockings and pointy black pumps. The piece de resistance of her ensemble was a sunshine yellow jacket with gold piping running horizontally on the waist.
The jacket took her basic look which, although elegant, would have been a bit humdrum, and infused a cheery note into her very being.
The second time we spotted her in a jacket was at the Press Night of Cantina at Jubilee Gardens in London. She wore the very same black skirt but changed the top to a white-collared black one. Patterned stockings made their way into her look again and black boots were her footwear of choice for the evening.
Almost school-girly that basic look was, until she made it edgy with a black leather jacket. It had a biker look about it which, when teamed with her sweet persona, upped her sex appeal manifold.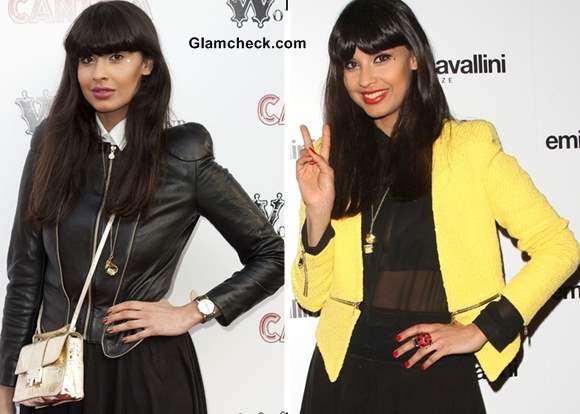 Yellow or Back ? Jameela Jamil's Jacket Obsession
Since both ensembles are quite similar, the fact that just one item of clothing changed her vibe was quite obvious.
We think the yellow jacket is better suited. The red carpet could always use a little more color and the lure of the bold shade is tempting. But the leather is undeniably statement too so we're hard-pressed to decide which one takes home the prize.
What's your take? 
Shutterstock