The ballerina bun has played a major part in rounding off the ensembles of many celebrities at red carpet events. From playful avatars to seriously sophisticated ones, they've all benefitted from the addition of the classy hairstyle. The ballerina bun is simple to look at, easy to create, yet very rich in style and elegance. It exudes an almost magical vibe, one of fantastical worlds and ethereal beauty. However, it also has a very no-nonsense, practical feel to it that makes it great for work. It stays off your face, will look good all day, and will go with everything from your pantsuits to your skirts with shirts to your ethnic work-wear.  
We've seen the ballerina bun worn at the nape of the neck and on the crown. They're the very same hairdo, just worn mere inches apart, but the feel of the look changes depending on where that bun sits. Both make for a classy style for any work outfit.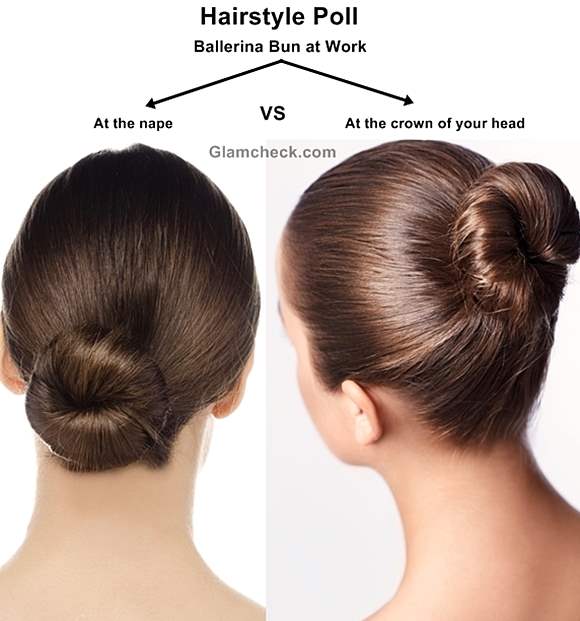 Ballerina Bun hairstyle at work 
The low bun, the one at the nape of the neck, looks classy, almost swanky. It has an element of glamour about it. No wonder, then, that it's one of the go-to styles for many celebs, teamed with couture outfits for the red carpet.
The ballerina bun at the crown of the head is typical of the original ballerina bun which sits higher on the head to add inches to the ballerina's height and offer a visual aspect to the her ensemble and thus the dance. Undoubtedly, its major quality is one of endless grace. It reminds you of a time gone by, of the golden days of Hollywood, of a simpler but more meaningful time.
They're both right up there on the fashion scale, what with having been around for decades and still managing to hold their ground in the top twenty looks of any year. We think the higher bun is a better work look since it has a statelier, more poised vibe than the lower one.
Which ballerina bun would you wear to work? Would it depend on your outfit or is there one you prefer over the other? 
Shutterstock