Yellow isn't a color normally associated with glamour. But that in no way implies that it cannot be the perfect hue for elegant evening gowns. Don't agree? Take a look at these celebs rocking all-yellow evening gowns that would make any woman swoon.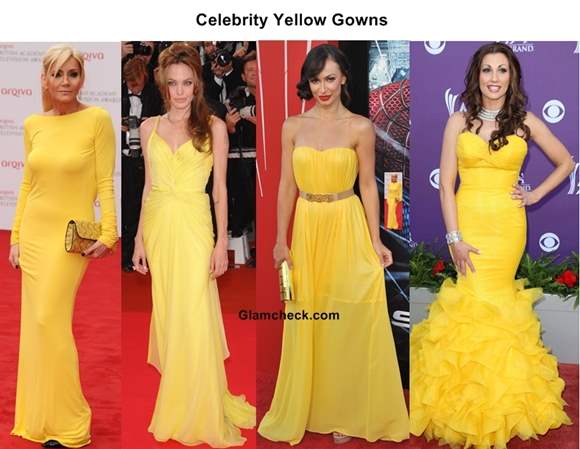 Celebrity Yellow Gowns on the Red Carpet
Strapless Yellow Gowns
Daniel Peck blew our minds in this gorgeous strapless yellow evening gown. The fit was exquisite, highlighting every luscious curve on her toned body.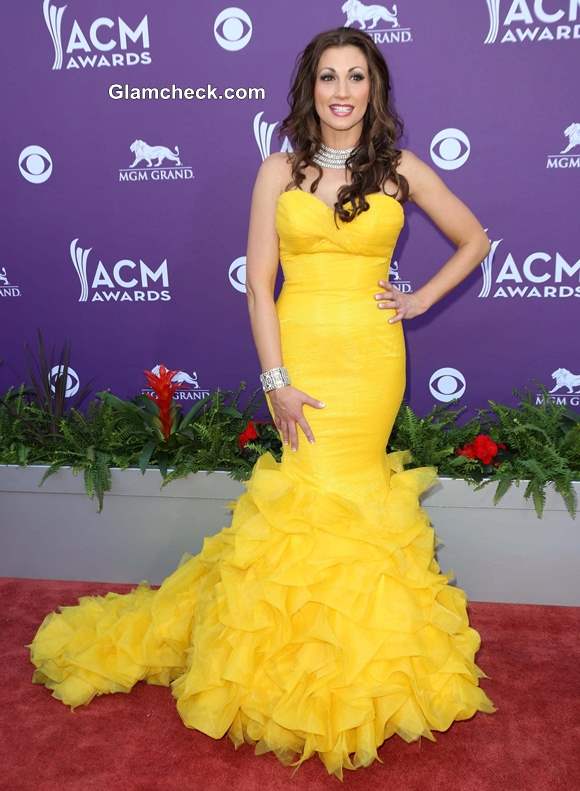 Celebrity Yellow Gowns on the Red Carpet Danielle Peck 2013
And that textured fishtail silhouette with a slight train is just to die for! The fact that every bit of it is a cheerful canary yellow just makes it all the more beautiful. How can you not be enamoured by so effusive and highly sophisticated a number?
Next up is Karina Smirnoff looking oh-so-chic and Parisian in her strapless yellow number with a delicate sweetheart neckline and easy-flow skirt.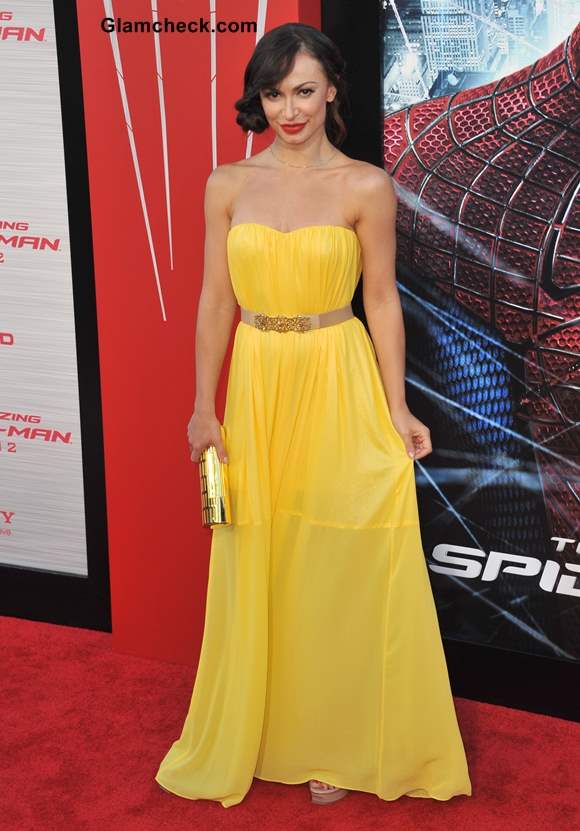 Celebrity Yellow Gowns Karina Smirnoff
And just look at those gold accessories glamming up the ensemble no end! Do you seriously think this would have looked better in a classic color like black? We definitely don't think so. Go yellow!
Svelte and sexy Vanessa Hudgens upped her style quotient and her sex appeal in this wispy yellow dress.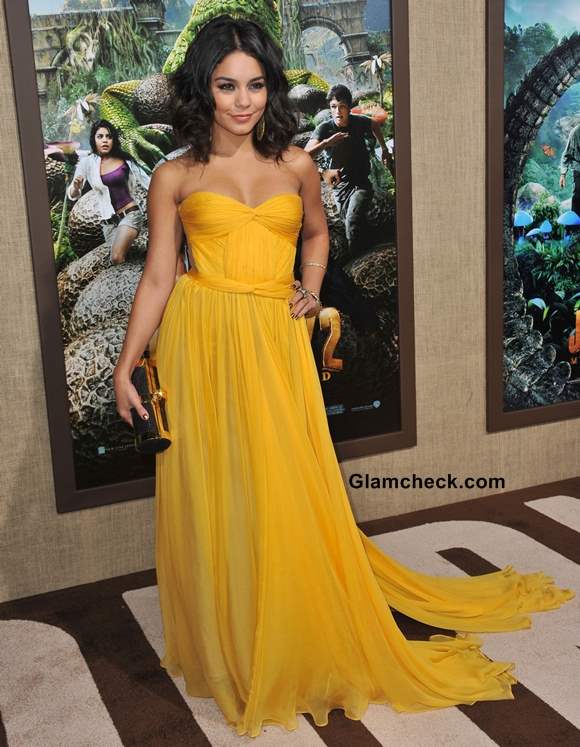 Celebrity Yellow Gowns Vanessa Hudgens
The flowy skirt and train, the low-cut neckline contributed to the play of the yellow against her skin, making for a stunning red carpet ensemble with no equal.
And Here's one with Straps
This beauty needs no introduction, and anything Angelina Jolie wears is stylish by default. But we have to admit that this buttercup yellow evening gown is one of our all-time favourites.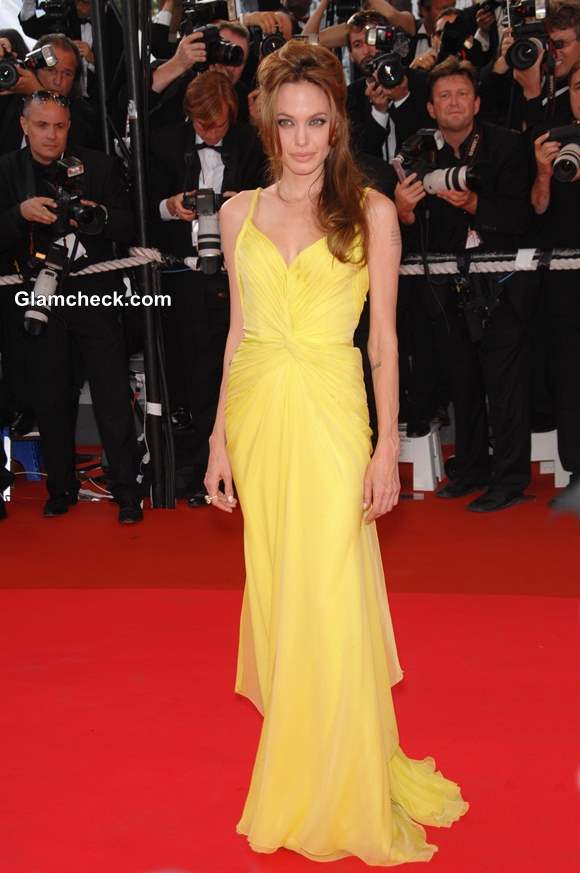 Celebrity Yellow Gowns on the Red Carpet Angelina Jolie
Especially since we so rarely see her in anything but black and white (and all the shades in between). She looks like she's lit up from within. Plus, the soft draping of the skirt gives her a Grecian goddess vibe. Irresistible! Well, more so than usual anyway.
One-Shoulder Wonders
Now this is an avatar we haven't seen Bai Ling in before. Her petite frame was both emphasized and imparted some much-needed curves in this layered, ruffled, one-shoulder evening gown with the statement belt.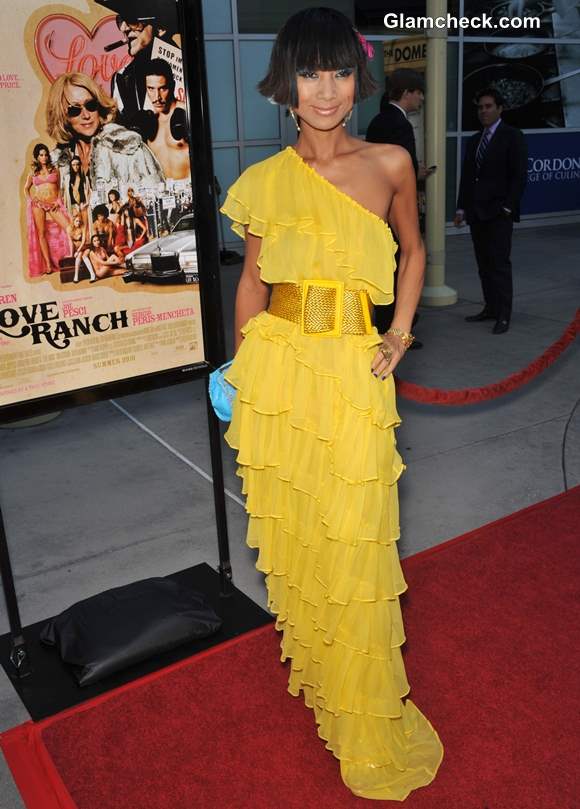 Celebrity Yellow Gowns on the Red Carpet Bai Ling 
Loving the pink floral hair accessory. Loving the blue clutch. Loving the hairdo. Loving it all!
Exquisite Hannah Simone is a delight in this one-shoulder yellow gown.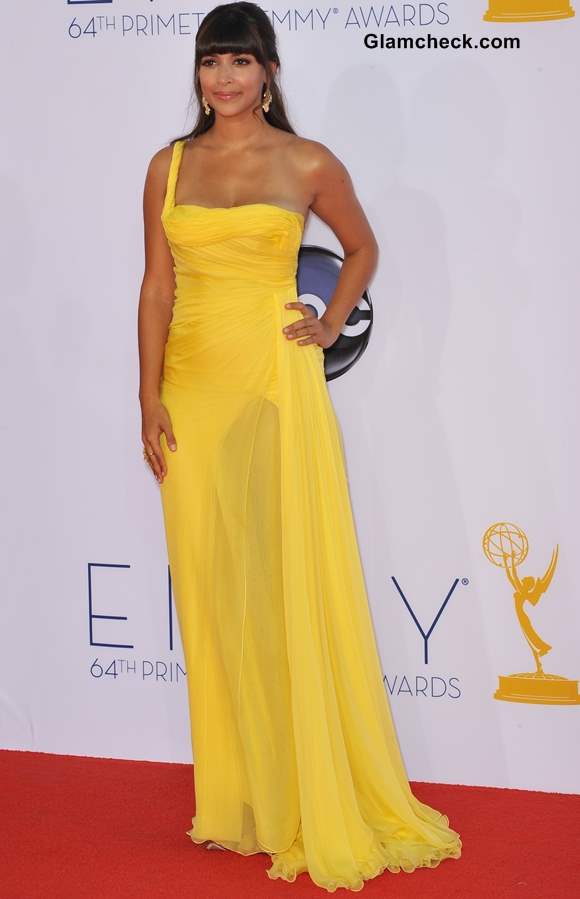 Celebrity Yellow Gowns on the Red Carpet Hannah Simone
The twisted strap is a surefire winner, as is the sheer detailing on the skirt, running diagonally from the thigh down. We're super-glad she didn't ruin that magnificent expanse of bare shoulders with any jewellery.
Cut-out Magic
The cut-out trend is only sexy, and these lovely ladies sure know how to pull off that vibe with aplomb.
Naomie Harris' really pale yellow gown boasted cutout detailing on the shoulder and bust. Plus, her skirt had this wispy, trailing quality that had a bit of a wildness to it which complemented the edgy, sensuous bust.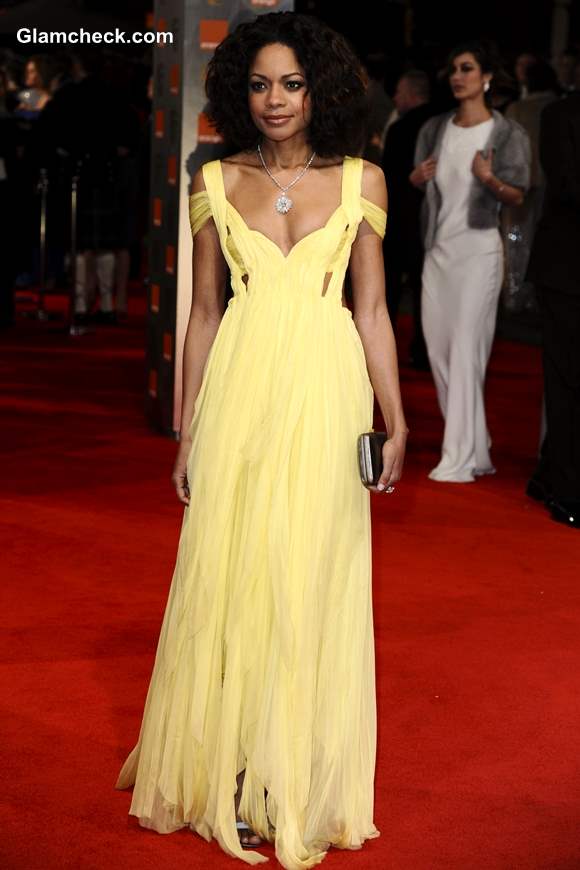 Celebrity Yellow Gowns Naomie Harris
A statement floral necklace filled out the space left by the very low-cut neckline. The ensemble lacks for nothing!
While not as obviously sexy as Naomie's, Rosamund Pike's cutout yellow gown had more of a subtle seductiveness to it that was just as heady. The rest of her gown was quite simple – a flowing maxi skirt, crew neckline and plain bodice.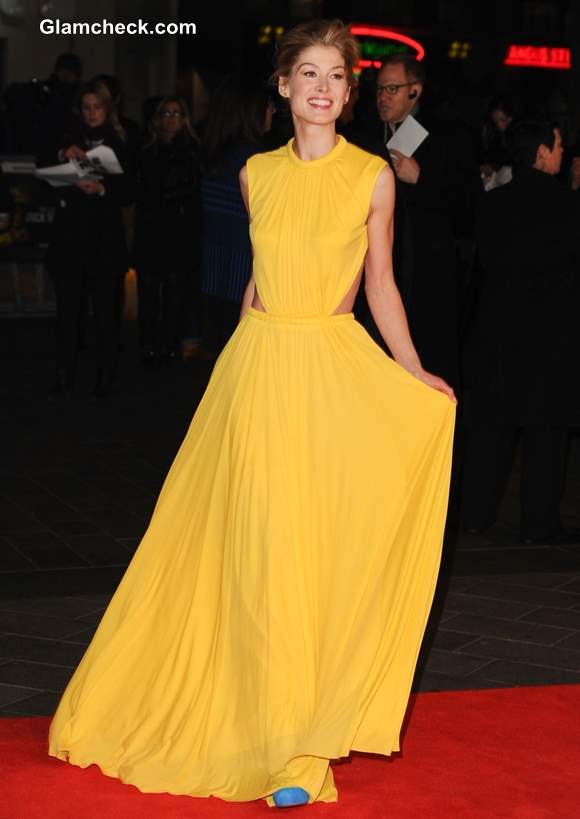 Celebrity Yellow Gowns Rosamund Pike
Cutouts on the sides of the waist were what really made us go 'oomph'.
Statement Silhouettes
Remember this yellow number that Elizabeth Banks wore to one of the many Hunger Games premieres? It was startling in its opulent simplicity.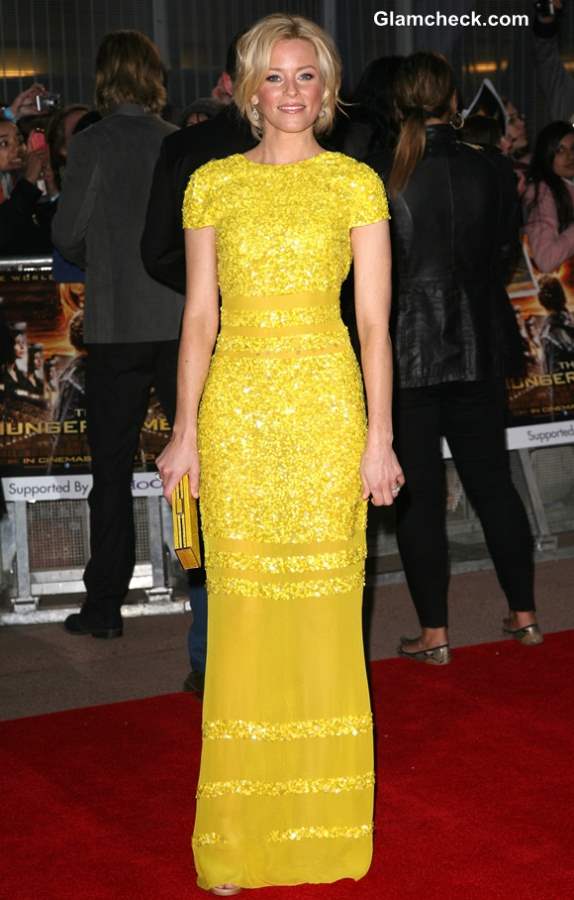 Celebrity Yellow Gowns on the Red Carpet Elizabeth Banks
The heavily-sequinned yellow dress was balanced out by bands of sheer yellow on the waist (check out those toned abs) and in thicker bands from the thigh down. The sun shone on the red carpet that evening as this one waltzed into the venue.
Evergreen beauty Julianne Moore rocked this stunning yellow princess gown.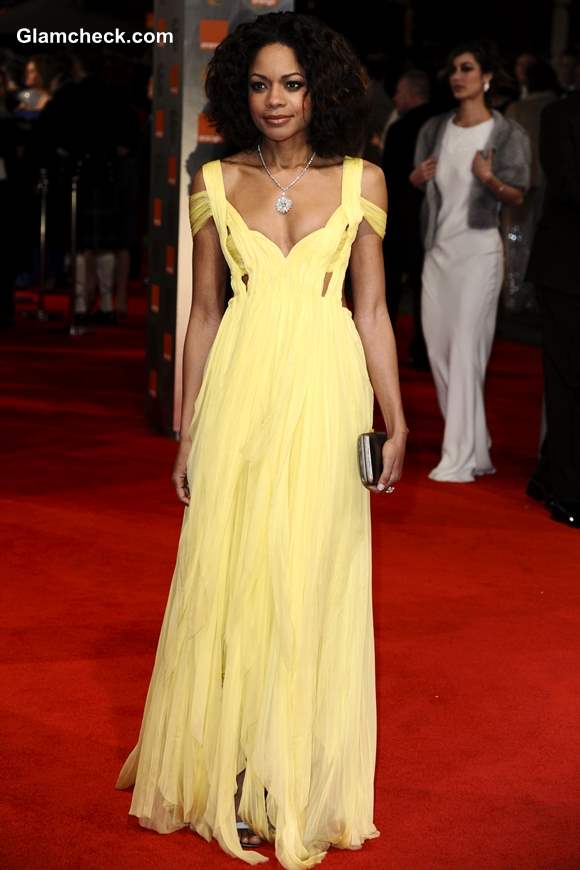 Celebrity Yellow Gowns Naomie Harris
Crew neck, sleeves right up to the wrists and a full skirt that touched the floor so that we couldn't even see her shoes. Not one single embellishment on the gown, no extra frills and fancy detailing. And yet this is one of the best yellow gowns we've ever seen.
Lucy Dixon went with a satiny yellow gown with a train.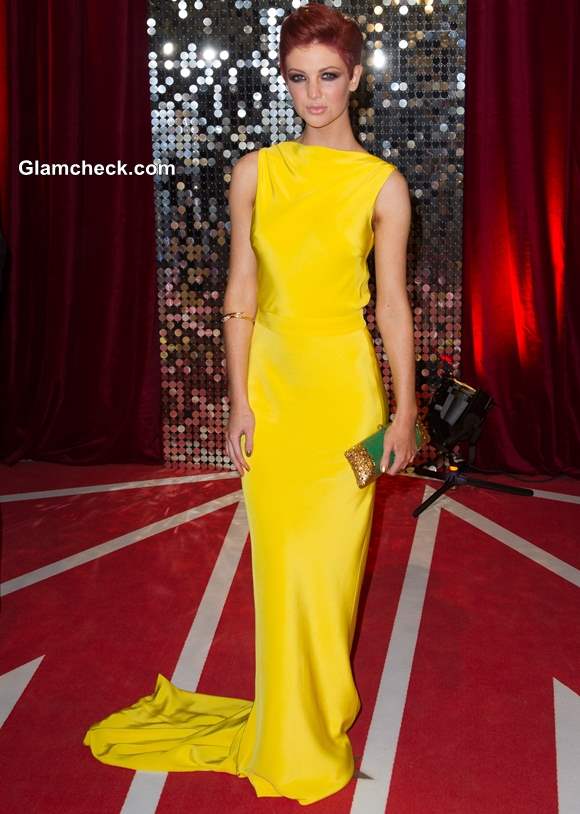 Celebrity Yellow Gowns Lucy Dixon
This one too boasted no embellishments but its sheen was enough to steal the limelight. Her accessorizing of the look was stellar too. The green and gold clutch was an inspired choice and we love the edginess of her gold armband.
Michelle Collins looked starkly sophisticated in her full-sleeve yellow gown. It's a good thing she chose black accents through her outfit to balance out the pale yellow.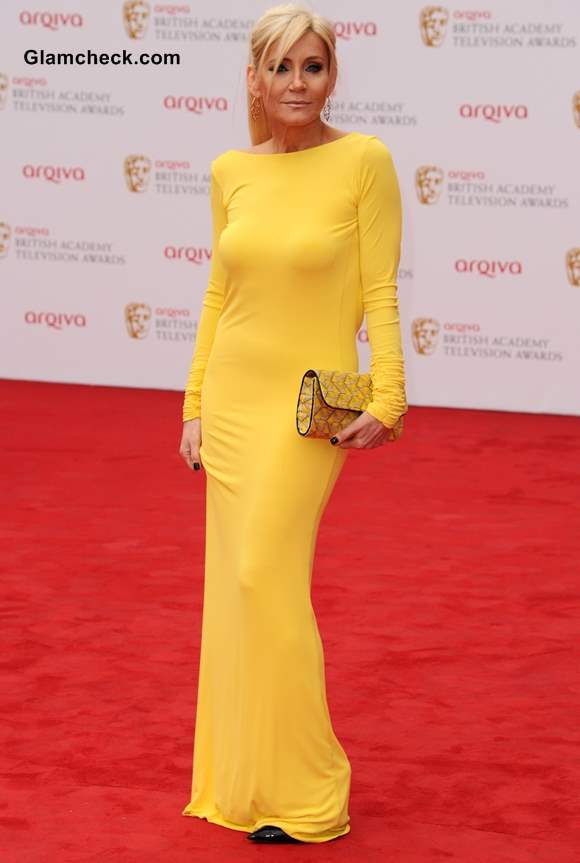 Celebrity Yellow Gowns Michelle Collins
Her black manicure, black heels and even her smoky black eyes all contribute to up the sex appeal of what would otherwise have been a pretty humdrum look.
Natasha Hamilton sported one of the more vivacious yellow evening gowns on this list.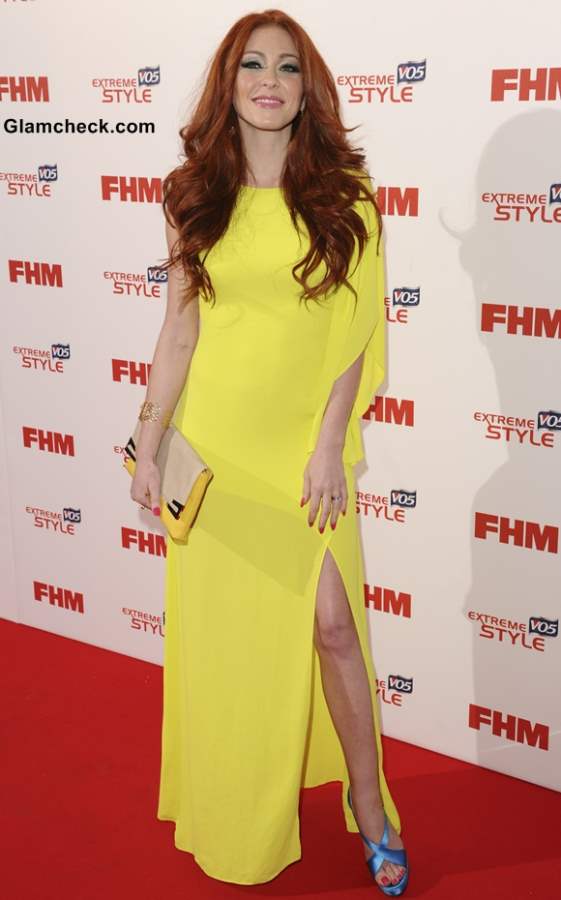 Celebrity Yellow Gowns Natasha Hamilton
It certainly was a thing of fun and beauty. The skirt split at the thigh which allowed us a good view of her strappy blue shoes. A split sleeve on just one side gave company to that same detailing on the skirt. The redhead's tumbling curls make this a fiery ensemble from head to toe. 
Image: Shutterstock