A picturesque beach setting is one of the best places to spend a holiday added with a lot of fun and glamour. Some of the best fashions and free style dressing options are spotted at all the fantastic beaches the world over. A beach holiday is not just a holiday to loosen up your soul and let your hair down but experiment and have fun with fashion and all its colours. The sand filled setting is made close to perfect if you fit in the bill of looks as aptly.
How to Look Beautiful on the Beach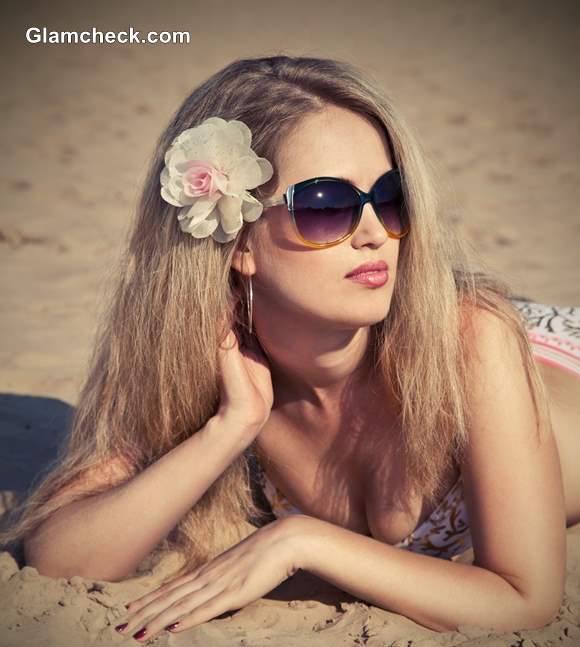 How to Look Beautiful on the Beach
A perfect beach look is often the toughest to achieve and requires a certain amount of hard work from your end .The look is often a result of invested hours on the body to achieve its shape and the skin to reflect the best as a great beach look story is not just a play of clothes but much more than that. Here are all the ways and means to help you look beautiful and at your best:
The Beach Clothes :
Clothes form the first fashion tool to fix any look, as is the case with the beach ones too. Understanding your body shape is the first step to use the tool to its best. All bodies can be classified to classic shapes and what you wear, be it a bikini or a cover up, can drastically bring out the best features. Explore the colors and cuts that work for you ranging from the classic to the quirky. A beach look can be an extension of your usual style or be drastically different and edgy from what your style sense stands for. After all, a holiday is about breaking out of the routine anyway. Read: How to dress for beach party.
Here are the variants that you can explore for 'the' beach looks: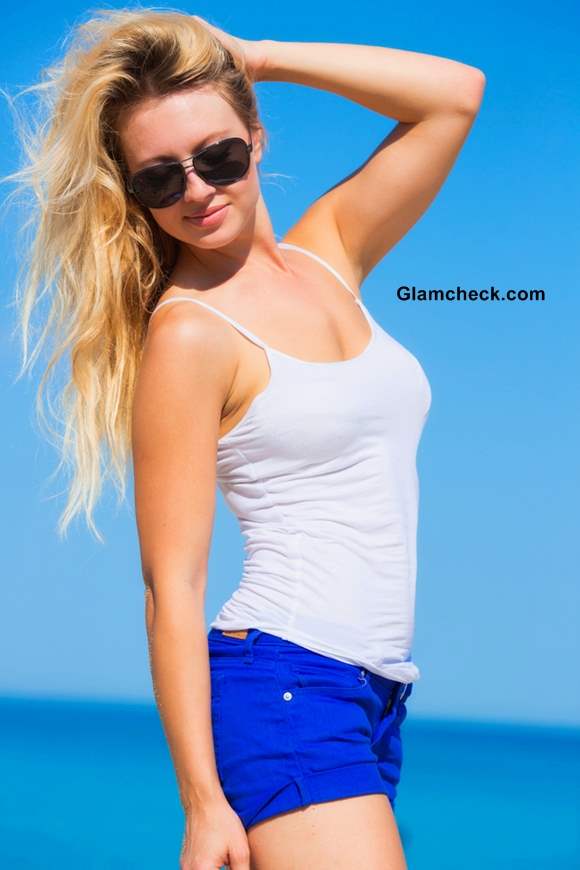 How to Look Beautiful on the Beach
Color: If there is one place where the vibrancy of color truly takes over, then it has to be a beach. Amidst the golden of the sands and the blues of the waves, colors form a great way of communicating your style and fashion moods for the season. The rainbow effect by the colors of the outfits is one of the most fun sights the beach has to offer. Embrace the luxurious jewel tones or the intense classics of white, black or grays to make a sophisticated statement.
Print: Prints always have the power to be more expressive and add a further dimension to any outfit. To each personality , an own print. Delicate florals to dramatic animal ones to colorful tropical, stripes to zigzag lines, beach wear can easily be defined as a print gala. Try a contrast of prints and adhere to the latest trend of print on print by trying a printed bikini layered with a printed cover up with a striking effect.
Cuts: When it comes to picking the perfect swimsuit which is an integral part of looking beautiful on the beach, the cuts matter. Ruffles, drapes, fringes, high cut bottoms, low cut tops the options are many. Choose what fits in best with your style and body type.
Cover Ups: Cover ups in the form of kaftans, sarongs draped in various dramatic ways or wrap around skirts in sheer work the best. Read more: All about beach Cover ups.
The dynamics of any human body are susceptible to change which is why it is important to try every piece of clothing that one plans for the beach before. What worked for a person in one year might not be as satisfying in the next.
Whatever be the variables be to achieve the perfect look, confidence and comfort hold a permanent position. Never side line these two factors while picking your beach fashion options.
Accessories: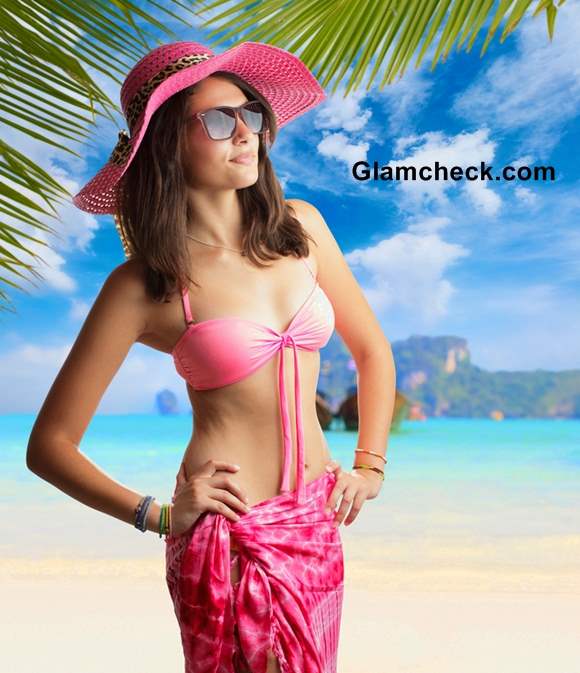 How to Look Beautiful on Beach
Adding the perfect final touch is the biggest way the accessories help to complete a look and glams up the attire to the next level and same is the case with beach wear. A sun hat, sunglasses, stacks of bangles or ultra light feather earrings are certain options you will love and these help you personalise every outfit that you wear. Comfortable rubber footwear in bright colours or with a hint of bling add to the fun. One can also adorn anklets while you are showing off those legs.
Another form of accessory to flaunt is a tattoo. One does not have to have a permanent inscription on the body to do so. Choose a temporary motif to depict your style.
Skin Care:
Clothes & Accessories are the exterior factor. Beauty is incomplete without a great looking skin which actually can be your best accessory to flaunt. Following a proper skin care regime should be a daily feature of your days but change to the next gear as you are closer to your beach days. All the sunshine is something we all look forward too but it also has a harsh effect on the skin.
Protect your skin with a strong SPF Sunscreen and apply it regularly in liberal quatities..
Drink lots of water and juices. The liquids always help!
Apply minimal make up. Water proof options are the safest in this case as bleeding make up can ruin it and work against you.
Make sure you wash off all the sand and the salts off your body as these have a drying effect on your skin.
Use lip balms to help you keep your lips hydrated and glossy.
If one plans to steer away from the water at the beach then bronzers make a great way to glam up!
Read more Beach Beauty Tips
Hair:
The way one looks is to a lot of extend defined by the style you wear your hair in. A beach requires a totally bohemian approach if you have long tresses or a crisp one if you wear them absolutely short. Braiding and curls are popular styles and adding shell accessories or floral ones adds a good beach touch to your look. Read more Beach Hairstyles.
Hair Removal:
A beach outfit can turn into an ugly affair without proper hair removal. Make sure you plan your hair removal appointments well in time for the sensitive pores to heal before the exposure to the saline water which can have a burning effect. Ensure a clean , hair free body including the bikini line for the radiant beach look. Incase, you plan to remove body hair at home, It's important to know Precautions While Doing Home Waxing.
Toned Body:
They say that a perfect body can look good in anything, and to have one is a blessing specially for the beach attires. Almost everything falls perfectly and looking good is easily achievable. The size does not matter but a toned body does. Some are blessed with it and others work for it. So the biggest preparation should be working out to achieve the desired results because one does not want the flabs to take over the gorgeous beach dressing plans.
Every look is like a cocktail, a bit of everything contributes in the final flavour. All of the above is essential to get the mix of the beach look right and definitely translate into the finest ones.
Image: Shutterstock