Summer means more time at the beach. Although we look forward to it, we're also intimidated by it for a variety of reasons. We have to slip into swimwear of some kind and we're not sure our bodies are up to it. The sea water can damage your hair when you swim in the ocean. What kind of makeup do you wear to the beach? Should you even bother? How can you look your best when you know you're going to get all messy within minutes of getting there? You have to admit, there's a lot more to think about when heading to the beach than which towel to take along.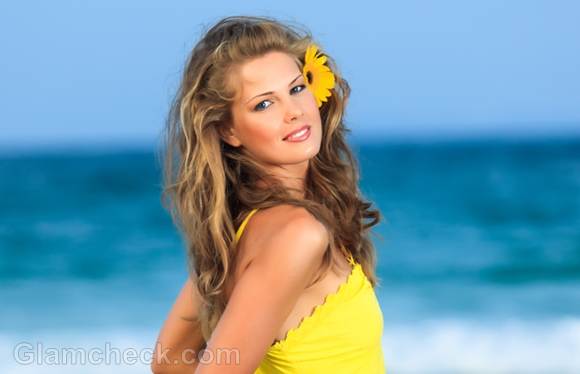 Getting beach-ready is not something you should postpone till the last minute. Indeed, in some cases you may have to start weeks in advance. So if you know you're going to be spending time on the beach this summer, then first spend some time reading through our absolute-must-know beach beauty tips and get started on the ones that require long-term commitment right away.
Start Shaping up for a Bikini Bod
Ah, this has to be the most dreaded of all beach beauty tips. After all the cold winter months covering your body under layers of clothes and having your fill of winter treats in the name of needing the calories for warmth you have to slip into something skimpy with all that extra winter weight on you. This should be one of the main things to concern yourself with before beach day. You can follow all the rest of these tips but you will not be satisfied with the end result if you look flabby. You don't have to be skinny or totally ripped, but losing as little as five kilos and toning your body can still make a lot of difference not just to how hot you look in your swimsuit but also to your health. Get started on a cardio routine at least 8 weeks beforehand. Running, jumping, skipping, swimming, cycling can all help you loose weight fast. Do strength training, pilates or yoga to tone your body.
Get a Bikini Wax
The thing about summer wear is that there is a lot of skin on display. So you want to make sure that your skin is hair-free and glowing. If you're going to the beach, then you must be planning on wearing some kind of swimwear for when you want to go into the ocean. If you're donning a bikini or a one-piece swimsuit with a panty style bottom half, then do yourself a favor and get rid of pubic hair. There's nothing more unsightly than stray hairs making a special appearance from the sides of your bikini bottoms.
If the idea of a full bikini wax terrifies you or if you don't like being hairless, do your best to minimize the appearance of stray hairs. Shave the panty line and trim pubic hair down as much as possible. Use an electric bikini area trimmer to cut off pubic hair as close to the skin as possible. This keeps you well-groomed with zero pain and you don't have to worry about anything peeking out of your panty line.
Don't Forget a Pedicure
You're not going to be wrapping your feet in socks or covered shoes when you head to the beach. It'll probably be flip flops, sandals or bare feet all the way. When your feet are going to be on display so much, you owe it to your sexy beach persona to get a pedicure. Scrub your feet regularly to prevent it from getting scaly. Also soak them in warm water, baking soda and salt every week or so to help remove impurities. Keep your toe nails trimmed and buffed and slather on a generous amount of moisturizer at night to keep your feet soft. Your feet go un-pampered a lot and your neglect will be very obvious in your beach wear. So keep your feet beach-ready at all times by lavishing attention and bath salts on them from time to time.
Don't forget the nail polish. Bright colors are perfect for the beach as they will stand out against the sand. Don't be afraid to try zany colors that you wouldn't normally wear. Red, hot pink, bright purple, acid green, canary yellow and blazing orange are just some of the really cool nail polish shades that will have people giving your feet a second look. Not to mention that they up your fun factor considerably. Read more on : How to choose right nail polish color.
Try not to walk barefoot on very hot sand for too long as this can cause your skin to chafe and can also cause painful blisters.
Also remember that although running around in the sand showing off your feet and your bikini is fun, it tends to get a lot of dirt under the nails and between the toes. Wash this off properly when you get home so that your feet are ready for the next time you hit the beach.
Beach Beauty Tips for Your Hair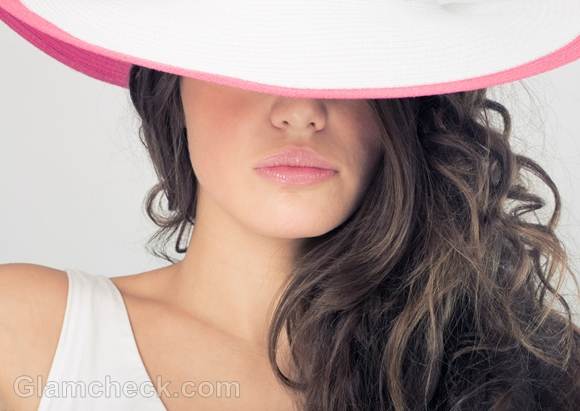 The humid air, salty sea water and sun exposure is going to play havoc with your hair. To minimize damage, both pre- and post-beach hair care is required. Begin hair treatments a few weeks beforehand. Deep condition your hair weekly. Try out some intense moisturizing hair spa treatments at a salon known for it. These may cost a pretty penny but they are totally worth it as they can make your hair look and feel smooth and also keep them free of frizziness for up to four months. Imagine the time, effort and anxiety it will take away from your beach beauty regime.
Can't afford hair spa treatments or find the time for homemade ones? No problem. There are several ways to make your hair look chic on the beach. Scarves, for one, never go out of style. Tie one around your head and look fashion-savvy. Hats are also ever-popular beach accessories. If you have these on your head all day, you won't have to worry about the fierce winds messing up your tresses either.
If you don't like the idea of hair accessories, then tie your hair up to minimize damage. How about a very trendy side braid? The advantage of this style is that you can simply undo the braid and shake out your hair for a readymade evening look too! High ponytails are beach hair classics. They keep the hair off your face even in strong winds and it's a good style for time spent in the water too. If you are short in stature and want your hairstyle to add a little height, pull it back tight from the sides but leave it a little loose on the top so that it stands up and gives you a few extra inches. But we don't want our beach hairstyle to appear too stern or perfect so pull out a few strands of hair from around the ears to soften your look.
Summer is a perfect time to revamp your look. How about getting some highlights in your hair to transform your persona? Highlights look fantastic on the beach because the sun will be hitting it at all times and will play on the colors more effectively than when you are indoors. Read: How to highlight hair.  The downside is that chlorine and constant exposure to the sun can make the color fade out faster if you do not use color-protecting products. Or else you can just spritz on some moisture-locking serum and tie your hair into a braid or a bun.
Rinse your hair out with a mixture of water and baking soda when you get home from the beach. This will help to wash out the gunk from the sea water (which isn't so clean thanks to pollution). Follow up with your regular shampoo and conditioner.
Makeup for the Beach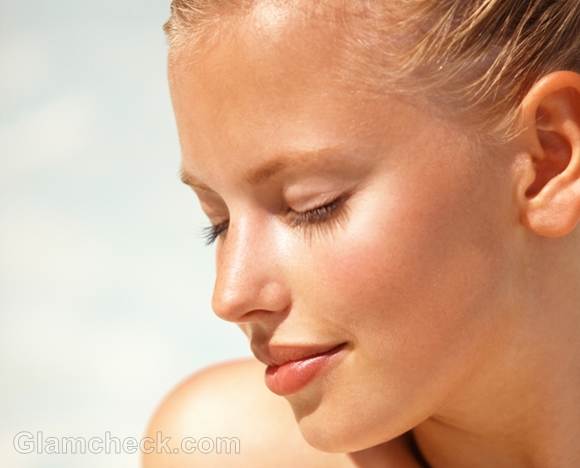 Makeup for the beach should always be minimal. Even if you're shooting for a magazine spread. Glamorous makeup just looks gaudy and unnatural on the beach. If you have the confidence to go makeup-free, power to you! If not, then keep it as simple and natural-looking as possible. Water-proof mascara and soft pink lip balm. The sun will anyway give you a bit of a natural blush when you're out at the beach so the bronzer isn't really necessary.
Control Shine
The heat and sweat will have your glands working overtime and you'll be shiny within just a couple of hours of hitting the beach. Always carry blotting paper with you to dab away the oiliness. Pay special attention to your nose and forehead. Try not using ordinary tissue paper to blot out the oil as the texture can actually be quite harsh for your face and cause tiny scratches.
If you have very oily skin, use a tinted moisturizer or sunscreen which is designed for oil control but ensure that it is suited for your skin type. Try formula beforehand. If you break out or if your skin gets too dry, ditch the product and try another one.
Never Forget Your Sunscreen
Your skin gets oilier than usual in the summer and you may not always like to slather on creams and lotions. That's fine because that stuff is not all that necessary anyway. However, sunscreen in the summer is crucial because the sun is out with a vengeance and the harmful UV rays it emits will cause worlds of damage to your skin if you don't take precautions. One of the main beach beauty tips you can take away today is to wear sunscreen when you head to the beach. This keeps your skin safe and will also keep your skin from getting burned or too tanned. More information on how to choose sunscreen.
If you have oily skin or very sensitive skin, you might break out when you apply sunscreen. This is actually more common than you think and one of the main reasons that people avoid sunscreen, thinking that it's not good for them. After all, no one wants a bunch of zits on their face when they're out in the blinding sun where every blemish is super-obvious. However, the answer is not to eliminate sunscreen altogether but to use a formula that is fragrance-free as well as oil-free. You may not always find this type of sunscreen in your department store but your drug store should have a variety in stock. Look for sunscreen with UVA and UVB protection with SPF of at least 30. Apply generously about half an hour before heading out into the sun and make sure to re-apply every couple of hours or so.
Here's a tip about the ingredients you should look out for in your sunscreen to get the best results for the beach:
zinc oxide
avobenzone
titanium oxide
oxybenzone
Don't forget to apply sunscreen on and behind your ears and on the nape of your neck – oft-neglected areas.
Managing Cellulite
Everyone has cellulite so don't hate yourself or loathe your body if you can see the little dimples on your thighs and butt. Even the skinny girls have it. Honest. Take a closer look next time you see one.
While there's very little you can do about cellulite apart from trying to maintain a healthy weight, you can use certain targeted products to reduce their appearance and boost your self-confidence. There are some cellulite creams which can actually tighten the skin on your thighs for a while and give the illusion of cellulite-free skin. This is especially true of the ones that contain caffeine or lotus extract. Be warned though that these are rather expensive and you will only see satisfactory results if you take care to re-apply from time to time. However, it is totally worth the money and effort to look fabulous on the beach, especially since the rest of you will be looking so awesome after you follow these beach beauty tips.
Don't forget to have a good time. The best beauty tip in the world is to not really give a hoot how anyone else around you thinks you look and to just enjoy yourself. You not only have a better time this way, your carefree attitude and confidence exude vibrantly and make you look naturally beautiful from within. Now that's something no end of beach beauty tips can accomplish.
Image: Shutterstock.com