Actress Bella Thorne was sporting some pretty nifty digs at the Teen Vogue's Back-To-School Saturday Kick-Off Event at the The Grove in Los Angeles, California on August 9.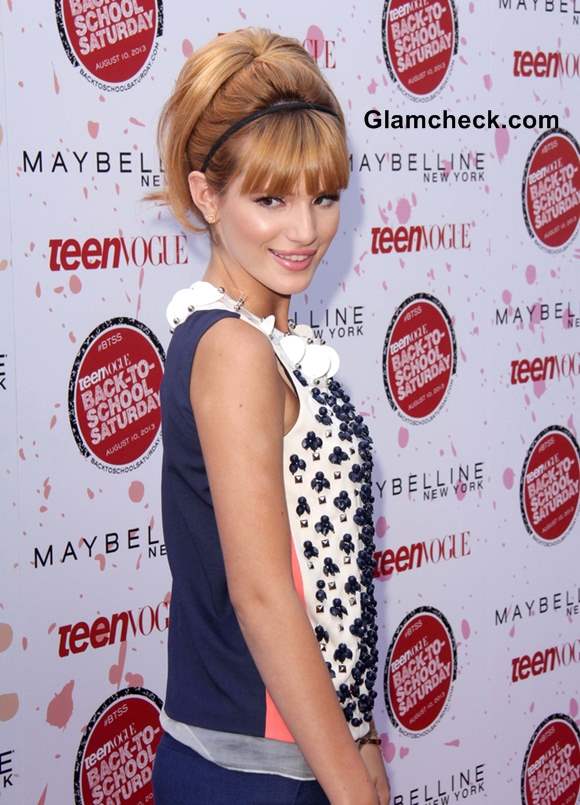 Bella Thorne in Diane von Furstenberg at Back to School Party
The 15-year-old interspersed her ensemble with metallic accents, a trend that we wish we'd see more of. She's done a surprisingly good job of it too, dotting her look with just enough to be noticeable without overwhelming the vibe completely. But let's take it step by step.
We love her blue pants – slim-fitting, cropped and timeless. These were paired with a lovely color-block sleeveless top. It was blue on the back, a shade that matched the bottoms, and had slim triangular portion of peach on the sides.
Bella Thorne in Diane von Furstenberg
The front of the top was the most expressive with beaded embellishments against a white backdrop. Her neckline too was quite something. A variation of the statement collar trend, her neckline boasted 3D white detailing and silver metal studs, the latter also scattered amid the beaded embellishments on the rest of her top.
Her metallic silver loafers were quite an interesting touch, bringing both a casual as well as a glamorous element to her ensemble. She rounded off the accessorizing with orange and gold stud earrings and a gold bow cocktail ring.
The ensemble does have a slightly retro feel about it which was reinforced by her 50s-inspired updo – blunt bangs combed forward with a high ponytail emerging from a puffed up portion on the crown, all of it neatly finished off with a black headband.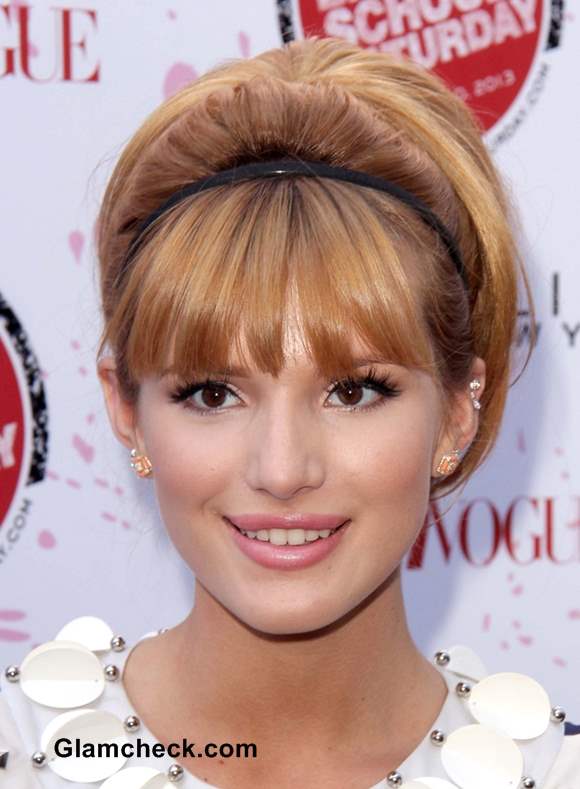 Bella Thorne Hairstyle 2013 Back to School Party
The makeup was contemporary though – a natural pink lippie, a bronzer that smoothly highlighted her cheekbones and a bit of liner on the upper eye lid which drew attention to her mascarraed false lashes. Her pastel grey manicure subtly added to the metallic elements of her look.
Bella looks unimaginably pretty and with-it in this youthful, preppy yet classy ensemble. 
Image: Shutterstock