The white dress is always a winner. You can wear it in all seasons, in any decade, for any look, and you'll usually come out a winner if you style it right. One of the easiest vibes to get out of a white dress is a lady-like one.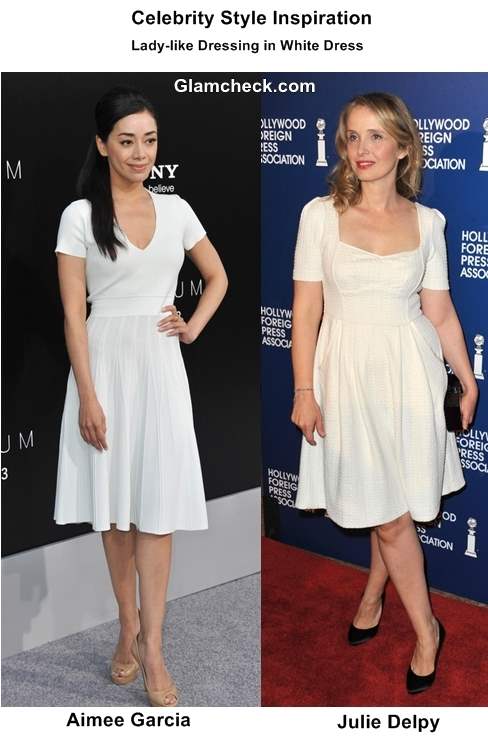 Lady-like Dressing in White Dress
Because white is such a clean palette to work with, even the slightest changes in your styling can change the feel of your look. Here are Aimee Garcia and Julie Delpy with great examples of what we mean. Both lovely ladies wore similar white dresses on the red carpet recently, but the vibes they were giving off were decidedly different, albeit with the same goal of being elegant and lady-like.
Let's look at Aimee first. She donned a really simple white dress to the world premiere of "Elysium" at the Regency Village Theatre, Westwood earlier this year. It had a modest V neckline, short sleeves, and a skirt with slight pleats falling to her knees. No belts or jewellery jazzed up this look.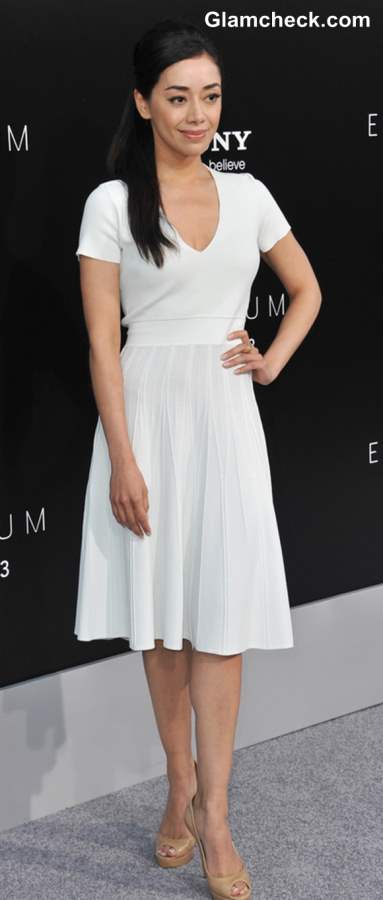 Lady-like Dressing in White Dress – Aimee Garcia
She kept things uber simple all the way, even choosing nude peep-toes that just blended into the color of her legs and made it seem like a uniform shade from the knee down. Natural makeup and a no-frills ponytail completed her look.
As you can see, Aimee's look is right for the red carpet and yet it is entirely low-key and so doable. More than that, it's ultra-ladylike. You could easily sport this look anywhere from your work to an evening out and you'd be noticed every time for the feminine charm underlying your every move.
Now as for Julie, she was in a sultrier mood than Aimee as she slipped into her white frock for the Hollywood Foreign Press Association's 2013 Annual Luncheon at the Beverly Hilton Hotel on Beverly Hills, California on August 13.

Lady-like Dressing in White Dress – Julie Delpy
Her white was actually more of an ecru, a warm shade of white which looked great against her skin tone and her fair hair. Her dress had a little more structure from the ribbed detailing on the bust to the more flowy pleats of her skirt. Or perhaps it is her slightly fuller figure that is doing more for her outfit than the outfit itself. It clung beautifully to her curves in all the right places, making us more partial to this dress over Aimee's.
Check out how glamorous Julie looks with just a few simple additions to her ensemble from a pair of black pumps to a black box clutch. Apart from a really slim bracelet, she too went with a no-bling look. Soft curls settled on her shoulder, lighting up her red pout.
You can clearly see how Julie's ensemble is so much dressier than Aimee's and, that too, with such slight adjustments. Don't underestimate the elegance of monochrome styling. The little accents of black are what make Julie's look, apart from the red lippie, of course. However, it still has that elegant and elusive feminine vibe in abundance.
On the other hand, there is something irresistible about Aimee's sedate look which could break hearts anywhere. She's the girl next door who grew up to be the stunner on the red carpet.
There's a lovely flow to both looks, each beauty is channelling the vibe that she feels most comfortable with and that is precisely what makes the feel so genuine to the observer. So when styling your white dress to give it a lady-like vibe, ask yourself what you feel like today – innocently angelic or wickedly divine – and let that guide your style. 
Image: Shutterstock