Multi-faceted artist Jennette McCurdy presented a colourful front at the Creative Emmy's 2013. The event took place at the Nokia Theater in Los Angeles, CA. The singer-songwriter played ode to the color block style with her choice of outfit. It is a trend that we have been seeing a lot of, particularly in the past two years.

Jennette McCurdy Color Block Style at the Creative Emmys 2013
The Clothes: Jennette wore a purple top which gave a nice contrast to her yellow short skirt. The ensemble not only channelled the color block style but also lent a very cute look to the actress.

Jennette McCurdy Color Block Style Creative Emmys 2013
The Accessories: A geometric statement necklace, that included little triangles and chain links, was the high point of her accessorization. The overall blue hue of the neckpiece also added to the color block style, as it gave a third solid color to McCurdy's attire. Jennette carried a black clutch with golden detailing which perfectly matched her golden and black spiked strappy sandals.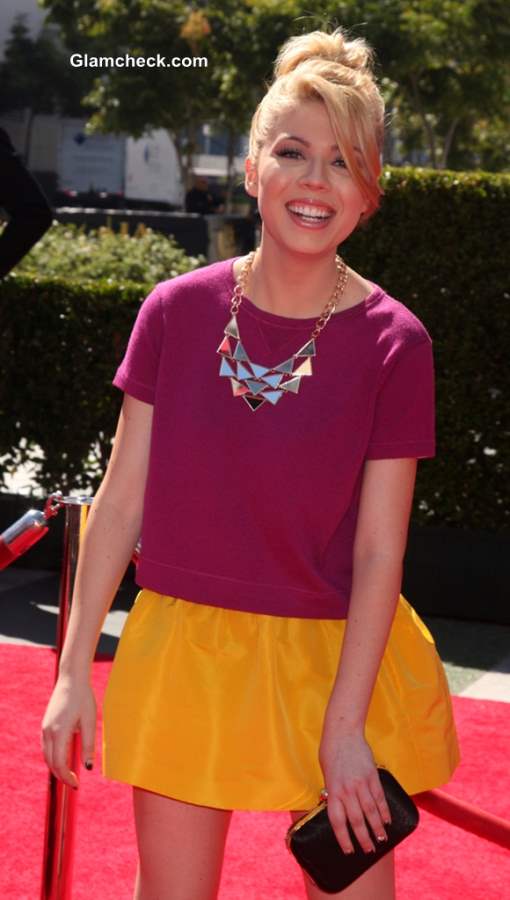 Jennette McCurdy 2013
The Hair and Makeup: The top bun with the side bangs in the front, that framed the face, added an overall cute appeal to the iCarly star.
The makeup was applied rather artistically, and that is one thing that we always like. McCurdy, who is a part of many television series, sported nude makeup that really defined her features nicely. Her eyes were done up beautifully with mascara and eyeliner, which gave her peepers an elongated look. She wore a nude glossy shade on her lips.
It is interesting to note that she matched her manicure with her clutch and footwear. The nails were done in black; the area near the cuticles featured a golden half moon design.
Glamcheck's Verdict:
Jennette McCurdy's look was young, cute and fun and went well with her image. 
Image: Shutterstock