Often, all you need in an ensemble is for one element of it to stand out. The rest of it can be plain, humdrum, been-there-done-that and you'd still be a success because it is that one thing that you did differently that changed the ball game. This most applies to necklines whether for dresses, blouses, shirts, tees or jumpsuits.
Since most people will tend to take you in from top to bottom, having an interesting neckline can make a good impression in the first two seconds. You can change the whole look and feel of your ensemble simply by picking the right neckline.
We have Hollywood actress Kate Mara showing off a beautiful example as she attended the premiere of "Deadfall" premiere at ArcLight Hollywood Theaters in Los Angeles, California.
She was wearing a lovely yellow dress but as you can see the most arresting feature of her ensemble was the neckline. It had a plunging neckline which was then covered up with floral-patterned black lace.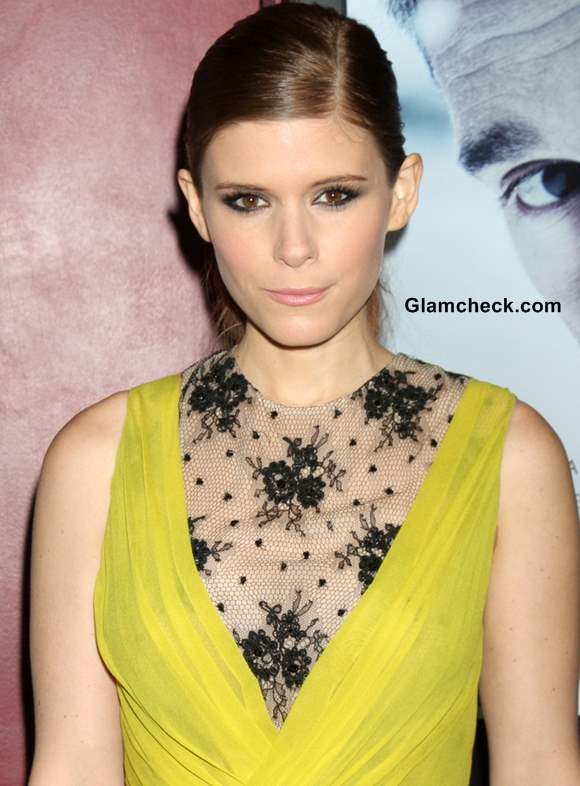 Plunging Lace Detailed Neckline for Petite Women
The style is both elegant and feminine, vintage and contemporary. What's more, it adds a little visual bulk to Kate's petite frame and improves the curves on her upper half.
But really, it's just about how lovely the black lace looks alongside the brighter yellow, and also how nice the lace looks in general.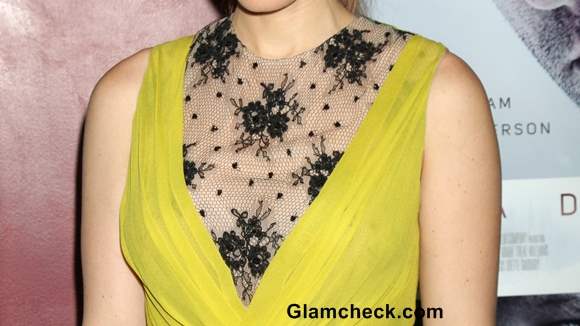 Necklines for Petite Women Plunging Lace Detailed Neckline
We're sure you're dying to head over to your tailor's right now and give this look a try on yourself. But be warned, the plunging lace neckline may not look good on everyone.
Who Should/Should Avoid Wearing The Lace Plunging Neckline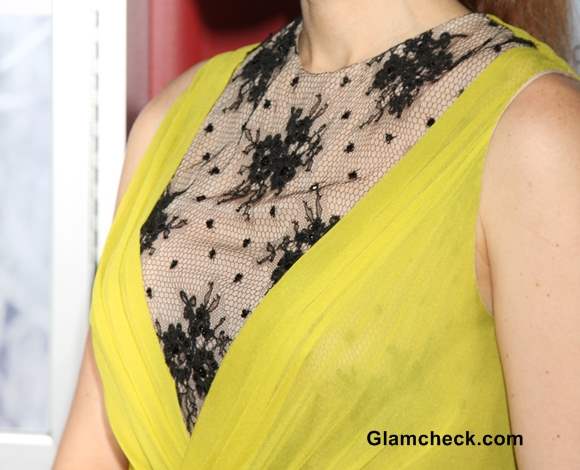 Plunging Lace Detailed Neckline for Petite Women
Kate's already pointed out that this neckline works well for women with petite frames. If you have small breasts and want to make them appear larger, then this lacy neckline will definitely work for you. That's because the lace tends to be quite eye-catching and an observor will perceive more than there really is in an area that catches his/her eye. So the idea is to add lace in places that could use a little fleshing out, so to speak.
If you are heavier on the top and wear a lacy neckline like Kate's, it will make you look really busty and your look would be in danger of appearing disproportionate as there would be no visual balance. So it would seem like you were heavier on your upper half.
The same principle is what makes the plunging lace neckline good for those who want to draw attention away from neck wrinkles. The eye of the observer will tend to focus on the neckline and so the lace will act as subtle camouflage. 
Image: Shutterstock