The New York Industria Super Studio has hosted the Bonnie Young Collection for Fall-Winter 2013. The mega show displayed children's fashion at its best. Hairstyles were cute and easy-to-do at home. Pretty accessories for children like a pastel blue ribbon necklace are accessorized on the neck.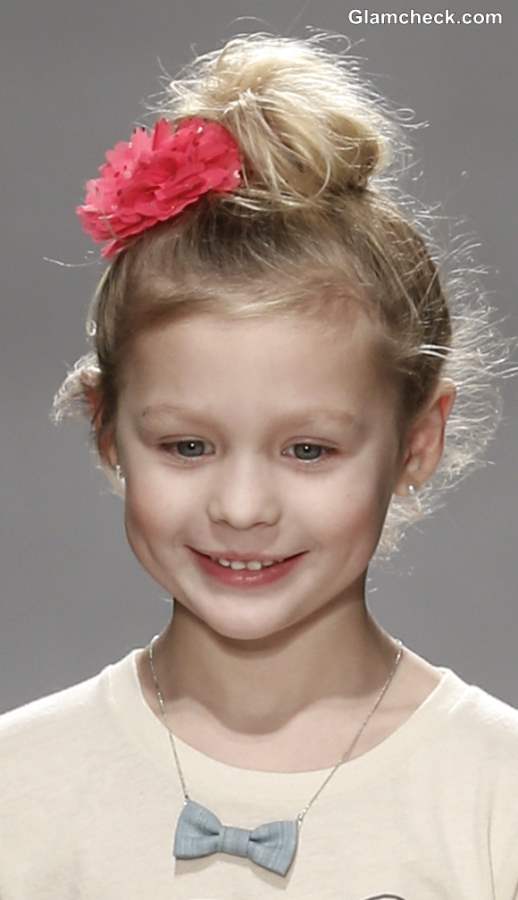 Top Bun Hairstyle for Little Girls accessorized with A Flower Hair Clip
The Flower Bun
In the picture above, the bun is decorated by a hand-made paper flower. The bun is combed and it is tied in a knot.
Accessories
A comb, a hair clip, and a brush comb
Here is a DIY:
The hair is first combed upwards on the centre of the head
Use a comb to tie the hair in a knot
With a brush comb, brush the hair downwards
This will give an effect of volume, now use a rubber band to tie the hair
A ponytail is tied up and centered with a rubber band
A flower clip is pinned on the hair
It is a simple style and needs no dramatic up-do. You do not need a gel or a styling cream to do this style. It is simple, yet effective and will give your child a wonderful look. 
Image: Shutterstock