R&B singer is no stranger to going under the needle. She has so many tattoos it's hard to keep count. The star has claimed that she even has tattoos that no one has seen yet because they are inked in private places.
Each of her tattoos is as interesting as the last since Rihanna says that there is a meaning behind every single one of them, even though she does not always share what exactly that is.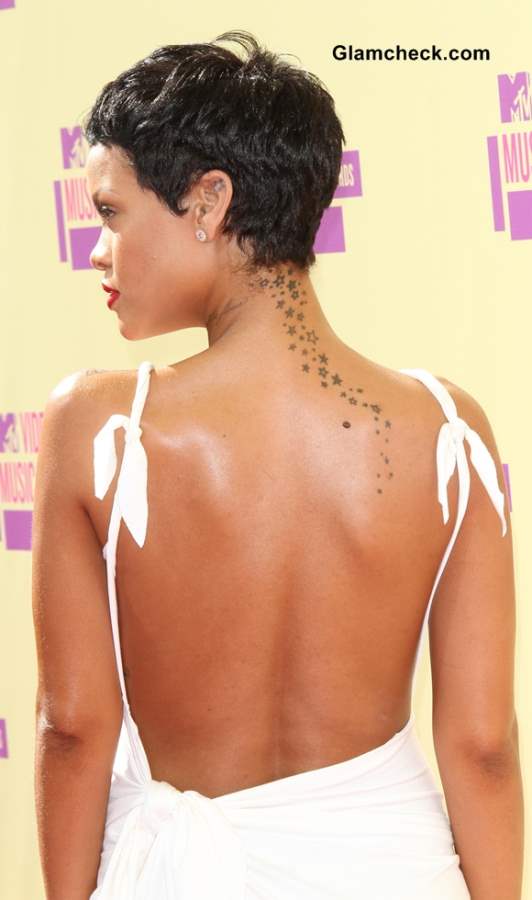 Rihanna's Trailing Stars Neck and Back Tattoo
One of her most lovely and eye-catching tattoos is the one of cascading stars that starts on the nape of her neck – right alongside her rebel fleur tattoo on the side of her neck – and seductively trials its way down to her back to the level of her wing tips.
Word is that she started the inking in Los Angeles but it was completed by her favourite tattoo artist Bang Bang in New York. He said that he just added to the stars that were inked earlier so as to make a trailing motion down her back.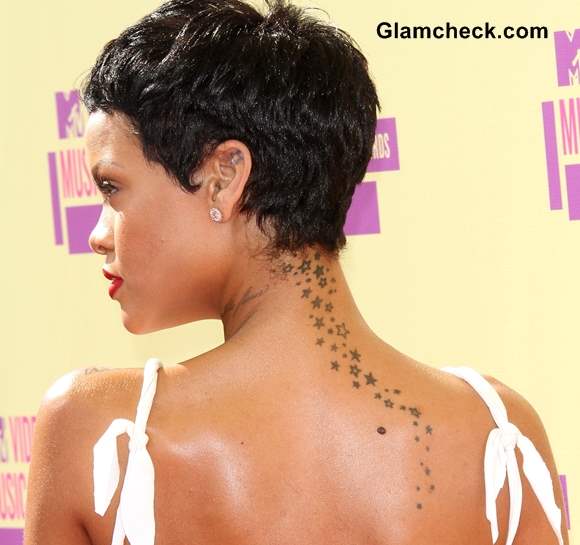 Rihanna – Stars Neck and Back Tattoo
Like most of her other tattoos, Rihanna didn't opt for color with this one either. All the stars are drawn in plain black. Most are colored in, also with black, but a few are left uncoloured as well.
There is speculation that she got this neck and back tattoo to complement a similar star tattoo that on-off beau Chris Brown has on the back of his neck, but she has neither confirmed nor denied that rumour.
The tattoo looks pretty darn sexy when the Umbrella hitmaker goes with a backless dress, which is quite often. The visual is both interesting and beautiful, just like the canvas that it is painted on. 
Image: Shutterstock