Burns Jewellers have been delighting customers for over 50 years with their exquisite display of branded watches and high quality jewelry. The company was established in 1963 and has 9 stores spread around UK.
The online store brings you the option of selecting a favored item from the comfort of your home. You can surprise your loved ones with a gift from Burns Jewelers. All orders made above £25 come with free postage services. The company believes in moving with the times and therefore has many trendy collections for a young customer base as well. Wedding gifts or christening ones, birthday presents or anniversary tokens, there is no dearth of items to make a choice from as there are hundreds of beautiful items to chose from to give your loved people.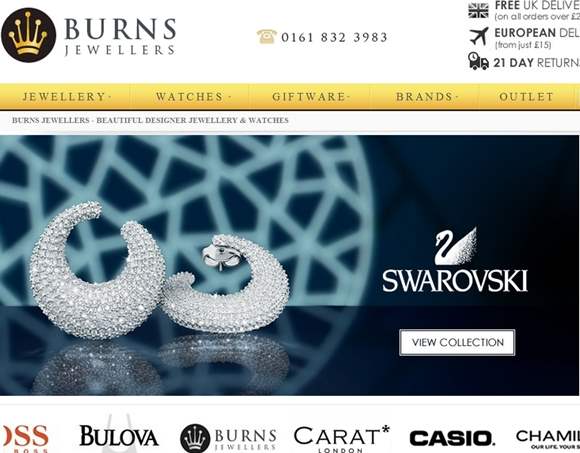 Burns Jewellers
Watch lovers will be fascinated and spoilt for choice with the huge range of brand that Burns Jewellers deal with. These include famous names like Gucci, DKNY, Emporio Armani, Hugo Boss, Lulu Guinness, Michael Kors, Swarovski and Lacoste among others.
Whether you love classic and traditional jewelry styles or have an eye for modern designs, Burns Jewelers have it all for you. There is also a wide line up of pre-owned watches and jewelry in superior designs. One can also opt for the custom design services and get their own unique jewelry crafted. Apart from this, they also have repair services for time pieces. The online store is indeed your one stop shop for all jewellery requirements. You can select from intricately crafted designs which include:
Necklace
Earrings
Charms
Carrier
Silk Cord
Leather goods
Cuff Links
Brooch
Beads
Rings
Bracelets
Bangles
Lockets
Pendants
Charm Bracelets
Diamond Rings
Pebbles
Jump Rings
Coins/Discs
Pendant & Earrings Set
Necklace & Earrings Set
Orders can be placed easily on the website. Purchases made online also come with their own discount offers. The online store keeps on giving special offers on the watches and jewelry. All queries and orders can be easily made at the Burn Jewelers official page.