Dramatic eye makeup with crazy eye shadow can be fun to try but can really test your patience while you're creating the look. When applying eye shadow, it's not unheard of for the eye shadow powder to get dusted on to the rest of your face, thus marring your foundation. If too much powder flakes off and gets on your cheeks, it can get so bad that you have to wash and cleanse your face and start all over again. Or figure out a way to clean up the eye shadow and leave the foundation intact, which is a challenge for even the most accomplished makeup artists. And if you're a newbie to eye shadow, forget it – you are bound to spill over at some point while you're learning and the marred foundation can be demotivating.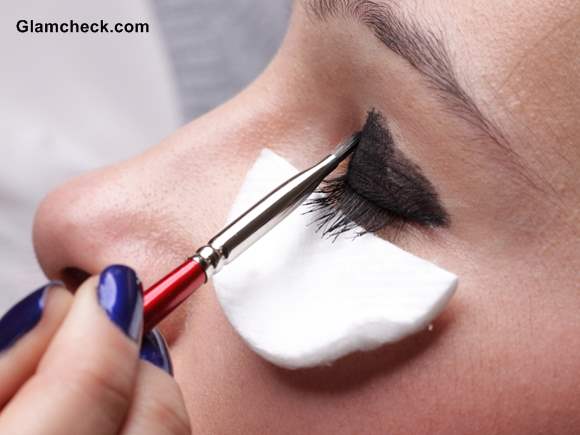 How to Prevent Eye Shadow from Getting on Your Cheeks
What we need here is a little prevention, always a better solution to a problem. And all you need to do that is one cleansing pad.
Fold the cleansing pad in half so that it is in the shape of a half moon.
Place the flat end underneath your lashes as shown in the picture with the curve facing outward.
Apply your eye shadow as usual.
Any spill will be caught by the cleansing pad and your foundation will be safe. The curve of the cleansing pad perfectly cover the curve of your cheek bones, which are most vulnerable to eye shadow spills. 
Image: Shutterstock