Camille Lingerie is one of the finest retailers of women's intimate wear in the UK. It has outlets in more than 150 stores in Ireland and England and is a specialist in swim wear, shape wear and night wear apart from lingerie. The family owned company has been delighting all its customers for over 15 years with its huge range of intimate wear in numerous designs, sizes, patterns and types.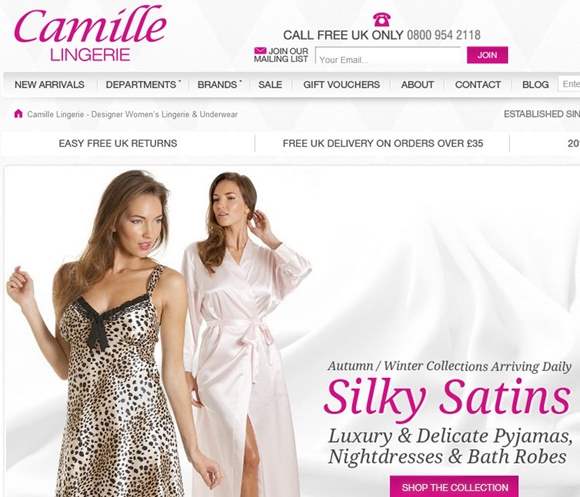 Camille
The lingerie section has a well devoted range for teenage bras to make the experience of first time bra wearers smooth and comfortable. There is also an entire line up of sexy "seduction wear" as well as fancy dresses – that gives the chicas a chance to play out favourite fantasy characters like police woman, nurse and French maid among many other options. One can also find specific styles that cater to practical as well as functional purposes like nursing and mastectomy bras. The full list of lingerie can be easily viewed on the website.
The brand is popular for their fantastic collection of women's nightwear made from satin which includes pyjamas, dressing gowns, loungers, onesies, wraps, dressing gowns and nightdresses. The swim wear line features tankinis and bikinis, shorts and swim briefs.
Apart from intimate wear, Camille also has a wide range of other accessories for customers. These include necklaces, bracelets, rings, brooches, key rings, Alice bands and hair clips. The company also has a well etched men's line that specializes in pyjamas, underwear and onesies. The full collection of products includes hidden support tops, suspender belts, thermal under wears and under slips.
All items can be purchased directly from Camille Lingerie's online store. The company believes in keeping all customers happy, therefore in case of dissatisfaction one can opt for the refund or exchange policy. Feel free to browse through the various catalogues and order your favourite among them. You can also buy gift vouchers for your loved ones for special occasions. All the men out there can make their partners really happy with a Camille Lingerie gift voucher.