The FatBuddhaStore opened with the concept of selling items related to street culture. So, if graffiti inspired preppy-punk style is your forte then look no further than Fat Buddha. The company is based in Glasgow; however one can order everything that the store stocks from their online shop. Footwear, clothing, spray paint supplies, urban vinyl toys, design led books – the Fat Buddha Store has all this and more for you.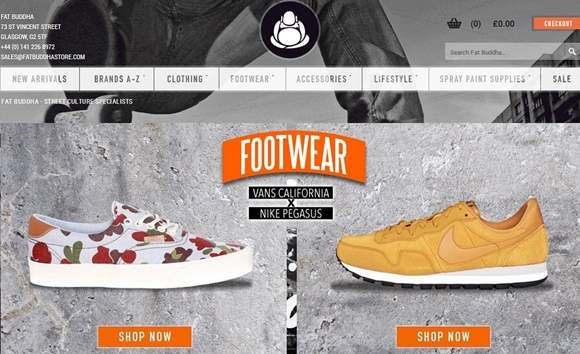 Fat Buddha Store
The apparel line has a wide line up of men's clothing items like jackets, t shirts, denims, sweats, shirts, shorts, trousers, polo shirts and knitwear from known brands like Nike, Garbstore and Wood Wood along with many other popular labels.
The footwear collection features an extensive range of shoes that suits different tastes and can be worn for various occasions and activities. The line-up of footwear includes trainers, casual shoes, classic shoes as well as those shoes for ladies and infants. From formal to informal footwear – the Fat Buddha Store has it all.
Fat Buddha's accessory department offers an exquisite range of watches, sunglasses, bags, hats, belts, wallets, leather goods, headphones, socks, umbrellas, scarves and gloves. The vast lifestyle's section includes items like men's grooming products, cycling accessories, urban vinyl toys, gadgets, photography accessories, books, magazines, electronic and lighting products, cushions, stationery items, mugs, iPhone cases, skateboarding accessories and many more things.
There is also a niche section devoted to spray paint supplies which retails products like spray paint, spray paint burners, spray paint caps, paint pens & refill, ink & ink pens, design markers, sketch pads, heavy body acrylics and leather paint & dye.
You can browse through the catalogues on the online store to get the full idea about their inexhaustible range of goods. The Fat Buddha Store keeps on having sales throughout the year, so if you want good deals then do not miss the "Sale" section. Customers get the option of free postage on purchases made of £50.00 and above. The company has a very smooth returns policy for the delivered goods in place which makes it a convenient and hassle free process for customers. You can easily open an account on the online store to start making purchases.