Halloween is almost here and it is time we started deciding all our costumes. But if you are a mother, you will get this that before your own you would be worried for your children's costumes. Ah! The love of mom. For that very reason we today get you great costume ideas for little boys that include wonderful face art.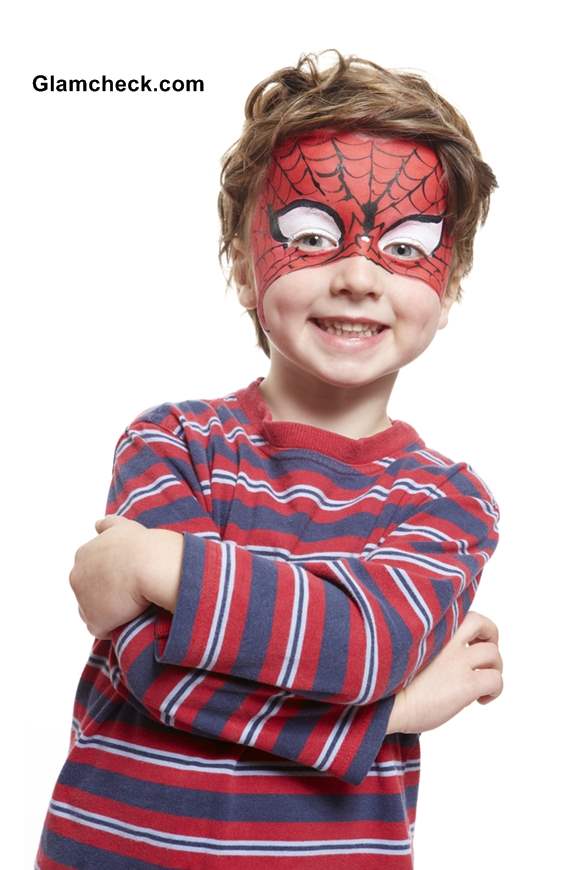 Halloween Super Hero Costume Face Art for Little Boys 
Treat Halloween as a fun thing to do with your little boy. While he goes trick or treating he would love to dress up well. If you choose a costume in which you try your hand at face art, you both will have more fun together and in turn it will also be a memorable experience for him. So let's begin with some ideas!
Make him a superhero – Spider Man
What little boy does not love his superheros. Let him be one this Halloween. The simplest yet fun superhero to be is Spider-Man. All you have to do is paint a mask on his face.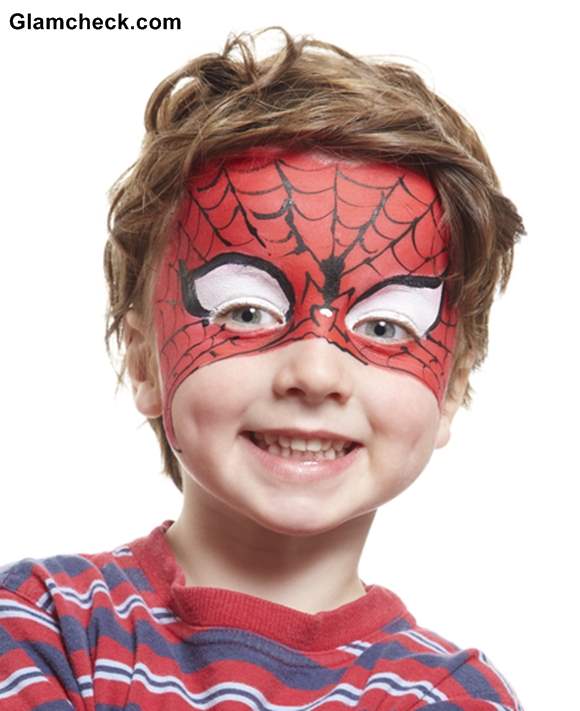 Halloween Costume Face Art for Little Boys- Spiderman
Start by outlining the area on his cheeks to define a boundary with face paint.
Next paint his eyelids white. Define his brows with black paint around the white.
Next fill up the whole mask with red paint.
Now comes the intricate part and you first draw a spider on this forehead using black paint.
Now starting from the spider, start making the web on the red paint  just in the fashion shown. 

Spiderman Face mask Halloween for Little Boys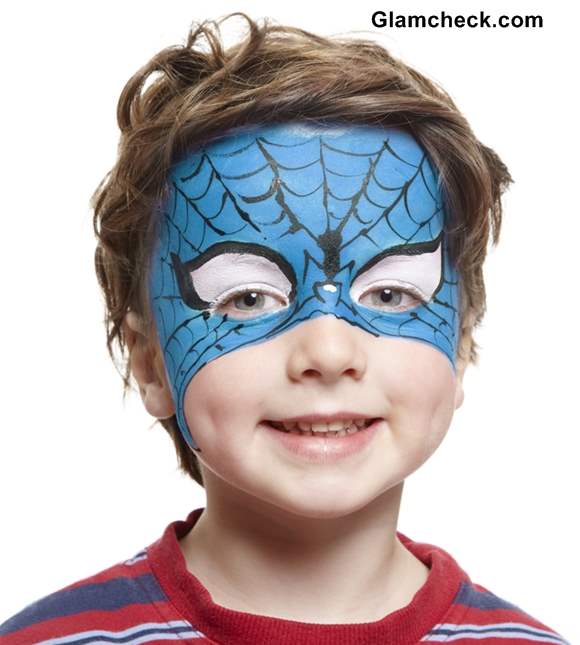 Halloween Spiderman Costume Face Art for Little Boys
If you and your little boy find a red mask too mainstream, you can also go for a blue color instead. Enjoy this face art with your boy and let him pick a color that he likes.
Inspiration from the Devil and Vampires
Next up is his probably the second most favorite thing – devils and vampires… all things scary. As adults we might not be as interested in horror but kids are fascinated by it. So let him celebrate the spirit of scary Halloween.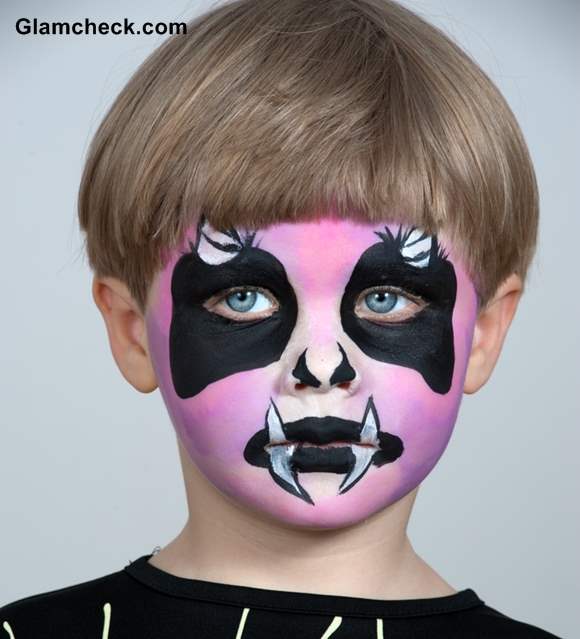 Halloween Devil Face Art for Little Boys
For the devil face art start with painting big black patches around his eyes. They should cover his eyebrows and extend to his cheeks as shown.
Next you can paint his lips roughly with black paint as well.
Now start creating the purple and pink face paint, dilute it and use a sponge to spread it both colors around the face.
Next make tiny horns on the black eye patches using white face paint. Define it with black.
Also paint two sets of teeth on his lips using white paint and outlining with black.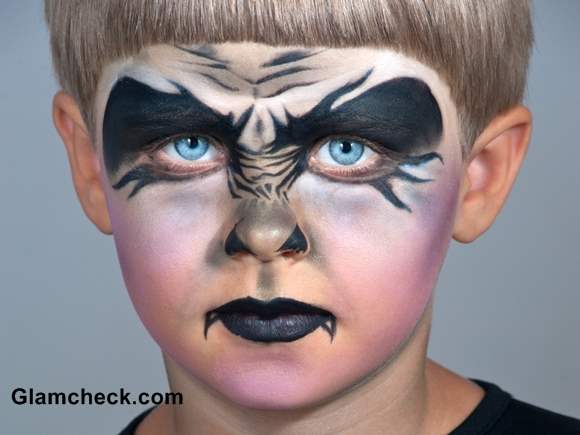 Halloween Vampire Face Art for Little Boys
On similar lines, make him a vampire. This time use light pink, yellow and grey as the base.
Paint above his eyes, covering part of head and brows as shown.
Next draw the lines below his eyes, on the forehead and nose.
Paint his lips black neatly and make fangs at last.
Inspiration from Animals – Tiger and Chameleon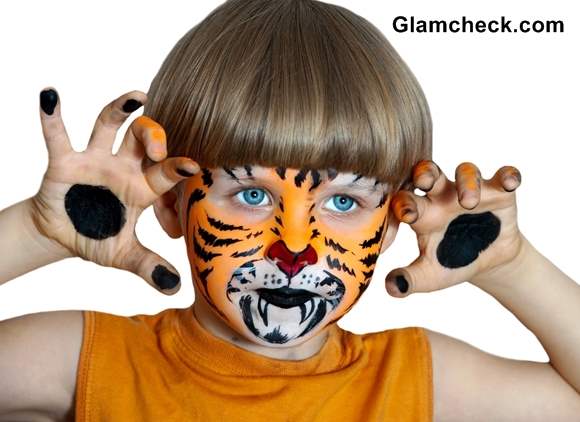 Halloween Tiger Face Art for Little Boys
For tiger face art, with white and black paint, define his mouth first.
Next paint the nose red and then proceed with covering the rest of the face with yellow.
Next comes making the tiger stripes with black.
Don't forget to paint the palms of his hands as well, as shown.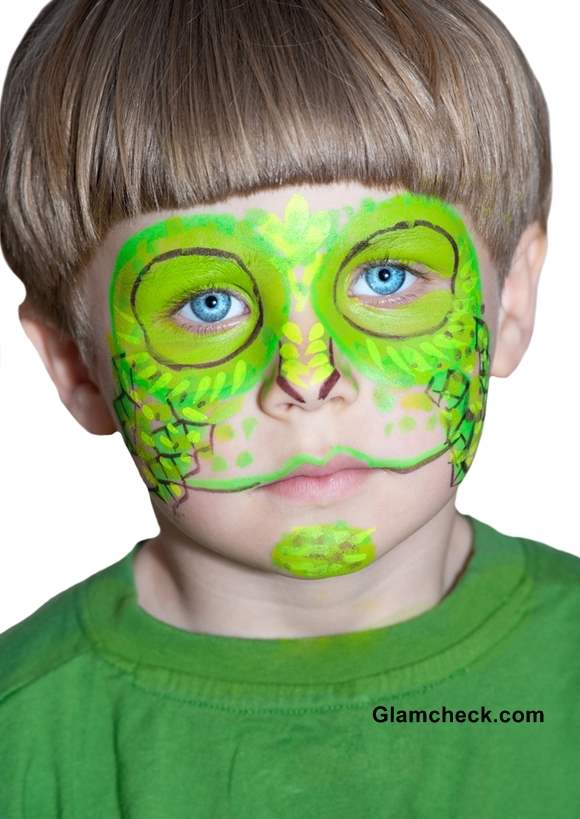 Halloween Chameleon Face Art for Little Boys
The chamelon may seem tricky but strart with green around his eyes. Then darker green boundary.
A lighter yellow green pattern goes on the forehead and nose.
Use green on the lips and chin as well.
Mae defining patterns with brown and lighter green as shown.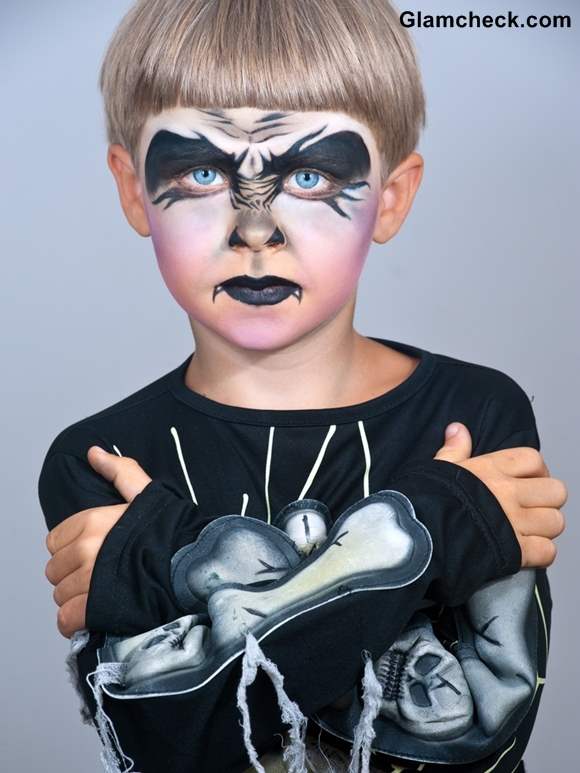 Halloween Costume Ideas for Little Boys
Spend time with your little boy on this and you will love it. Happy Halloween to you both!
Image: Shutterstock