JonRichard has created a niche for itself in the field of women's jewelry and accessories. The company has been delivering exquisite designs for nearly three decades now. The brand retails beautiful pieces that cater to every style and taste as far as ornaments for women are concerned.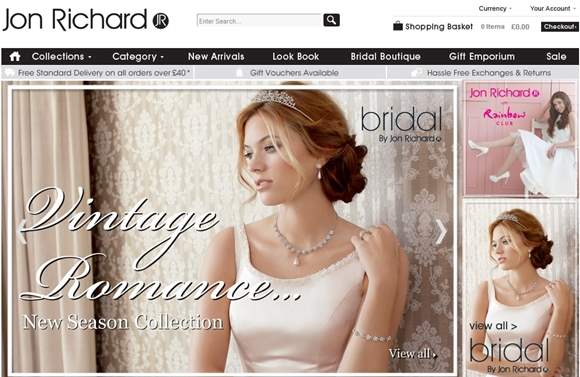 Jon Richard
All the jewelry and accessories retailed through Jon Richard are competitively priced. They are available in over 110 Debenhams stores as well as other popular department stores like Voisins and James Selby.  Apart from their own designs, the company also stocks other brands like Star by Julien Macdonald, Black, Butterfly by Matthew Williamson and J by Jasper Conran among others.
The company understands all about feminine styling aspects and therefore brings a range of tailored, stylish and well crafted jewelry for one and all. The items retailed by Jon Richard include:
Earrings
Necklaces
Rings
Brooches
Key rings & Charms
Matching jewelry sets
Tiaras
Hair Accessories & Fascinators
Beauty Accessories
Gifts
Bridal jewelry
Bracelets
New Arrivals
Gift Bracelets
Gift Brooches
Gift Compacts
Gift Key rings
Gift Matching Sets
Gift Necklaces
Bridal Bracelets
Bridal Hair Combs
Bridal Earrings
Bridal Headbands
Bridal Necklaces
Bridal Hair Slides
Bridal Tiaras
Gift Novelty
Prom jewelry
Silver jewelry
Bags
Shoes & Accessories
Veils
Online Exclusives
Body jewelry
Jewelry for men
An elaborate collection of bridal jewelry is Jon Richard's special forte.  The bridal boutique presented by the company adds the much needed finishing touch to brides-to-be. The online store plays the role of a good friend for all the chicas who are looking forward to buying their wedding jewelry. It is definitely the ultimate bridal jewelry and accessories destination.
Shopping through Jon Richard's online store is an easy and convenient process. All the items that the company retails are displayed on the website along with their details. Making a purchase takes a simple click of the mouse, once you register on the site. They also have a good delivery process and returns policy in store.