The Cowgirl  look is sexy, cute and down to earth. Think you need to go spend a lot of money to create the look? No way. All you need is a little ingenuity and a little help from us. You probably have everything you need in your wardrobe as you are reading this. Here's how you can easily put the cow girl look together spending from little to nothing, depending on what you own and what you need to buy.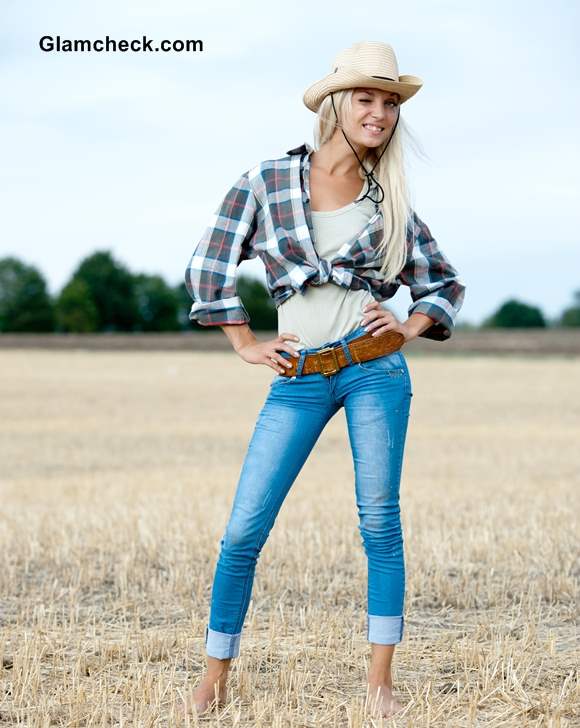 How to Get The Cowgirl Look for Less
A simple white tank top and bootcut blue jeans form the base of this look. Tuck the top into your jeans. These two items are pretty easy to come by since most of us own a pair of blue jeans and a white tank top can be yours for a dollar or two. If you have this base ready, you are halfway done.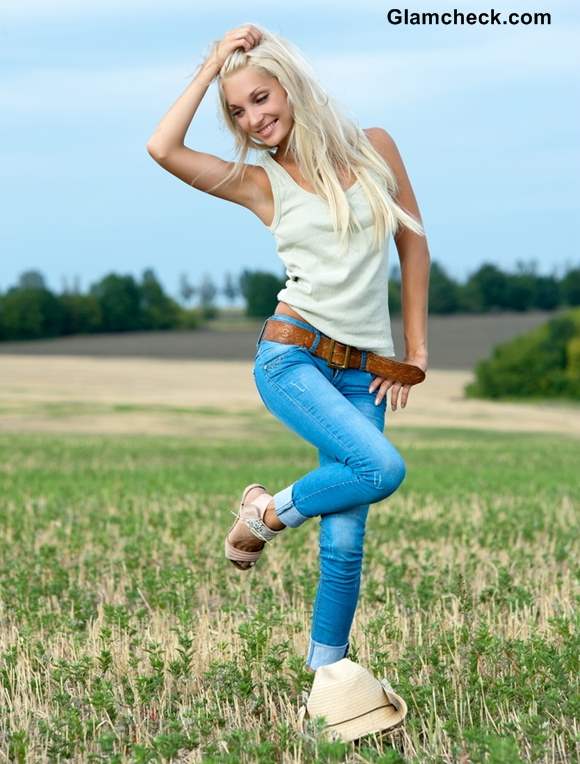 Get The Cowgirl Look for Less
Now you need to add the little touches here and there which make you look like an authentic cow girl even if you've never been on a farm. Begin by hunting down a checked shirt which is a little over-sized. Again, these come quite cheap, but if you'd rather not spend any money then just borrow a checked shirt from your husband, boyfriend or that cutie at work that you've been trying to find common ground with. Most guys own a checked shirt and laying your hands on one should be a piece of cake.
Wear the shirt and roll the sleeves to maybe halfway up your forearm. Don't button up the shirt, Instead, tie it in a knot just below your breasts as shown in the picture. You don't have to be an expert on knots, just do your best.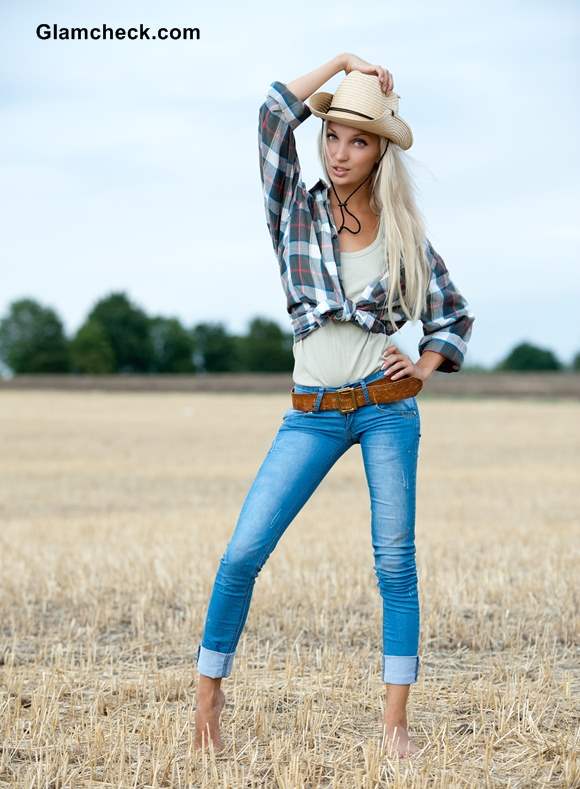 How to Dress up like a Cowgirl
Next comes the hat. No cowgirl look is complete without it, and what's great is it doesn't even have to be a proper cowboy hat. You can easily replace that with a cheap beach hat as long as it has a neutral color and isn't overly feminine.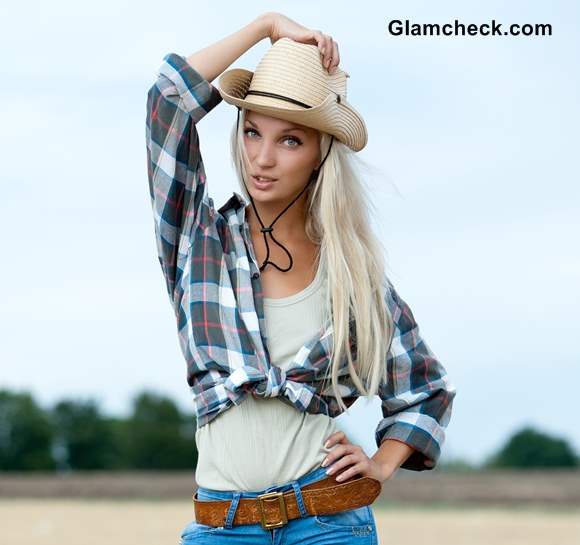 Cowgirl Look
There are just two pieces left in your easy-peasy, on-the-cheap cowgirl look. The first is a thick tan belt, something that is a little frayed and looks like it has been in use for some time. You can get one at a second hand store or just look in your dad's closet when he's not looking.
And the second is the footwear. You can always go with boots, but if you don't have those you can easily and convincingly make do with flat sandals which should, like the hat, be in a neutral color. And if anyone questions that bit of your look, you just look right back at them and say 'what, cow girls can't want their feet to breathe a bit?'
So there you have it, a simple cowgirl look that can cost as little or as much as you want, but mainly as little. Don't forget that you absolutely must accessorize this look with a smile and a sunny disposition otherwise it just won't work. 
Image: Shutterstock