LuxeBc is an online company that retails household and beauty products at the lowest possible prices without making any compromises on the quality of the products sold. They stock a wide range of products that belong to well known and popular brands. The company has been serving a happy customer base since 2010. New products are added every other day to their already existing line up of an extensive range of goods.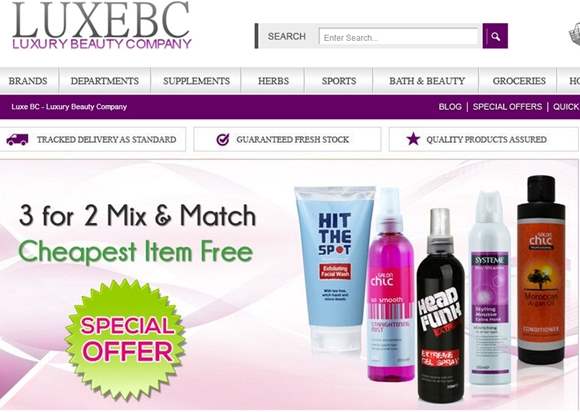 LuxeBC
The online store offers more than 24,000 products which include supplements for pets, groceries, organic foods, home and garden products, herbal remedies, sports nutrition, bath and beauty products and health supplements. Each section has many sub categories with further huge lists of items.
The website announces many special offers and discounts from time to time for its esteemed customers. Most of the products that are sold on LuxeBc have multi-buy discounts available on them. UK based shoppers can save up to 15% on bulk purchases. The postage rate is fixed at a flat £2.88; it remains the same irrespective of the number of items bought. The company also holds a 10% sale every week on certain brands. Therefore, do ensure that you keep on checking the online store from time to time to get the best deals. Lucky shoppers can also get hampers worth £50 of health goods; all that you need to do in order to be eligible for this give away is write a review for the site.
All products stocked at LuxeBc are no more than 30 days old; this guarantees a fresh supply of products. There is another interesting feature that makes shopping at the online store a good experience for customers. If a person cannot find a product they want among the list of retailed goods, one can always suggest that item to the company. They will take heed of your request and try to stock the item in question.
Each product shown on the website is neatly categorized and described so that it is an easy process for the customers to find the exact item they are looking for. LuxeBc is an extremely customer friendly online store which ensures that everyone who makes purchases from there once, comes back asking for more.