MarketCrossJewellers takes pride in being one of the biggest names amongst independent jewelers in the North East part of England. The company set up its first shop in 1980 at Guisborough and now has 12 branches spread all over North East UK. The online store displays all the products the company retails through its various shops.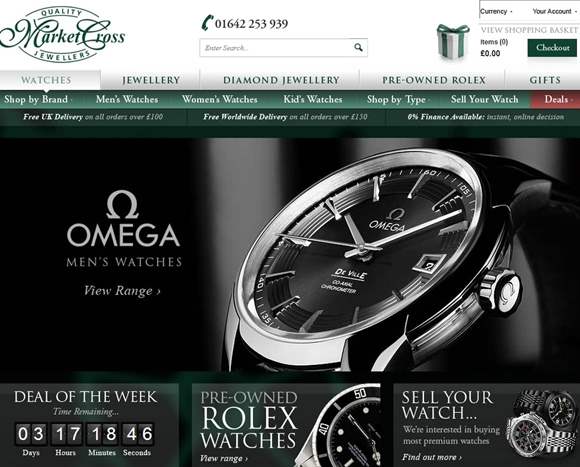 Market Cross Jewellers
The company offers more than thirty brands of famous watches in its exclusive line up. Customers can choose from premium brands like Gucci, Breitling, rado, Omega, Cartier, Longines and a horde of other equally high end names. The site also has an entire page devoted to watch care so that you know how to look after your brand new possession and keep it in great condition.
An elaborate line of jewellery for both men and women are also sold by Market Cross Jewellers which include intricately crafted bracelets, charms, bangles, necklaces, earrings, cufflinks, rings and even items for children. A special range of diamond jewellery in varied designs is brought to you in unbelievable prices.
The online store also has a specifically devoted segment for the sale and purchase of pre-owned Rolex watches. You can purchase watches or jewellery for yourself or your loved ones with the gift voucher option available on the online store. There is a special segment that features Swarovski gifts.
Market Cross Jewellers offer a range of options meant for delivery which have been especially designed to meet customer needs. Shoppers in the UK are entitled to free delivery on purchases made above £50, whereas those who live outside the country can get free delivery on buying goods worth £150 and above. The online store also offers many discounts from time to time; interested buyers should keep on checking at regular intervals to get the best deals on the luxury watches and jewellery. Most of the products come with a full standard manufacturer warranty. Each and every item sold by them is 100% genuine.
The website uses an extremely secured system of payment to ensure the safety of all customer transactions. A transparent system of delivery and returns policy makes the shopping experience further enjoyable for all the shoppers.