Halloween is just days away and if you haven't already, it's time to decide what you're going to dress up as this year as you make the rounds of the parties. A very popular Halloween costume is that of a witch. Like most costumes, the look has changed over the years ranging from traditional to cute to sexy. The witch look can be styled in hundreds of ways, you are only limited by your own imagination. Let's take a look at some halloween witch costume ideas for women and kids.
Halloween Witch Costumes for Women
Sexy Witch Costumes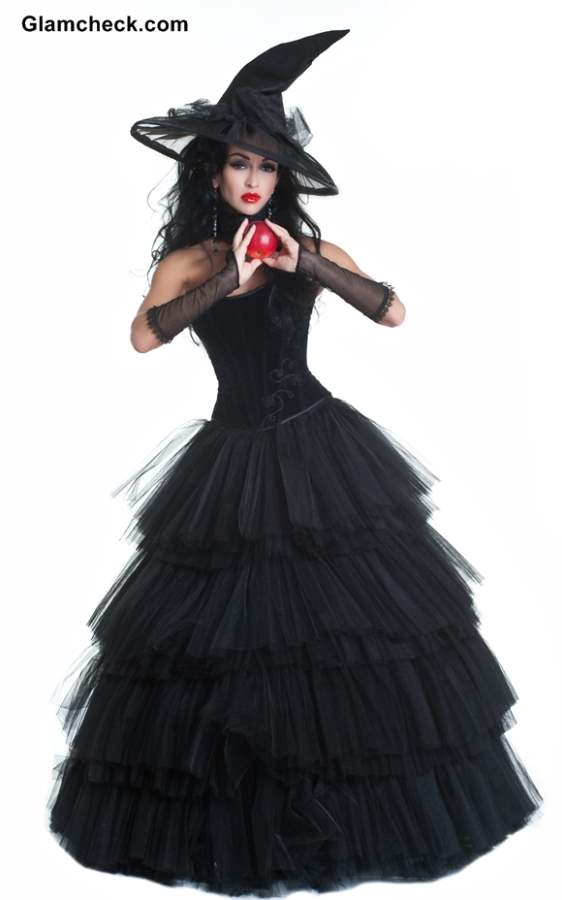 Halloween Costume Ideas Witch
This one is a go-to for women looking for witch costumes for Halloween. Few take on the traditional witch look any more and the sexy witch costume reflects the cultural norm. The sexy witch look is all black – a black, strapless corset top paired with a flared or layered black skirt or even a short black skirt with a goth vibe. Skirts with thigh-high slits are also very popular.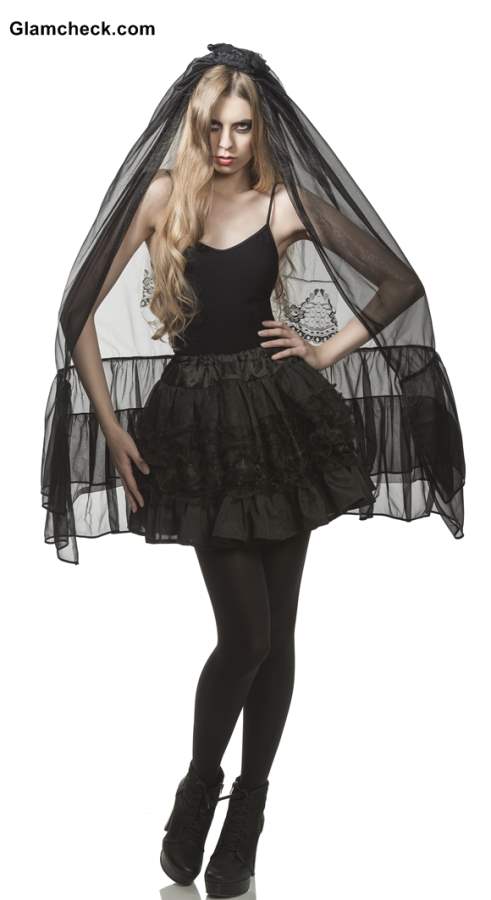 Halloween Funeral long black veil 
Black stockings and sexy black shoes are other ways that the sexy witch costume is enhanced. Stockings look great with higher hemlines. And you have a variety to choose from – patterned, plain black, fishnet. Ripping them a bit can be effective in making you look more, well, witchy.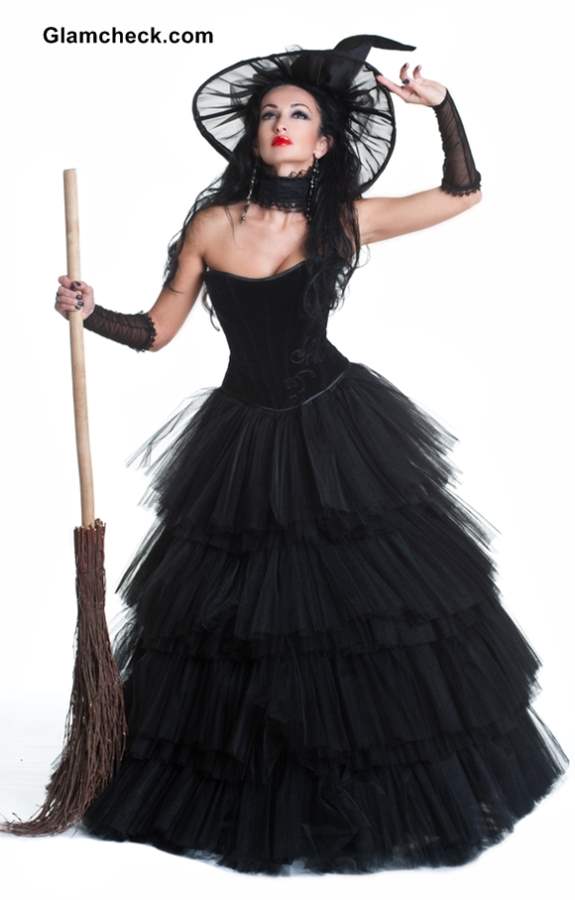 Halloween Costume Witch
Lace is a popular fabric of choice for the sexy witch look, embellishing a provocative neckline or providing a little overlay coverage for a mini skirt.
Contemporary Witch Costumes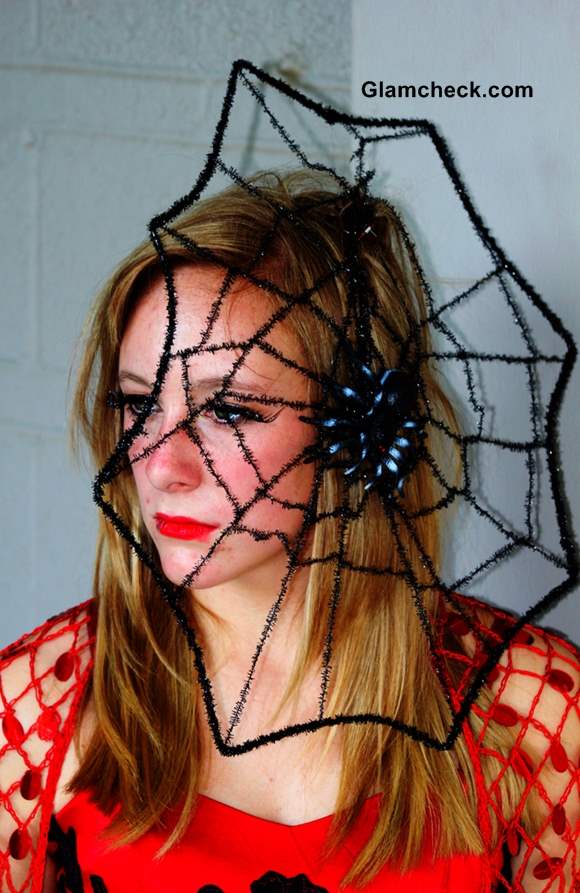 Halloween Witch Look
Not all witch costumes go with black. Red is a popular color choice for witch dresses, especially if you are going for a modern look. Pop culture has ensured that just because you're in red doesn't mean that you're not evil. Plenty of references in literature, TV and films portray diabolical witches in red dresses.
Halloween Witch Costume for Little Girls
Cute Little Witch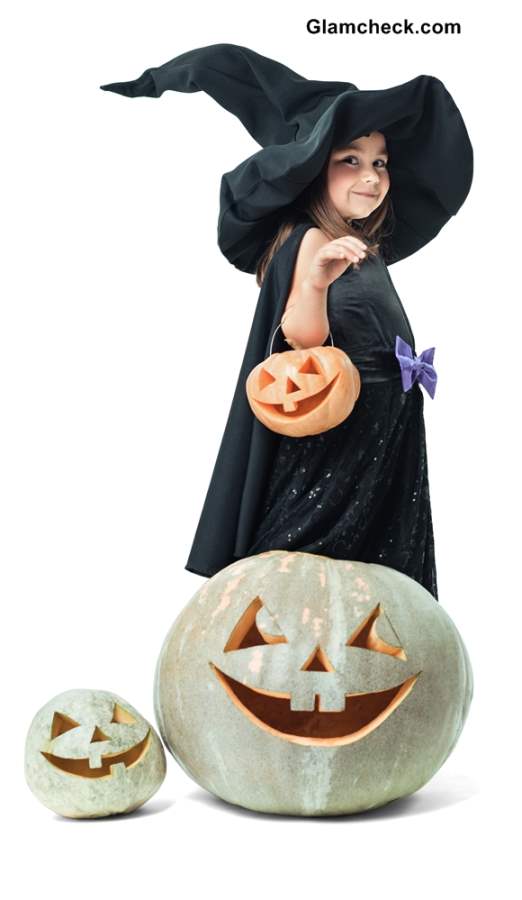 Halloween Witch Costume for Little Girls
Little girl witches are adorable. You can dress up your tot in a plain black dress with black boots and a black witch hat. Hand her a broom and she's done. You don't even need to do her hair and makeup because what makes little girl witches so bewitching is their naivety and innocence.
Teen Witch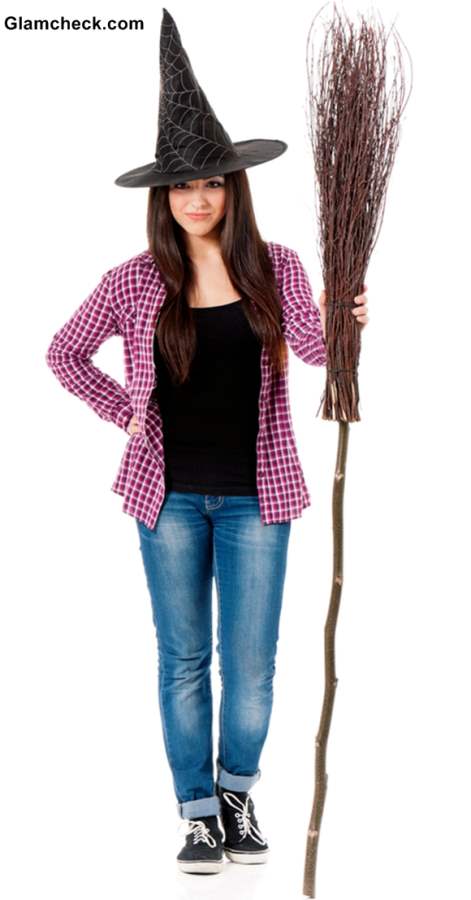 Halloween Witch Look for less
Modern witches dress like everyone else. So why a teen can't witch be a rebel just like any other teen and refuse to get into her obviously witchy garb for Halloween? This look goes down well with tweens and teens since it is low-key, low-maintenance and doesn't take much effort to put together. Apart from her normal everyday clothes, all she needs is a black witch hat and a witchy broom. The more ordinary her clothes the better.
Ballerina Witch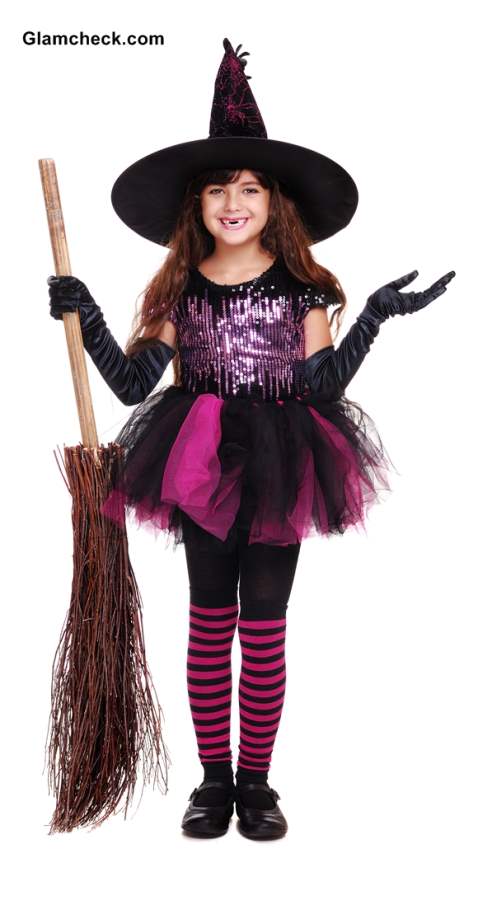 Ballerina Witch Costumes for Little Girls
This idea comes from little girls who can't decide whether they want to be ballerinas or witches on Halloweeen. Enter the ballerina witch who dances by day and casts her spells at night before bed time. This look is usually more colorful than traditional witch looks and thus more popular with young girls. What's more, there's a tutu and glitter to reflect the dancer's side of this look, and few girls don't enjoy that.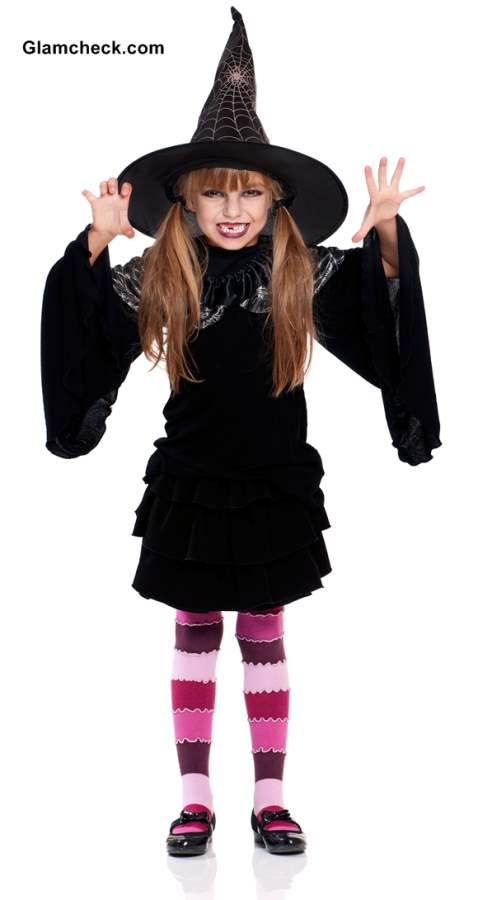 Halloween Witch Look for little girls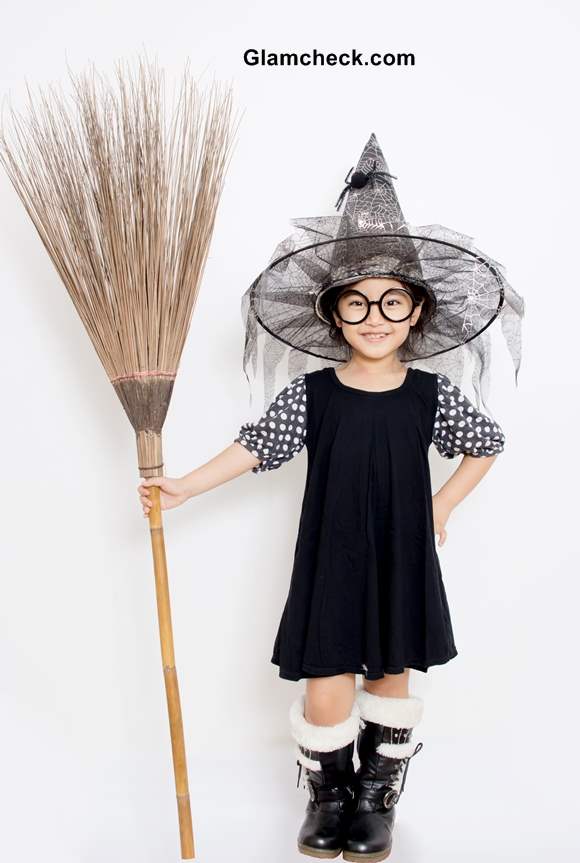 Halloween Witch Costumes for little girls
Traditional Witch
Some kids just want to keep it simple. Long black witch gown, black hat and broom. This is simple to make and the most authentic style too.
Things Required
A black dress is the norm if you want to make your halloween witch look really authentic. But to get it up to witchy code, a few add-ons would help. You don't really need to spend big bucks on your look, unless you want to, of course. For the thrifty at heart, keep a few things on hand to fashion your own witch costume. You may not need all of the items below or you may need many more. These are just the basics.
black paint and paint brush
nail polish – black, deep burgundy or witchy green
newspaper and/or cardboard
scissors
glue, fabric glue and cello tape
stapler and staple pins
black fabric
black crepe paper
bits of black cheap lace
safety pins
And here are a few ideas for how you can put these tools to use.
The newspapers can be used to make a witch hat. Simply roll them (a few sheets) into the shape of a cone a.k.a. the dunce hat, glue up the edges and paint the whole thing black. Then cut up a cardboard to fit the perimeter of the hat. Paint it all black. If you're making this for your kids, you can glue on additional accessories like plastic spiders. Crumple the hat a bit to make it look decrepit.
As for your dress, you can simply cut out a long, jagged strip from the black fabric and glue it on your hemline. You don't necessarily need a black dress. A black skirt will also do. Pair it with a strapless black top, a black tank top or a black corset top, depending on who you are creating the witch costume for. If you can't lay your hands on black fabric, just use the black crepe paper.
In fact, you can use the crepe paper to fashion a skirt too. Just cut it into large triangles and pin or glue them together. The asymmetrical hemline will meet the edgy witch requirements. But make sure you wear black leggings underneath just in case of a wardrobe malfunction.
Nail polish is another must for a convincing witch costume. The darker the shade the better.
For the kids, no Halloween look is complete without a pumpkin shaped candy bucket to collect all the goodies in as they go from door to door.
Use the tools listed above to add bits of crepe or lace to parts of your ensemble like the shoulders or the hemline.
Styling tips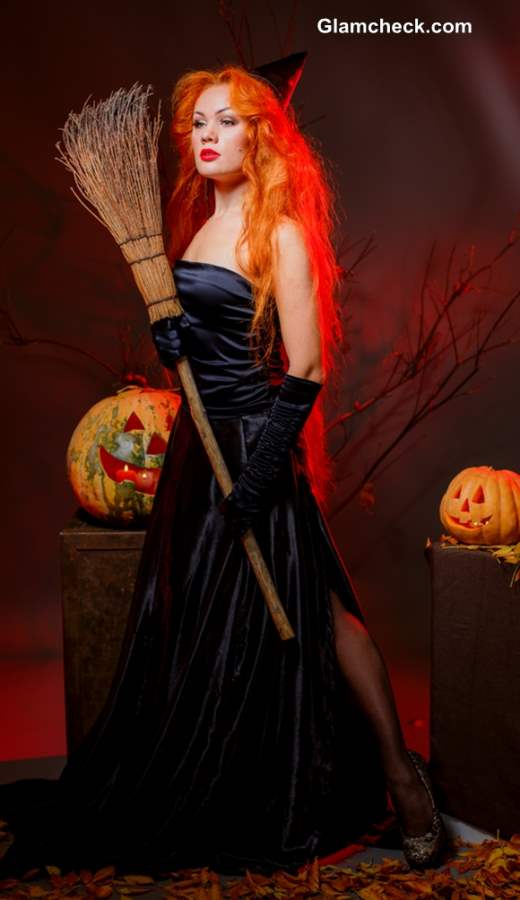 Halloween Witch Costumes for less
Your accessories and props can make or break your look. A broom is a given and a popular go-to witch prop that is easily recognized and also easy to lay your hands on. Tribal-theme jewellery can sometime be scary and make a good piece of bling for a witch costume. If you have the time and patience, you can also create your own accessories to go with your witch costume.
Your footwear, thankfully, doesn't need to be themed to work as long as it is black and you've put some work into creating the rest of your ensemble.
Makeup for Witches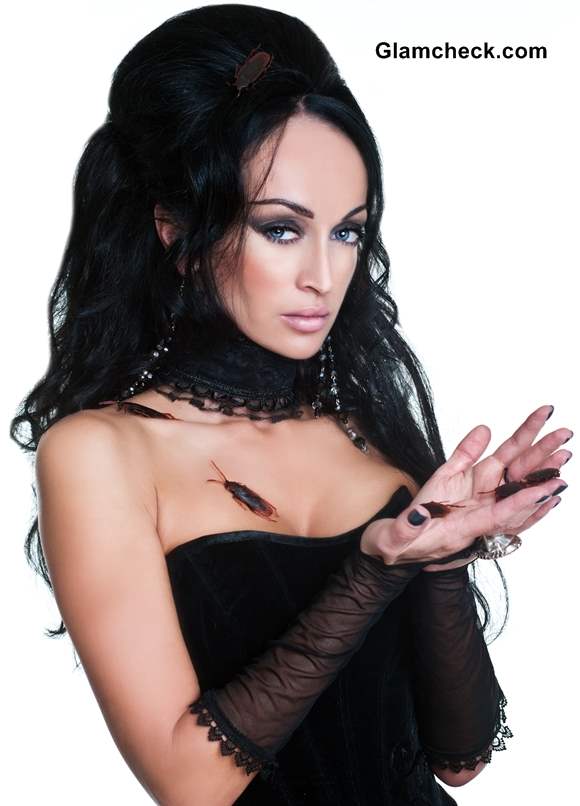 Witch Makeup for Halloween
Witch makeup is a lot of fun to do. If you're not the type to indulge in dramatic makeup at other times, then you're definitely going to have a ball as you prepare to be a witch on All Hallow's Eve. Here are a few witch makeup looks for you to try your hand at.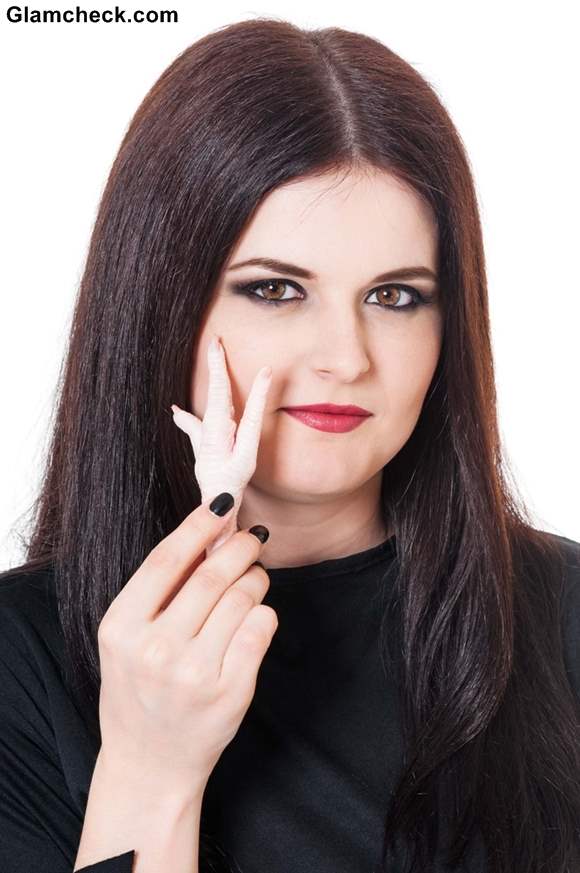 Halloween Witch Makeup
Red lips, dark eyes and dark hair are the norm. This look is the simplest to do. You can replace the red lippie with a burgundy one.
You can also powder your face completely white and then do racoon eyes (all-black or grey eye shadow around your entire eye) and dark lips either blue, black or grey.
Goth makeup is another very popular makeup style that blends very well into the witch look.
Just remember to think dark, funeral thoughts to work on these basics.
Getting the Witch Look for Less
Since you won't be using your Halloween costume again, it's natural to want to spend as little as possible on it. In fact, most people will either rent their costumes or make them out of old clothes which they don't mind getting rid of.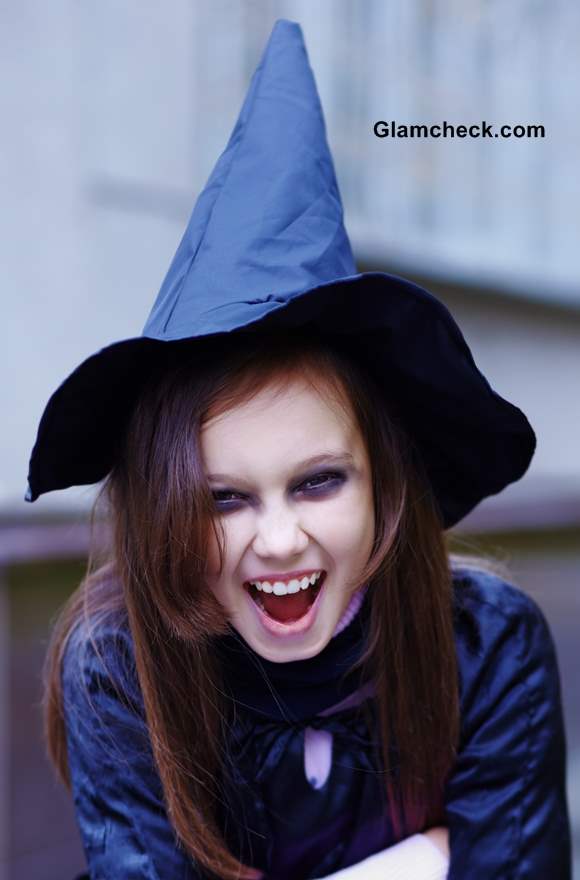 Halloween Witch makeup accessories
When it comes to a witch look for an adult, you have to decide first whether you want to be a sexy witch, a traditional one, or a playful spell-caster. If you're going for a traditional witch look, your work and money will be minimal. Sewing a long black witch dress from plain black fabric is a task even a a beginner can easily do. You can borrow a sewing machine or try finding a tailor who will stitch it for you on the cheap. To find cheaper tailors, you may want to look at tailoring schools and ask if the students will take up the project. You never know, they may even end up doing it for free just so they can get some practice.
You can also use the black fabric as a makeshift cape, worn over a black dress and black boots. This is a really simplified version of the witch costume but it will work if you're pressed for time and strapped for cash.
Use garbage bags to fashion the entire outfit or just the top or skirt. You will need a little designing skill and butt loads of creativity. But even if you lack the latter you'll find plenty of stencils and templates online which you can work with.
Make your broom with sticks collected in the wild – one large one for the handle and a whole bunch of lengthy twigs to make up the rest.
Above all, make sure you have fun dressing up as a witch. There's no point going through all this trouble if it just makes you miserable. So if you aren't enjoying yourself, you're not doing it right.
Happy Halloween!
Image: Shutterstock