OceanClothes is a favourite haven for all the beach fanatics, die hard surfers and water sport addicts when it comes to getting the right clothing and accessories. The company wants ocean sports enthusiasts too look their best when they go about water game activities or even when they just want a laid back time on the deck.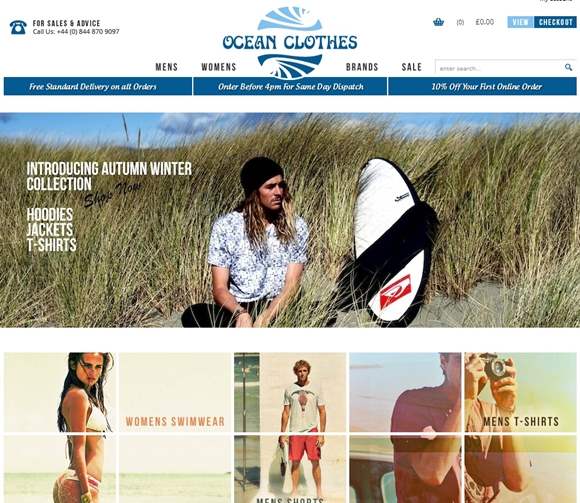 OceanClothes
Brands like Reef, Quiksilver and Roxy among others are stocked by the company. Ocean Clothes have a varied range of accessories to surf clothing items in their collection. The full list of products for men and women includes:
Backpacks
Bags
Beanies
Belts
Bikinis
Board Shorts
Cargo Pants
Dresses
Fleeces
Flip Flops
Gloves
Hoodies
Jackets
Rash Vests
Scarves
Shirts
Shorts
Shoes
Slippers
Sweaters
Swimwear
T-Shirts
Trousers
Underwear
Wallets
Watches
The company wants all its shoppers to have the best online shopping experience, and to further propagate this concept they offer a free home delivery service in the UK. International customers will have to pay a nominal charge of £9.99 for getting their goods delivered. Another interesting offer that Ocean Clothes has for its customers is the 10% off scheme on their first order. All you have to do is enter a discount code, the full details of which are available on their site. Shoppers can get a further £1 off on liking the company page on Facebook. It is definitely a retail store that likes its customers!
The exchange, returns and refunds policy is also quite smooth and provides a hassle free experience to the customer. All you have to do is send them a mail stating the reasons why you want an exchange or refund. 
All the goods and products stocked by ocean clothes are nicely displayed on their online store in neat and well marked categories. The catalogues are easy to browse through and details are provided next to each item so that the customers understand what exactly they are purchasing. This makes Ocean Clothes the "go-to" place for purchasing products related to beach fashion and sports.