Hollywood actress Anne Hathaway looked peachy as she attended the 2013 Pink Party at Hanger 8 in in Santa Monica, California on October 19, 2013. And we don't mean because of her peachy pink outfit and yummy matching lippie. What stood out about Anne's look at this event, as always, was Anne herself, particularly her hair and makeup which accentuated her features.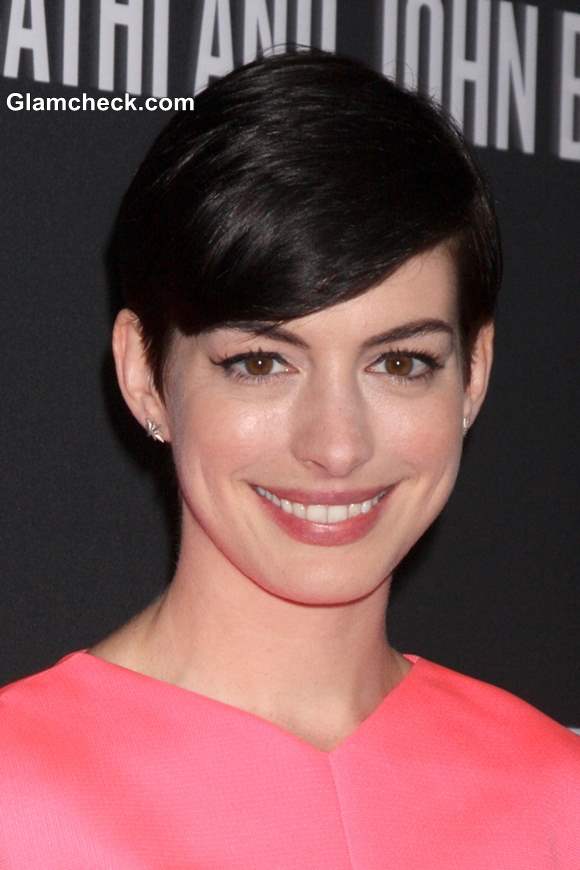 Anne Hathaway Pixie Hair 2013
Pretty Anne has looked prettier still ever since she chopped off her luscious brunette locks for her role in Les Miserables. She never went back. And it's a good thing she didn't because the shorter do lights up her eyes, makes her smile really pop and just overall enhances that Audrey Hepburn-esque aura that she has always exuded, right since her Princess Diaries days.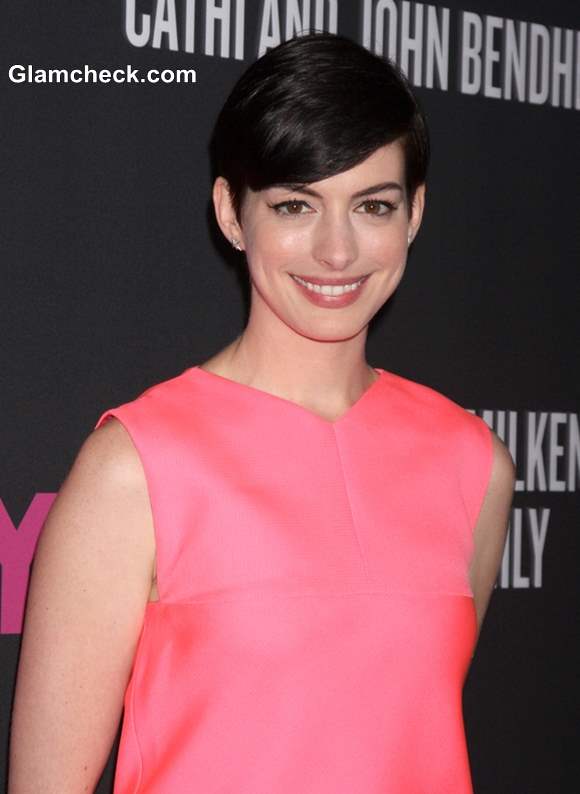 Anne Hathaway in Pixie Haircut 2013
The pixie haircut gives her an impish vibe, but it is still very elegant, womanly and sexy. Despite her locks being so much shorter, she has still managed to find a number of different ways to style them. Her favourite look is the one she sported at this do – parted on the side with her bangs swept aside on her forehead.
And what better to pair this hairstyle with than winged eyeliner? It wasn't too heavy or too sharp as that would have taken away from her inherent delicate beauty and overwhelmed the look. Instead, the winged liner was precisely fashioned, ending in a tick-like sweep.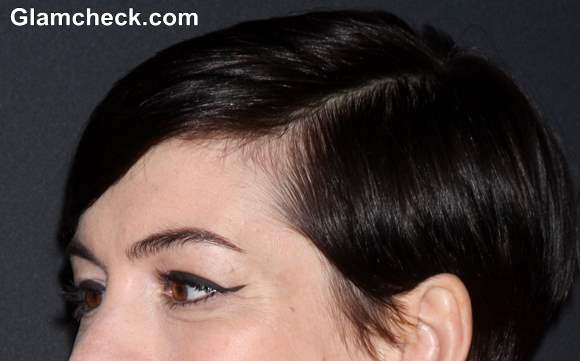 Anne Hathaway in Winged Eyeliner
She looked well groomed, stylish and even timeless if you come to think about it because this avatar would have gone down well even ten, twenty or thirty years ago.
Anne's hair and makeup look is all about subtlety. It is superbly crafted to make an already beautiful woman look even more beautiful by drawing just the slightest bit of attention to her natural charms. 
Image: Shutterstock