We picked and loved this look because it incorporates something as simple as white lace and it has been made interesting by the creative placement of it. It embodies that oomph factor which will definitely make heads turn and eyes pop. Not only us, this season has seen a lot of variations of lace on the runways of Burbberry Prorsum, Dolce & Gabbana, Isabel Marant and more.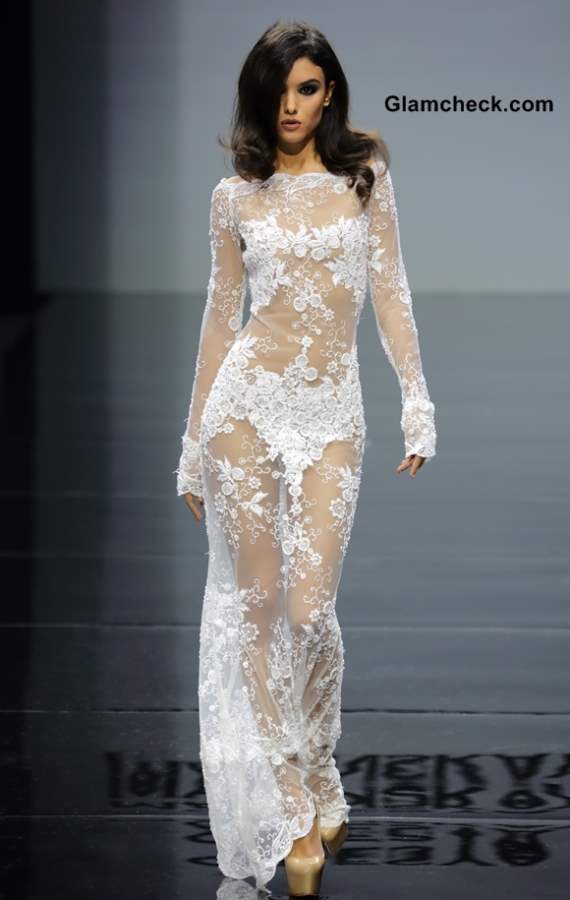 White Lace Gown – Fashion Pick
The model is seen wearing a very sensual long evening gown in white lace here during show of Olesya Malinskaya. Collection as part of Volvo Fashion Week, on October 26, 2012, Moscow, Russia. It has an air of sophistication to it as it has full sleeves and minus any slits on the side. And the dress has been constructed in a way, that it plays on solid and sheer at the same time. It is more than your typical peek-a-boo dress where there are sheer panels on the back or above the mid-riff, it is way sexier than that. With back detailing along the spine and on the cuffs, the dress is borderline offshoulder. Definitely not for the faint hearted!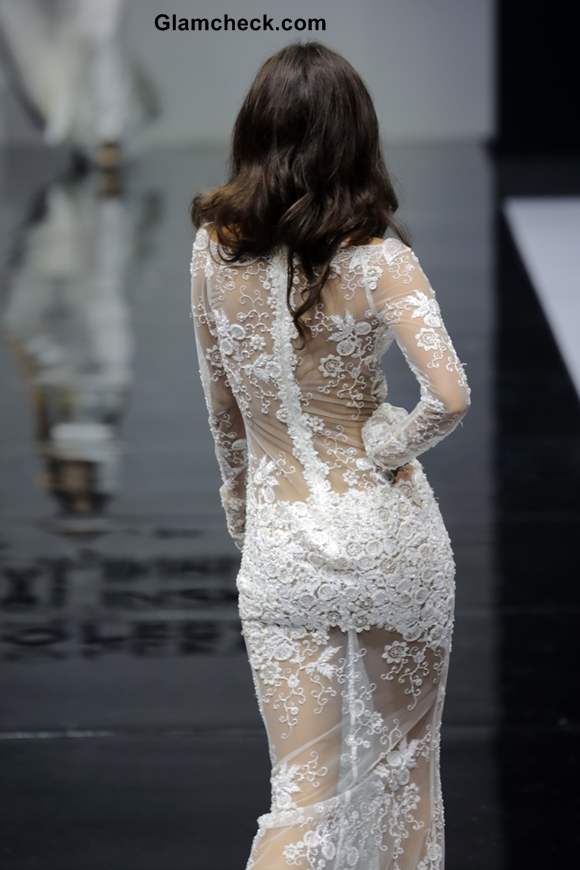 Sheer Lace Gown by Olesya Malinskaya
Wearing no accessories, the garment still manages to appear complete and will mirror well on the red carpet too (Imagine Victoria Beckham in it!), but it might not translate well to a birthday party or an anniversary bash where you have to move around a lot.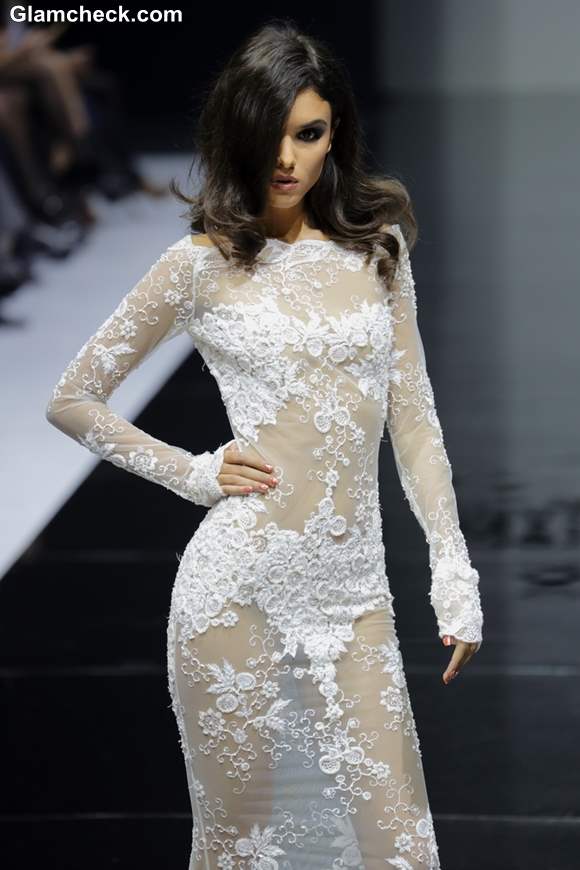 Olesya Malinskaya White Lace Gown
The model's hair has been left undone and wavy at the ends. The makeup is finished off with smoky eyes and plum lips. Perfect for the white bodice.
How to translate the look to a more wearable version: 

Lace Gown by Olesya Malinskaya
Placing more of the floral lace from the chest till mid-thigh region and keeping the arms and legs covered with sheer fabric. Depending on how comfortable you feel, you can toy around with the transparency, the possibilities are endless!
One can experiment with a coloured lace dress which ends right above instead of the traditional black and white
A lace dress can be accessorized with a statement piece of jewellery like a huge gem ring or an abstract neckpiece
Ideally, if the hair is tied up, it gives a less cluttered look and brings adequate focus to the pattern and intricately made lace and also puts the sheerness of the back panel at display.
Crystals or sequin can always be added to the lace for that extra sheen.
Shoes should be kept minimal so that attention isn't diverted from your ensemble.
Image: Shutterstock