Black leather pants are quite the rage right now, seen on every A-list celebrity in and around town. They can be sported at a casual visit to a friend's or at an evening out at the club, with a few additions and subtractions here and there. So we are giving you a tutorial on how to carry the look with the shade grey and take it from day to night.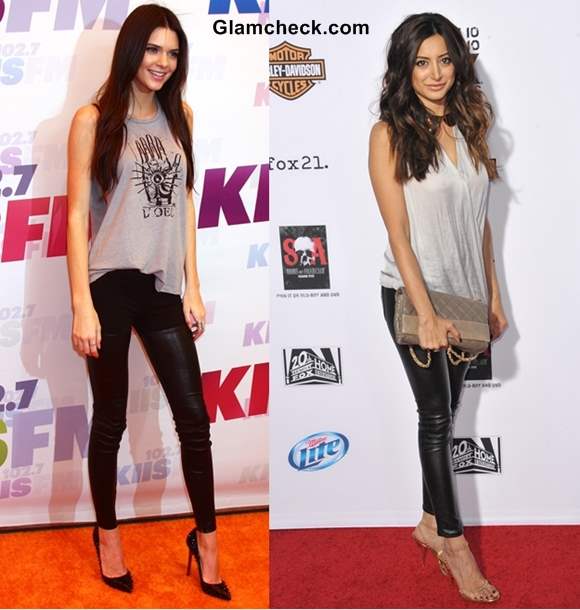 Wearing Black Leather Pants with Gray Top
Casual day look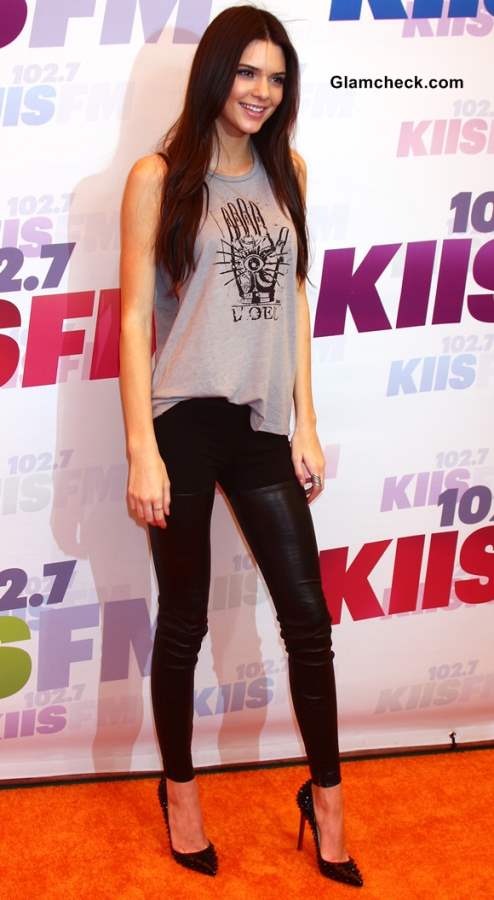 Wearing Black Leather Pants with Gray Top – Kendall Jenner
We spotted Kendall Jenner attending the Wango Tango concert, produced by KIIS-FM at the Home Depot Center on May 11th 2013 in Carson CA and we thought she was a perfect example for casual day attire. She wore a chromium grey tank top with a chest print, which was half-tucked inside her leather patched pants. She completed her look with pointy studded stilettos and chose to wear no accessories.  
Dressing tips:
You can also wear a grey sweatshirt or a T-shirt instead of the tank.
You can add jewellery to your outfit in the form of a long chain with a small pendant, silver hoop earrings or stacked rings.
Rather than simply wearing it down, hair can be played around with by sporting a high ponytail or a side fishtail braid.
You can wear sneakers or even ballerinas if you think wearing heels during the day or to a casual event is tiresome. And for a more grunge look, put on black ankle length boots!
Formal evening look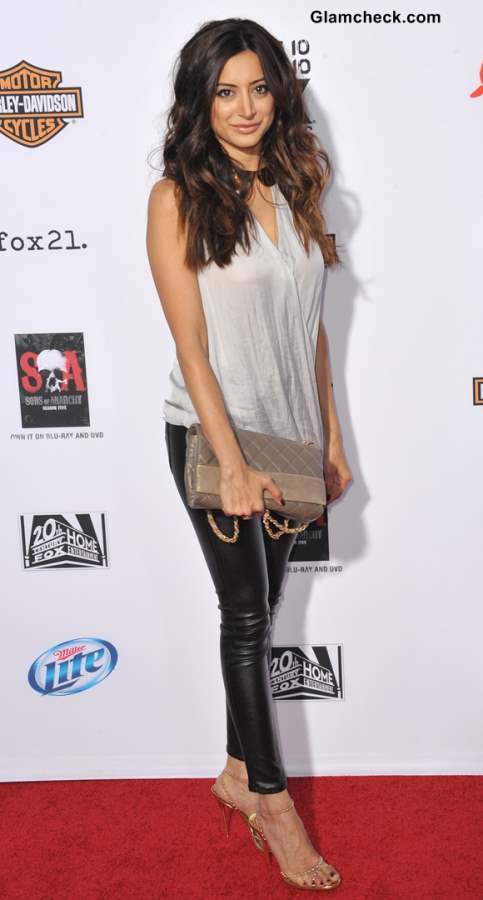 Wearing Black Leather Pants with Gray Top – Noureen DeWulf
We picked the sexy Noureen DeWulf to break down this look for you. She went ultra chic at the season 6 premiere of Sons of Anarchy at the Dolby Theatre Hollywood on September 7th 2013 in Los Angeles CA. The actress fashioned a cinder block grey faux wrap top and leather pants with gold accessories. She dressed up her outfit for the red carpet by putting on a gold collar neckpiece, open toe heels and a dark grey quilted bag with a chunky gold chain.
Dressing tips:
A grey peplum or a strappy halter would also translate well for an evening out. You can go for a grey metallic tone too but avoid using sequin and heavy beaded tops as it will make your ensemble appear too cluttered.
We love the way Noureen accessorized for the event; we think a hand cuff, or an embellished box clutch is a good option too.
Instead of stilettos, you can also look dashing in peep-toe slingbacks or black platform booties.
You can go for smoky eyes or silver shiny eyeliner for your eye makeup and keep the lips nude with a tinge of gloss.
You can explore the wide palette that grey has to offer, from platinum to steel to iron, and simply pair it with hot leather pants. We assure you, you can't go wrong with this colour combination and these shades are perfect for this season- WINTER. So go try out your look now! 
Image: Shutterstock