Decorating the Christmas tree is a big part of the tradition of the season, and one that most people enjoy. Now it's no secret that with the millions of things to do around this time of the year – the incessant shopping, sending out the cards, party planning and menu preparation counting as just a few of them – many prefer to just set up a tree and slap on the same decorations from the year before. No problem if you do, but if you're a little fed up of seeing the same ol' decorations year after year after year, here are a few ideas for something new.
Decorating a Small Christmas Tree
An over-dressed Christmas tree is rarely a pretty sight. Less so when the tree is a small one. Decorating a small tree can appear to be a challenge, but it doesn't have to be.
With small tress, it's always better to go minimal. A garland usually helps up the festive vibe. Since the tree is small, choose a skinny garland. If it's too big, it will overwhelm the tree. Gold, silver, red and blue are some of the most popular Christmas tree garland colors, but you will very likely find scores of other shades.
When it comes to decorating a small tree, choose only one or at the most two types of ornaments. For example, pick only baubles. For a little variety, choose different colors for the baubles, but again no more than two. Silver and purple is a beautiful color combination for baubles, and since it is not very widely used you can be sure that yours will be one of the more unique trees on the block.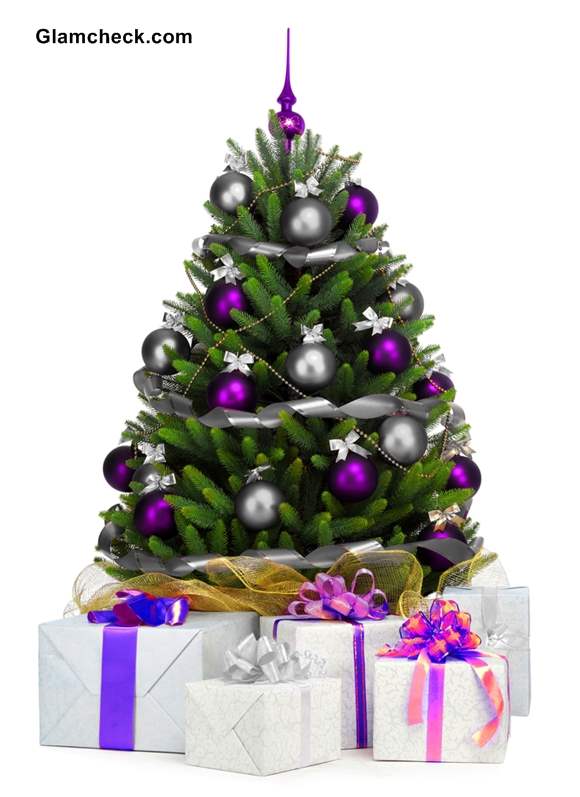 Christmas Tree Decoration Ideas – Small Trees
Here's another example that uses both a complementary color scheme and more than one ornament. Drape the tree with both red and gold garlands. And then add liberal amounts of red and gold baubles in varying sizes as well as a handful of gold stars. This is a very common Christmas tree design, and the reason is because it works so well.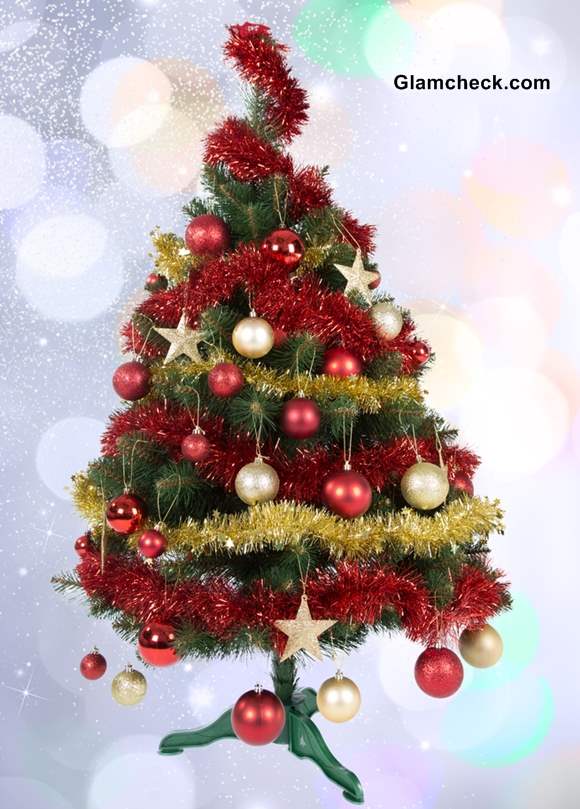 Christmas Tree Decoration Ideas for Small trees
Another idea is to use a single color theme. Like blue, for instance. In this case, since you have the same color theme going, you can pick more than two types of ornaments like pine cones, bows, flowers and baubles. As you can see, this small tree does not look too busy despite the number of decorations because the same colors makes them all look uite harmonious together and very pleasing to the eye.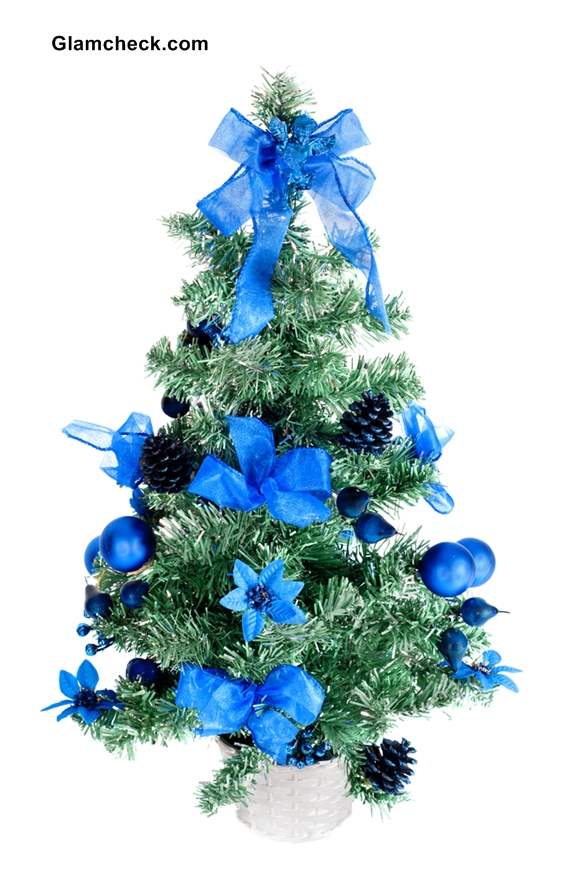 Christmas Tree Decoration Ideas
Medium to Large Christmas Trees
Remember that more is not always better. Sure, with a bigger tree you have more space so you may be tempted to go over the top and inundate the tree with ornaments. But that can look quite crass. The same principles apply when decorating big trees, although you do indeed have a freer hand. Pick a color combination and a few tasteful ornaments. Fortunately, becausee there is more space with a big tree, you can go with X'mas tree themes if you want to.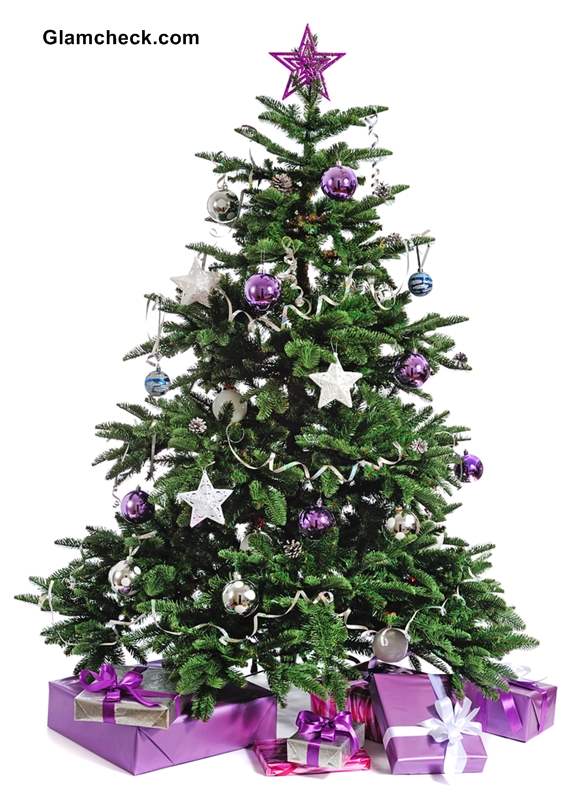 Christmas Tree Decoration Themes
A Winter Wonderland theme for a tree is super classic. All that white can be very soothing but also ultra sophisticated. Also, it's one of the bolder Christmas tree themes and not all that common so you're one up on the unique scale if you go with it. Get a tree dusted with silver or an all-white Christmas tree. These will be artificial ones, of course, unless you can somehow dust a real tree with silver.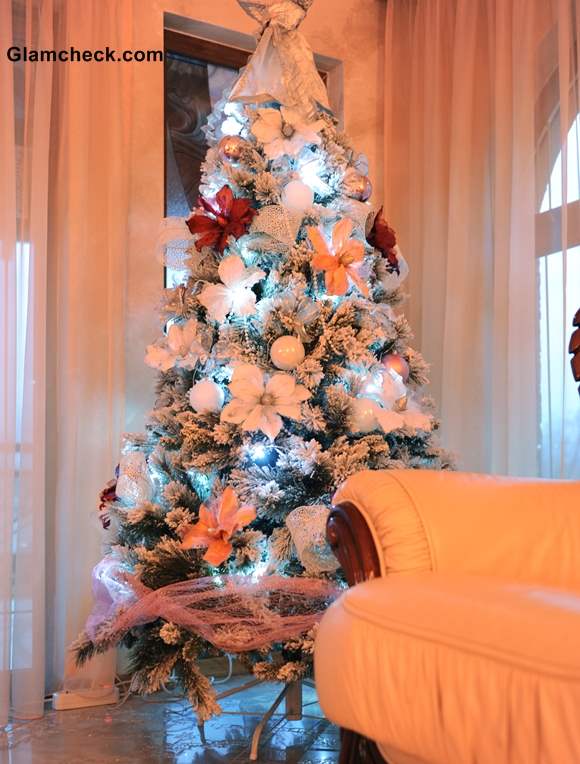 Christmas Tree Decoration Themes Ideas
If the tree is already white or dusted with silver, you can use white lace instead of colorful garlands, add a few large white hibiscus flowers and top it all off with a white star. If you want a traditional touch, try adding four to five red hibiscus flowers to liven up the tree.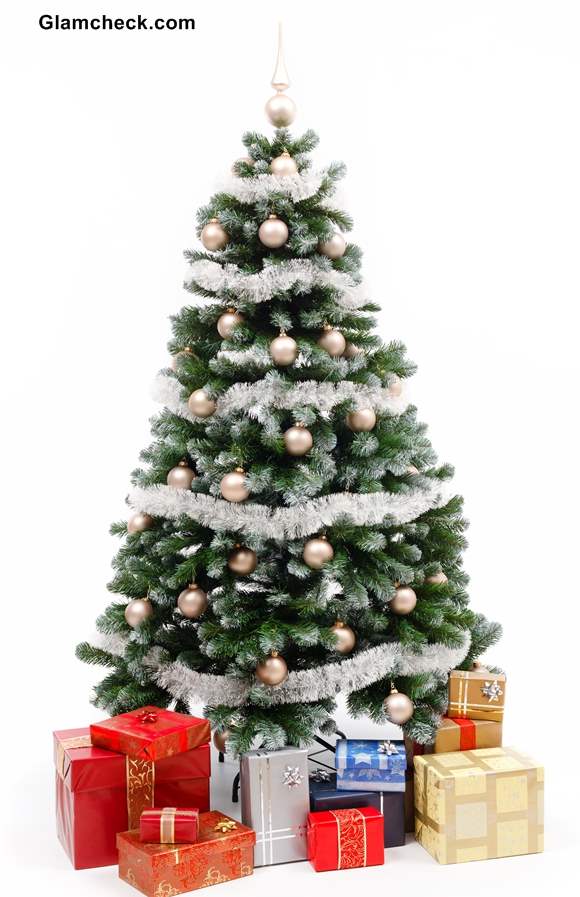 Christmas Tree Decoration Themes and Ideas
For a variation of the Winter Wonderland theme, you can wrap a silver-dusted tree with a thick silver garland and add dust-gold baubles for the finishing touch.
The traditional red and gold is a given. The larger the tree, the larger the ornaments you can get away with. So if your tree is green, tall and lush, large baubles and large flowers are the name of the game. But if your ornaments are large, then you must go simpler on the garland. So do a slim garland with large ornaments or a thicker garland with more modest ornaments.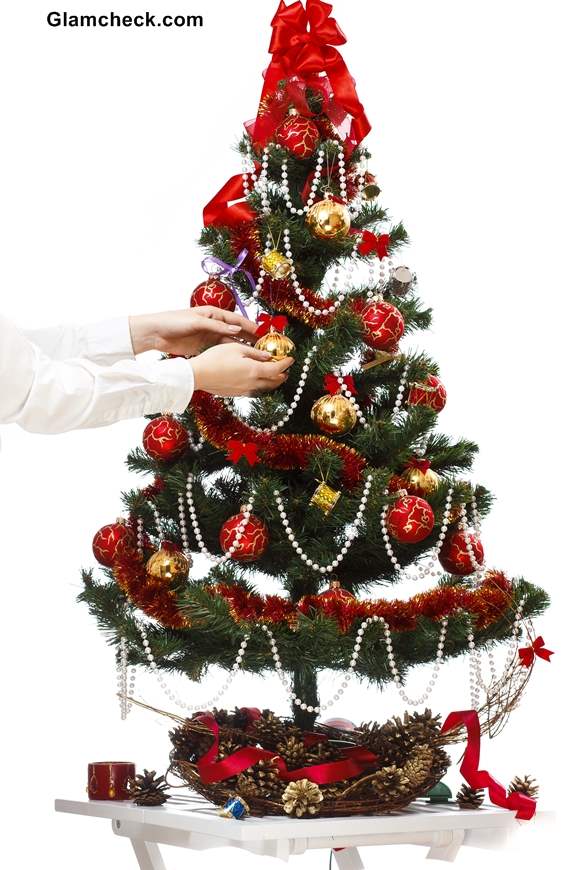 Christmas Tree Decoration Themes Red and Green
Baubles, baubles and more baubles. Baubles are one of the most popular Christmas tree ornaments and unless you are going for a very restrictive theme, your tree will not be complete without a whole bunch of them.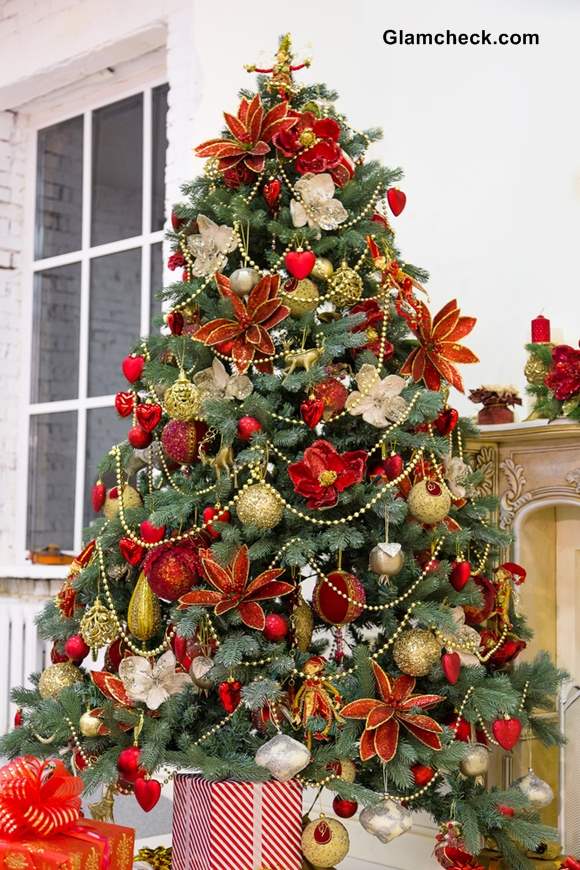 Christmas Tree Decoration Red and Green
Why not try just babbles on a large tree. Green, red, pink, gold, silver, purple, blue and orange baubles will make for one heck of a festive tree. And because there are so many colors and your tree is larger, you can go with both silver and gold garlands to add that extra festive touch.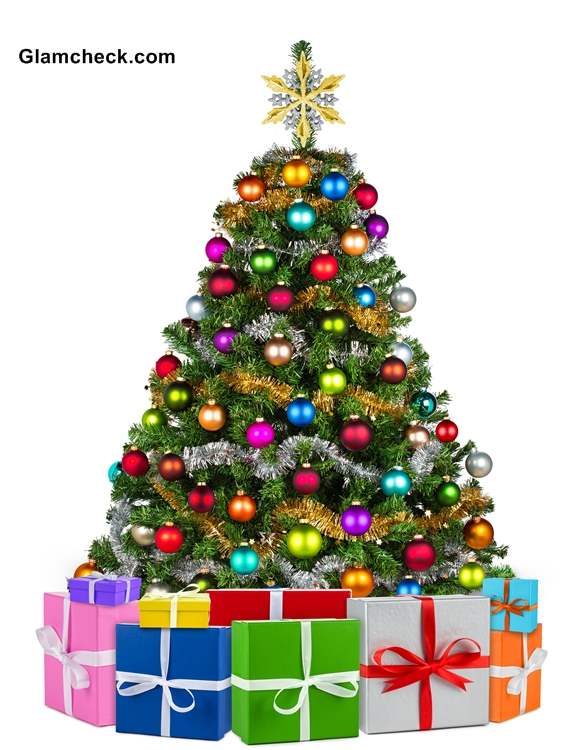 Christmas Tree Decorations
Another Christmas tree decoration that you don't see often is the bow. Bows, the kind that sit atop the most promising Christmas presents, make for lovely accents on a tree. On a large tree, you can have large gold or red bows with trailing ribbons all over and finish off with just a smattering of small red and gold baubles.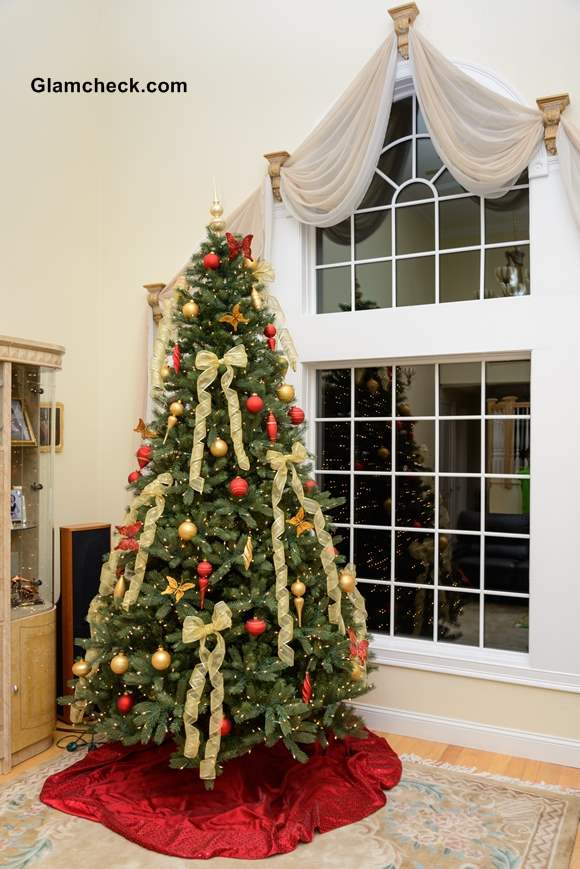 Christmas Tree Decorations Ideas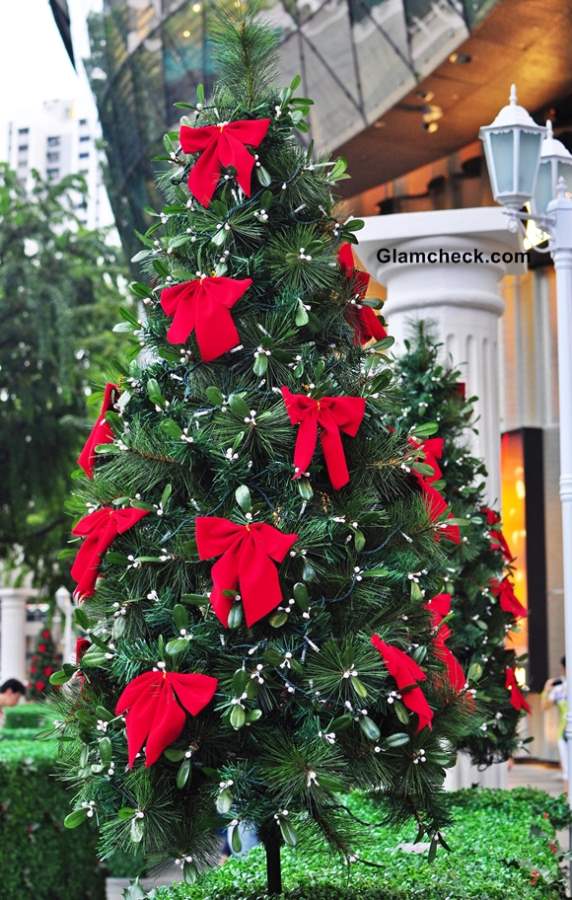 Christmas Tree Decorations – Red Bows
If you're lucky enough to have a Christmas tree growing outside your home, then you'll be one of the lucky few who will have an outdoors Christmas tree. If you live in a place where it snows in December, then half your decorating is done for you as the snow settles on the boughs. All you have to do to make it more Christmassy is to add a string of lights and a star on the top.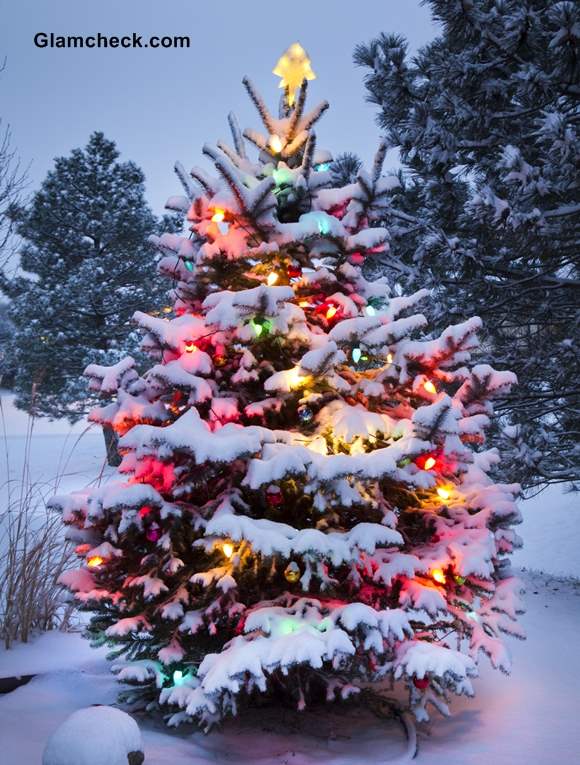 Outdoor Christmas Tree Decoration Ideas
Other Christmas Tree Decoration Ideas
Your Christmas tree decorations can be given a personal touch. You can make the decorations yourself or ask each member of your family to make one. Your tree can be covered in the fruit of your efforts or it can be a few of your decorations interspersed with regular store-bought ones.
Edible Christmas tree decorations are a great idea if you have kids around. Ginger bread ornaments and candy cane are just some of the decorations that fall into this category. But be careful that you have plenty extra on hand because there's a good chance the tree will start looking a bit bare once people get their hands on the goodies.
Go vintage. Old school Christmas tree decorations look really classy and will be a rare treat for anyone who looks up on your tree.
Your first consideration above all else should be that you have fun setting up and decorating your tree. Make it a family affair. If you live on your own, call friends and colleagues over for a Christmas tree decorating party with eggnog, plum cake and a few other Christmas treats. Ask them to bring over a few decorations if they want. After all, the season is about people coming together.
Once your tree decoration is complete, add your presents underneath and you're all set to enjoy the holidays.
Merry Christmas! 
Image- Shutterstock