A boho gypsy look always brings summer dressing to mind – with flowing skirts, peasant tops and colourful bangles.  However, those of you who thought the boho gypsy style could only be restricted to summer fashion – cannot be further away from the truth. This is precisely why we bring you a guide on how to style the winter boho gypsy look, so that you can channel your inner boho-gypsy self even on days when the mercury drops really low.
Rock the Fashion: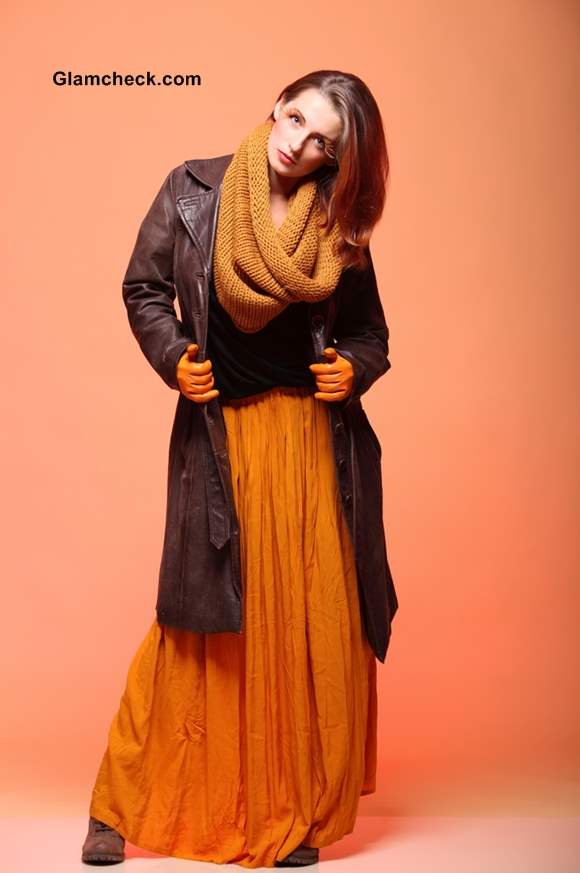 Maxi Skirt – Winter Boho Gypsy Look
A long flowing skirt is usually one of the mainstays of this particular fashion, so you need one to get started. It can be of any color of your choice. The model here is dressed in a bright saffron hued skirt. You can also play with skirts that have paisley or floral prints apart from picking solid colored ones. However, do ensure that they are flowy, long and full skirts.
In the look covered on this page, the model is seen in a plain black top with full sleeves. You can pick a printed top too; however, do ensure that top is solid in that case. Don't do the mistake of picking up a printed top as well as a printed skirt – solid and solids will go for this look, not a prints and prints combination. Also, instead of a casual top you can also wear a black fitted sweater – especially if it is really cold.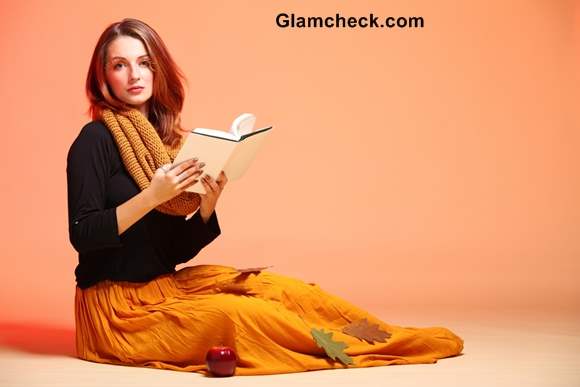 Winter Boho Gypsy Look
Add a chunky cowl neck muffler in a color that matches your skirt. You can also wear the cowl muffler around your head as seen in the photo. A long leather trench coat worn over your attire will add on to the boho look. You can also choose a non leather or faux leather trench coat.
You can wear pantyhose/tights under the skirt if it is really cold.
Rock the Style:  
A pair of gloves – which match the skirt and the muffler, will add on to the bohemian quotient and so will a pair of brogues as footwear. You can also try out boot, booties or Oxford shoes.
Rock the Beauty:  
You can keep the hair open in their natural style or opt for a scrunched up top knot or a braid.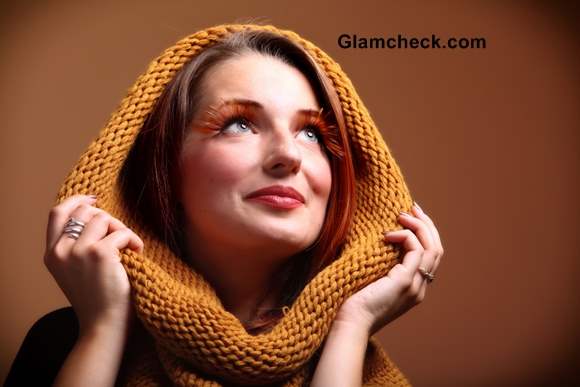 Winter dressing tips Boho Gypsy Look
For the makeup, apart from the usual eye-makeup, blush and lip gloss combination (which will anyways be a part of the look), you can also experiment with feather eyelashes. Choose a pair of faux feather or really long eyelashes in a shade that matches your skirt, muffler and gloves collectively. Of course, if you find that too dramatic you can opt for faux feather long eyelashes in black too – all depends on your comfort level. You can give the false eyelashes a skip if you are not too confident about this idea – the choice is yours.
Glamcheck's Rocking Verdict: Instead of a skirt-blouse combination, you can also wear a full-length maxi dress inside – in a solid color or with prints like paisley or flowers adorning it.
Image: Shutterstock