At the "CRO A PORTER" show by Teo Peric on April 11, 2014 in Zagreb, Croatia, we saw something absolutely stunning! The apparel collection was nice with a retro elegance and romanticism feel. It was like a sense of déjà vu, where it felt like revisiting the golden era of fashion with a modern day twist. What particularly caught our attention was the hair. The braided bun looked outstanding. It was feminine yet chic.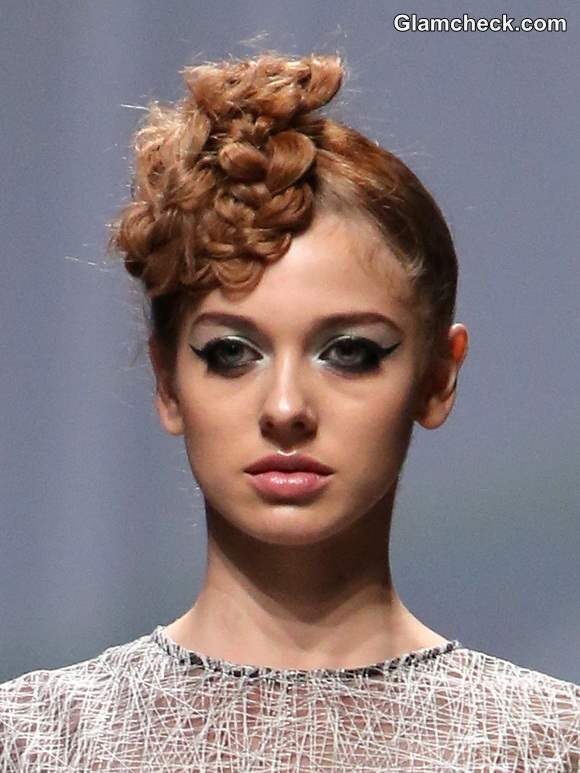 Hairstyle Trend S-S 2014 Timeless Braided Bun
The beautiful, luxurious and opulent hairstyle was the highlight of the show. It merged all the boundaries between experimental and conventional. Designers have experimented with braiding on the runway, but this was definitely something unique. It's easy, fun and fuss free. Dress it up or down, it will always look stylish. The bun here is very dramatic and would be a good idea for formal evening get-togethers.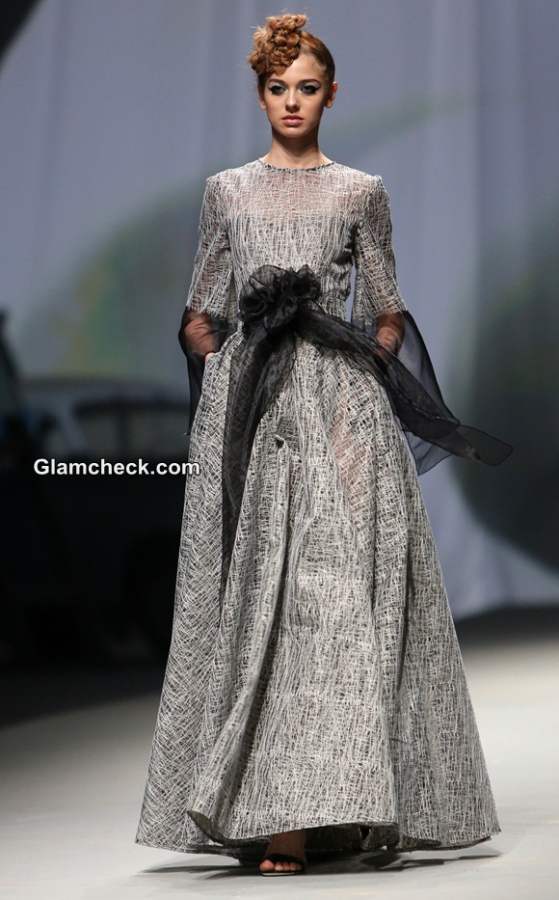 Teo Peric on CRO A PORTER 2014
This element of surprise in the hairstyle was elegant and chic. It can be easily achieved by following a few steps.
Brush your hair nicely and gather your hair into a ponytail on the top left or right of your head. Place the pony where you would like your bun to be.
You may start by braiding your hair in the ponytail in a loose manner. Make sure the braid is not very tight; the look is in its softness. Tie the end neatly so the hair ends are not visible.
If your hair is short or thin, opt for braided extensions to get more volume in the bun.
Take the braid and gently start circling it in top of your head. The wrap shouldn't be too tight, it's important to let it loose and spread it around leaving it partially open from the origin of the braid to give depth.
Use of pins would be handy while making the bun and fixing its position.
The end of the braid should be tucked in very neatly.
Hairstyle Trend S-S 2014 Braided Bun
These few steps will result in the beautiful and the timeless bun. It will almost look like a crown on the side of your head. Team it up with western or ethnic wear, either ways all eyes would be set on you. If you are shy in sporting the bun on the top of your head, try to place it a little on the side to look a little subtle. The more extensions you add, the more elaborate and grand it will look. Opt for minimal makeup so that the focus is on the hair. The eyes can be done up for dressier occasions but for an evening get together, stick with the basics.
Image: Shutterstock