When you think of ruffles, we instantly think of soft, feminine and dainty. They were a huge rage in the past, and since 2012-13, they have made a huge comeback. While the ruffles in the initial years were supposed to be pretty and dainty, the new flavour of the season is bold, architectural, daring ruffles.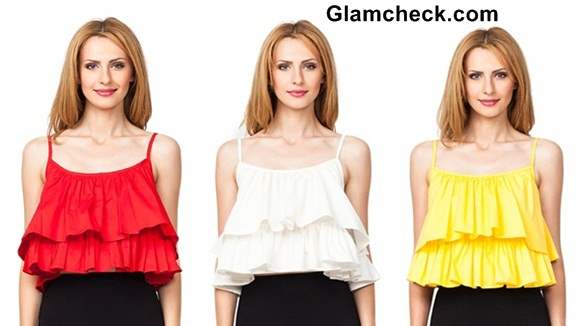 Ruffled Tops – Tips on How to Sport Them
Since ruffled tops are pretty huge now; we want to show you few tips on how to pull of these gorgeous pieces. Ruffled tops add dimension to your upper body and draws attention away from the lower body. Hence, these tops are perfect for those with smaller busts. Ruffles that go in a horizontal line are especially perfect for those looking to add volume to their upper body. If you are heavier in your upper body and have a fuller bust, horizontal ruffles are not advisable. More so, if these ruffles are big and bold. You should instead opt for ruffles that travel in a vertical line down the centre of your top. You could also try ruffles on the sleeves of your blouse. Check yourself in the mirror and study the silhouette of the look, the fuller ruffles on the top will need clean slimming bottoms. Never pair these tops with bouncy flared skirts. These flattering tops should always be paired with simpler bottoms. You could go for skinny jeans and tapered trousers to pair with them. What we especially love is pairing them with pencil skirts and floor length maxi skirts. Take a cue from the lady in the picture; doesn't the black skirt with the thigh high skirt give the look a feminine flirty edge?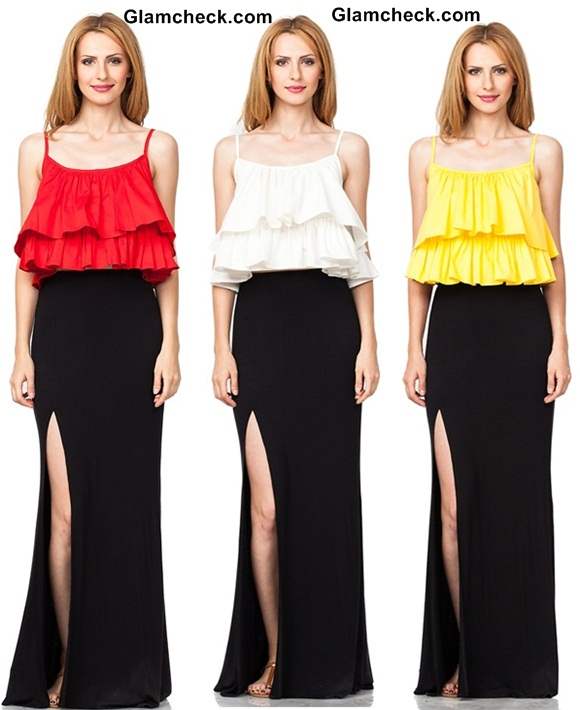 Wearing Ruffled Tops with Long Skirts
Another important tip – ruffles draw a lot of attention, so you will want to tone down the other pieces that you pair with it. Go minimal with your accessories, stay away from heavy neckpieces or earrings. If you have ruffles on the sleeves of your blouse, stay away from heavy bracelets and rings. Also, it is a good idea to tone down on your choice of shoes; a pair of sandals or delicate heels gives it a soft look. If you want some edge, pair them with gladiator sandals. Looking for some more edge on the soft feminine look? Throw a sleeveless denim jacket or a boyfriend blazer or any structured jacket over your ruffled top. These contrasts are a perfectly complimentary to bring out a balanced look.

Ruffled Tops with Black Long Skirt

Wearing Ruffled Top with Black Long Skirt

Ruffled Top with Black Maxi Skirt
Image: Shutterstock