For those of you who are looking for a change in hair color, we bring you two popular shades – Brunette and red.
Brunette is a very popular color, ranging from light brown to almost black. Vibrant, Energetic and attention grabbing, red is popular choice for the bold fashionista.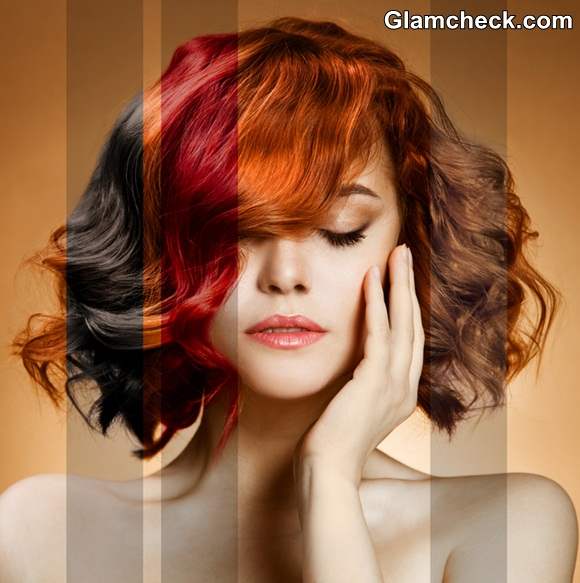 How to sport Brunette and Red Hair Color
How can you rock these two popular colors? A good hairstylist will study your overall skin tone and color of the eyes, sometimes even age to determine the perfect shade of hair color for you.
To understand your skin tone, the simplest way is to observe your blood veins in a natural light; if it appears green, then you most probably have warm tones, if it is blue then you are likely to have cool-toned skin.
You're most likely to have cool skin tone if your complexion is:
pale with pink or no undertones,
Medium with pink, golden or no undertones,
Dark brown
Olive
You will mostly likely have a warm skin tone if your complexion is:
Pale with peach or gold undertones,
Brown with pink copper, pink, caramel or gold undertones,
How to sport a Brunette hair tone
The most common shades of brunette are light golden brown, natural brown, caramel, mahogany, burgundy and black brown.
If you have a warm skin undertone, honey brown, caramels and golden browns are perfect.
If you have a cooler undertone, you should opt for dark browns and ash browns.
Light copper brown shades and reddish blondes suit those with a light complexion.
If you have medium complexion with warm undertones, go for copper and reddish gold, and if you have cool undertones, go for burgundy and violet browns. Don't go too dark or too light.
Intensive reds and mahogany hair tones are complimented best by olive skin.
Brunettes suit almost all personalities and age groups, however if you are looking for a bolder and edgier color, go red.
RED
Red is a vibrant hair color, thus the length of your hair should be kept in mind before going full red head; keep your hair at a sophisticated length (think Rihanna).
Cool undertones do well with blue-red hair shades, such as burgundy, ruby, cranberry, cherry or Bordeaux. Warm tones are best complimented by copper, cinnamon, ginger and strawberry shades of red hair color.
If you have a light complexion, avoid burgundy and wine red; instead opt for strawberry red, light golden and copper reds.
For medium complexion, stay away from reds with a dark violet tint; go for medium copper red or light auburn red.
Those with darker complexion, you'll look stunning in medium auburn and chestnut reds.
Red hair looks best on darker skin tones, since such skin have more pigments and provide a good contrast to the bright red. If you check the given picture, it gives a rough idea of what type of red or brunette will suit your skin-tone.
Image: Shutterstock