Hello Everyone,
It's Friday, and I am sure most of you must be having plans for the coming weekend. So do I 🙂
I am all set to watch the movie 'Brothers' with Kamal this afternoon followed by some shopping. This post is about the look I am gonna be sporting to the theater. This is also going to be my fist "Movie Outfit" Blog Post so Yessss!!! I am super excited. Yeahhhh! 😛
What to wear ?
I usually plan my outfits keeping in mind the movie I will be watching coz that makes the movie watching experience more fun & exciting, at-least for me :). Since, "Brothers" movie features lot of action, mixed martial arts, sports and stuff like that, I decided to go for a look that reflects the same keeping in sync with my personal style –
The Sporty Feminine Look:
I decided to team this stylish white top with butterfly sleeves and monochrome graphic print at the front with a yellow pencil skirt that features a side zipper and a cut-out hem detailing at the back.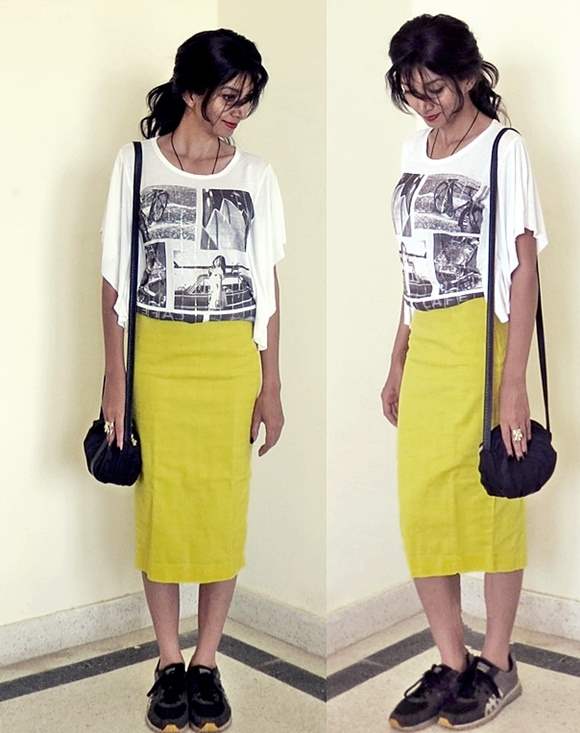 Pencil Skirt – Sporty and Feminine Movie Outfit
I accessorized with a pair of Black Sneakers, a black sling bag & golden charm rings.
For my hair, I wanted to keep it a bit messy & unkempt, so I simply tied it into a ponytail and allowed the fringes to frame my face. I also kept the makeup simple by limiting to a black kohl & light brown lipstick.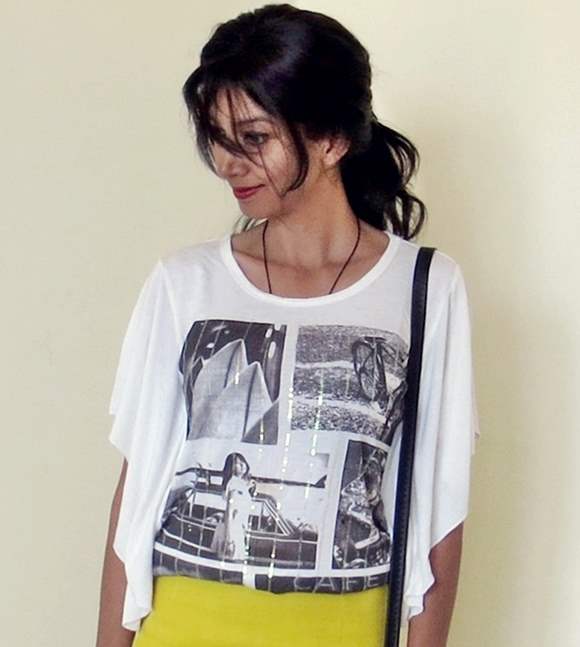 Indian Fashion Blogger Outfit Post
I really like the way this look turned out. The Feminine yellow pencil skirt balances out the Sporty bicycle & car printed monochrome top and the comfy sneakers that keep the look grounded and day-ready.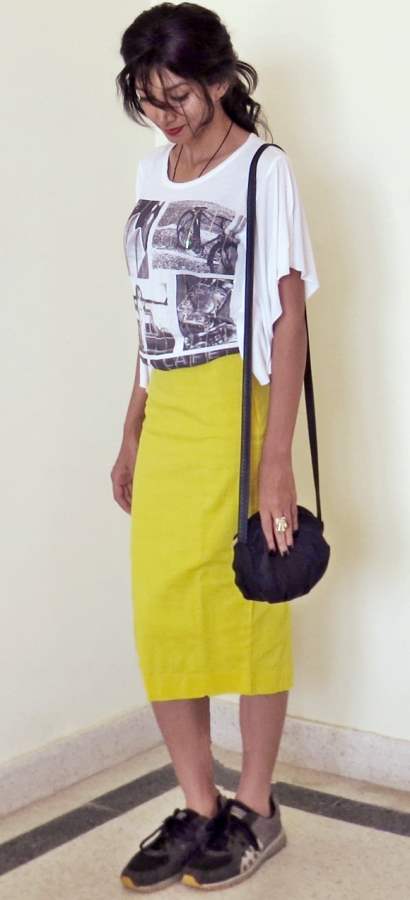 Indian Fashion Blogger
So that is it for today. I will catch you guys soon in my next post. Stay Tuned!
Also, happy Friday!  I have a couple of fun plans this weekend including shopping at Decathlon, brunching my with girlfriends, and a road trip with Kamal.  Have a great weekend.
Outfit Details:
Monochrome Top – Honey
Yellow Pencil Skirt – Nineteen
Black Sneakers – Puma
Black Sling Bag – Baggit
Golden Charm Rings – Splash